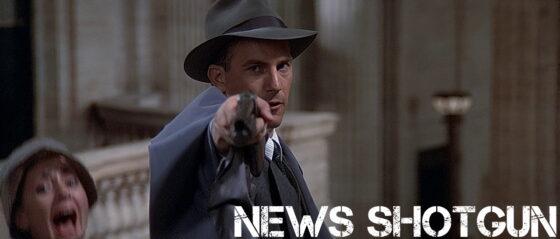 Ryan Gosling in talks to co-star with Margot Robbie in a new Ocean's movie: The Barbie duo might be teaming up for another movie as Ryan Gosling is in talks to co-star with Margot Robbie for a new Ocean's movie.  The new movie in the heist franchise will be a reboot that takes place in Europe in the 1960s.  Jay Roach, who directed Robbie in Bombshell, will be directing the new movie.
Sam Heughan in talks to star in Days Gone movie: Outlander star Sam Heughan is in talks to star in the upcoming movie adaptation of Sony's Days Gone.  Heughan would play Deacon St. John, who was portrayed by Sam Whitwer in the game, a biker who is trying to survive in a world overrun by feral, zombie-like humans.  Oscar-nominated screenwriter Sheldon Turner is writing the script but there's no director attached yet.
Neve Campbell starring in new David E. Kelley show: Neve Campbell is coming to ABC with a new David E. Kelley show called Avalon.  Campbell will play Detective Nicole "Nic" Searcy, who is stationed in the small town of Avalon on Catalina Island and uncovers a mystery that could define her career.  The show is based on a short story by Michael Connelly.  Kelley produces another Connelly adaptation, The Lincoln Lawyer, which co-stars Campbell and is getting a second season on Netflix, which Campbell will continue to guest star on.  ABC also has Kelley's Big Sky, which is entering its third season this fall.
Lord of the Rings rights bought by video game publisher: The Embracer Group, a massive video game publisher that owns Gearbox, THQ Nordic, Crystal Dynamics, Eidos Montreal, and Square Enix Montreal, and the rights to Tomb Raider and Deus Ex were purchased the rights to Lord of the Rings for $770 million this week.  Embracer bought Middle-Earth Enterprises, which was created in 1976 by The Saul Zaentz Company, and has licensed the rights to LotR and The Hobbit for decades, including to EA for their games and New Line Cinema for their films.  Embracer now wholly controls the rights to everything Middle-Earth globally and can use them for motion pictures, video games, board games, merchandising, theme parks, and stage productions.  Amazon managed to exploit a loophole for their massively expensive The Rings of Power series to avoid paying Middle-Earth Enterprises as TV shows more than 8 episodes long did not fall under their agreement.
Ferris Bueller spin-off movie coming to Paramount+: The team behind Cobra Kai is bringing another iconic 80s film to the small screen with a new Ferris Bueller spin-off movie for Paramount+.  The new film is called Sam and Victor's Day Off and follows what the two parking lot attendants were up to when they took the gang's Ferrari for a joy ride throughout Chicago.  The pair will be recast for this movie but were played by Richard Edson and Larry "Flash" Jenkins.
HBO Max purging content: The post-merger massacre of content at HBO Max continued this week as dozens of animated shows from Cartoon Network and original shows created for HBO Max were removed from the service, including Infinity Train and Generations.  Sesame Street also lost a ton of content with over 200 classic episodes being removed from the service. Seasons 39-52 of Sesame Street are still available in full but only select episodes from Seasons 1, 5, and 7 are still available on the service.
Garfield movie adds cast members: The upcoming Garfield movie, starring Chris Pratt as the titular fat cat, has added to its cast, with Ving Rhames, Hannah Waddingham, Nicholas Hoult, and Cecily Strong joining the cast.  Samuel L. Jackson is also co-starring as Garfield's father. Mark Dindal, who directed Chicken Little and The Emperor's New Groove for Disney, is directing Garfield.
Jonathan Kent recast for Superman & Lois: Jonathan Kent will be recast for the upcoming third season of Superman & Lois as Jordan Elsass won't return.  Elsass cited "personal reasons" as the reason for leaving the series and did not return to set in Vancouver when the cast was supposed to reconvene.  There may be an issue with COVID vaccination as well as Elsass used an exception last year but his vaccination status is unknown and he posted a now-deleted Instagram story questioning the efficacy of vaccines.  Canada does not allow unvaccinated individuals to enter the country.
Robert DeNiro starring opposite himself in Wise Guys: Robert DeNiro will play a dual role in the upcoming gangster movie Wise Guys.  DeNiro will play Italian crime bosses Vito Genovese and Frank Costello, who ran their families in the 1950s.  Genovese tried to assassinate Costello in 1957 but the attempt only injured Costello.  Legendary direct Barry Levinson, who previously brought us movies like Wag the Dog, Rain Man, Bugsy, and The Natural, is directing Wise Guys.
Big Thunder Mountain Railroad getting a movie: Disney is turning another of their iconic rides into a movie with an adaptation of Big Thunder Mountain Railroad and they've hired Hawkeye directors Bert & Bertie to direct.  There are no plot details currently but you would have to imagine it would be some kind of Western given the ride's theming.  Bert & Bertie directed half of the episodes of Hawkeye as well as multiple episodes of Our Flag Means Death on HBO Max.
RIP Wolfgang Petersen and Anne Heche: Director Wolfgang Petersen and actress Anne Heche both passed away this past week.  Petersen died at age 81 after battling pancreatic cancer and is best known for movies like Air Force One, Das Boot, The Perfect Storm, Outbreak, and In the Line of Fire.  Anne Heche died after being involved in a car crash on August 5th where she crashed into a house in Los Angeles.  She was taken to a local hospital and put on life support but was declared brain dead and taken off life support on August 14th and died at age 53.  Heche was best known for movies like Wag the Dog, Six Days and Seven Nights, Volcano, and Donnie Brasco.
New Saw movie coming in 2023: Lionsgate and Twisted Pictures are developing a new entry in the Saw franchise for release in October 2023.  There are no plot details yet but Kevin Greutert, who directed Saw VI and Saw: The Final Chapter is directing this new movie.  Hopefully, this new entry is actually a full Saw sequel and not a prequel or side story like the two recent movies in the series, Jigsaw and Spiral, both of which were terrible.
John Wick spin-off moves to Peacock: Original going to be a Starz series, the John Wick spin-off The Continental is now coming to Peacock.  The show is a three-episode limited event, with each episode being 90 minutes, and is set in the early days of Winston's career at the titular assassin hotel.  Colin Woodell is playing the young Winston while Ayomide Adegun is playing young Charon and Peter Greene, Mel Gibson, Ben Robson, Hubert Point-Du Jour, Jessica Allain, Mishel Prada, and Nhung Kate are co-starring.  John Wick movies will also be exclusive to Peacock as part of this new deal.  The Continental is expected to debut sometime next year.
The CW officially has a new owner: Another consequence of the Warner/Discovery merger, The CW has a new majority owner in Nexstar Media Group, which now owns 75% of the network.  Warner Brothers Discovery and Paramount will maintain a minority interest in the network and the flow of shows from The CW to HBO Max or Paramount+ and back will most likely continue in some capacity.  Nexstar owns a massive amount of local TV stations, including most of the affiliates of The CW.  It's not clear what the plan going forward is but with The Flash ending, the Arrowverse is basically dead and other drama series could be ending as well.  Nexstar also revealed the somewhat shocking tidbit that the average age of a live broadcast CW viewer was 58(!) but that their main target demographic of 18-34-year-olds mostly watched CW shows streaming on the official, ad-supported CW app.
I'm like the J. Jonah Jameson of Everything Action, writing and editing and constantly demanding pictures of Spider-Man.
anne heche
avalon
bert & bertie
big thunder mountain railroad
cobra kai
david e. kelly
days gone
ferris bueller
garfield
hbo max
john wick
jonathan kent
jordan elsass
lord of the rings
margot robbie
movie news
neve campbell
news shotgun
ocean's 11
peacock
playstation productions
robert deniro
ryan gosling
samheughan
saw
sesame street
the continental
the CW
tv news
wise guys
wolfgang petersen