Here's all the movie and TV news you need to know from the past week, it's the News Shotgun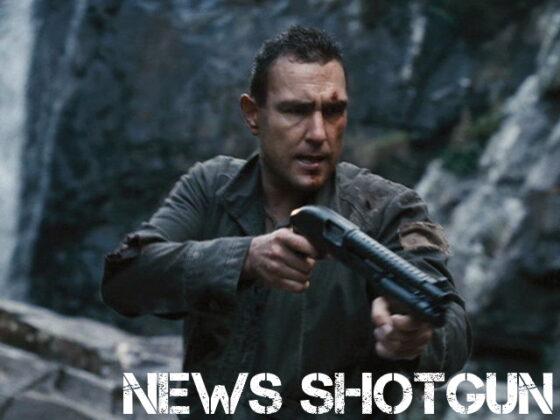 Gamestop stock movie finds its cast: The movie about the insane saga of Gamestop's stock, Dumb Money, has found its all-star cast with Paul Dano, Seth Rogen, Sebastian Stan and Pete Davidson starring.  Craig Gillespie, who previously brought us I, Tonya, Pam & Tommy, and currently Mike on Hulu, is directing the movie, which is based on the book The Antisocial Network by Ben Mezrich.
First look at the new Pinhead: Hulu revealed the first look at Jamie Clayton, who is taking over in the Hellraiser reboot from Doug Bradley as a female Pinhead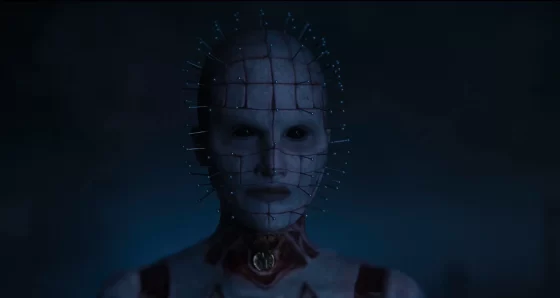 The Mortuary Assistant getting a movie: Recently featured in Gamebox 2.0, the DreadXP and Darkstone Digital game The Mortuary Assistant is getting a movie adaptation.  The game follows an apprentice mortician, Rebecca Owens, as she begins working at River Fields Mortuary.  Things start out fairly normal but Rebecca soon learns there are dark, demonic forces at work and has to add exorcisms and demon battling to her normal mortuary duties.  Jeremiah Kipp, who directed the horror movie Slapface, will be writing and directing the movie.
Nicolas Cage starring in a new A24 comedy movie: Nicolas Cage is coming to A24 in a new comedy movie, Dream Scenario.  There isn't much known about the movie besides its genre and that director Kristoffer Borgli will write and direct the movie and A24 all-star, Ari Aster, will be producing.
Ben Kingsley returning to the MCU for the Wonder Man series: Last seen in Shang-Chi, Ben Kingsley's Trevor Slattery will return in the upcoming Wonder Man Disney+ series.  There's no word yet on what the series will be about and who is playing Wonder Man but Shang-Chi director Destin Daniel Cretton is executive producing the series.
Jennifer Connelly co-starring with Joel Edgerton in Dark Matter: Following up Top Gun: Maverick, Jennifer Connelly is joining Joel Edgerton in the Apple TV+ series Dark Matter.  The show, based on Blake Crouch's sci-fi novel, follows Edgerton as Jason Dessen, a professor, and physicist who finds himself sucked into an alternate reality while walking home in Chicago.  As he tries to get home, he keeps ending up in different realities based on how his life could have progressed and pursued by a dark version of himself.  Connelly will play Egerton's wife, Daniela Dessen.
Beverly Hills Cop sequel adds cast members: The upcoming fourth Beverly Hills Cop movie that will be on Netflix has added two cast members to star alongside the returning Eddie Murphy.  Beverly Hills Cop: Axel Foley has added Zola's Taylour Paige and Joseph Gordon-Levitt in undisclosed roles and the entire plot of the new movie is not really known.  Mark Molloy is directing the movie.
William Friedkin directing Kiefer Sutherland movie The Caine Mutiny Court Martial: The legendary William Friedkin, who previously directed movies like The Exorcist and The French Connection, will be directing Kiefer Sutherland in The Caine Mutiny Court Martial.  Based on a 50-year-old stage play by Herman Wouk, the movie is a contemporary updating of the story, which is set during the court trial of a Navy officer who is being charged with mutiny for taking command of a ship, as he thought the captain was acting in an unstable manner that would endanger the ship and the crew.
More cast members added to Rian Johnson's Peacock series Poker Face: Rian Johnson's mystery show Poker Face, which will be a Peacock exclusive, added more cast members this week. Natasha Lyonne is starring in the series, which is a 10-episode anthology show with a new mystery each episode.  Clea Duvall, Shane Paul McGhie, Angel Desai, Jasmine Aiyana Garvin, and Leslie Silva have joined the cast, which previously cast Adrien Brody, Audrey Corsa, Benjamin Bratt, Charles Melton, Chloë Sevigny, Danielle MacDonald, Dascha Polanco, Ellen Barkin, Jameela Jamil, Joseph Gordon-Levitt, Judith Light, Lil Rel Howery, Niall Cunningham, Nicholas Cirillo, Nick Nolte, Ron Perlman, S. Epatha Merkerson, Simon Helberg, Stephanie Hsu, Tim Blake Nelson, and Tim Meadows.
Dan Aykroyd and Chevy Chase join RL Stine adaptation Zombie Town: Dan Aykroyd and Chevy Chase have joined the cast of the RL Stine adaptation Zombie Town, joining the previously cast Henry Czerny, Marlon Kazadi, and Madi Monroe.  The movie, which will arrive in theaters and Hulu next year, is based on the book of the same name where a pair of teens are attending a screening of the old zombie movie Zombie Town but the characters from the movie come out of the screen and start terrorizing the town.
Shadow Force adds cast members: Joe Carnahan's latest action-thriller, Shadow Force, has added a slew of new cast members including Mark Strong, Natalia Reyes, Marvin "Krondon" Jones III, Jahleel Kamara, Yoson An, and Ed Quinn.  The movie stars Kerry Washington and Omar Sy as a couple who were once the leaders of a shadowy military group called Shadow Force but they go underground to protect their son.  A massive bounty is put on their heads and their former teammates from Shadow Force are after them.
Liam Neeson starring in Marlowe:  Open Road has picked up the North American distribution rights to Marlowe, which will be Liam Neeson's 100th movie.  Neeson will play the iconic detective Philip Marlowe, who originally appeared in the novels by Raymond Chandler.  The new movie will be based on The Black Eyed Blonde, which was written by John Banville with authorization from the Chandler estate.  Neil Jordan is directing the movie and Diane Kruger, Jessica Lange, Danny Huston, Alan Cumming, Adewale Akinnuoye-Agbaje, Ian Hart, Colm Meaney, Daniela Melchior, and Francois Arnaud are co-starring.
The Beekeeper bought by MGM: The David Ayer-directed, Jason Statham starring action movie The Beekeeper has been bought by MGM, which means by extension it has been bought by Amazon.  The movie was written by Kurt Wimmer and follows Statham as a man out for vengeance after it is revealed he was formerly an operative of the powerful and secretive organization known as The Beekeepers.  MGM has the theatrical rights but given their ownership by Amazon now, you would have to assume it would end up on Prime Video after a theatrical run.
Jason Bateman and Taron Egerton co-starring in the Netflix thriller Carry On: Jason Bateman will be back on Netflix for a new action thriller Carry On, directed by Jaume Collet-Sera and co-starring Taron Egerton.  Egerton is a TSA agent who is blackmailed by a mysterious traveler to allow a dangerous package to slip through security on a Christmas Day flight.  Bateman will be playing the mysterious traveler.
Harley Quinn renewed for Season 4: Despite all the chaos at HBO Max, their fantastic adult animation series Harley Quinn has been renewed for a fourth season.  The third season is close to wrapping up with two episodes left as of this article.
a24
ben kingsley
beverly hills cop: axel foley
carry on
chevy chase
craig gillespie
dan aykroyd
dark matter
david ayer
dream scenario
gamestop stock
harley quinn
hbo max
hellraiser
jamie clayton
jason bateman
jason statham
jennifer connelly
joe carnahan
joel edgerton
kiefer sutherland
liam neeson
marlowe
movie news
news shotgun
nicolas cage
pinhead
poker face
rian johnson
rl stine
shadow force
the beekeeper
the caine mutinty court martial
The Mortuary Assistant
trevor slattery
tv news
william friedkin
wonder man
zombie town