Here's the movie and TV news you need to know from the past week, it's the News Shotgun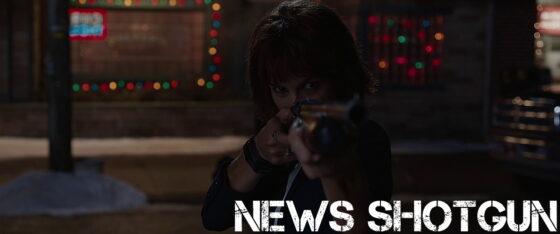 Paper Girls canceled at Prime Video: The adaptation of the Brian K. Vaughn/Cliff Chiang graphic novel Paper Girls has been canceled after 1 season on Prime Video.  The show follows four young girls in 1988 who get caught in a battle between time travelers and ultimately meet their older selves from the future.  The show got great critical and audience response but did not seem to draw in the viewership numbers Amazon wanted and it was also highly likely overshadowed by the marketing blitz of The Rings of Power.  Legendary Television will be shopping the series to other streamers and networks.
Live-action Ezra Bridger cast for Ashoka: Another Star Wars animated character is coming to life in live-action as Eman Esfandi has been cast as Rebels' Ezra Bridger.  Based on her appearance in Season 2 of The Mandalorian, Ashoka (Rosario Dawson) is hunting down Grand Admiral Thrawn, who disappeared with Ezra at the end of Rebels.  Ashoka and Sabine Wren vowed to find Ezra in the epilogue of Rebels.  Natasha Liu Bordizzo, most recently seen in Day Shift, was previously cast as Sabine and Ivanna Sakho, Mary Elizabeth Winstead and Ray Stevenson are part of the cast as well.
Phantom of the Opera-based murder mystery show coming to Peacock: Peacock seems to be betting big on murder mystery anthology shows, with Rian Johnson's Poker Face on the way to the streaming service and now a new series called The Show Must Go On.  The show will be an anthology where each season a new cast of characters are getting ready for the live premiere of a big televised musical but there's a murder in the days leading to that event.  The first season will feature Phantom of the Opera as the musical the cast is getting ready to perform.  The show comes from Austin Winsberg, who created Zoey's Extraordinary Playlist and Andrew Lloyd Webber will be a producer, and may even appear, on the series.
Omar Sy starring in Yasuke live-action series: Netflix has an anime based on the life of Yasuke, history's only Black samurai after he was brought to Japan as a slave.  Omar Sy will star as Yasuke for a 5 episode live-action series and Nick Jones Jr., who developed the anime series, is developing the live-action series as well.
A new scripted Star Trek podcast will follow Khan: One of Star Trek's best villains is getting his own podcast as a new scripted series will focus on Khan before he reappeared in The Wrath of Khan as he and his followers attempt to survive the untamed world of Ceti Alpha V, having been left there by Captain James T. Kirk.  Nicholas Meyer, who wrote and directed The Wrath of Khan 40 years ago, will write this new podcast.
Carol Kane joins Star Trek: Strange New Worlds: The legendary Carol Kane is joining Star Trek: Strange New Worlds as the Enterprise's new engineer, Pelia.  In other Star Trek casting news, Billy Campbell, of Rocketeer fame, is joining Star Trek: Prodigy to reprise his Star Trek: The Next Generation role of Thadiun Okona, a roguish, Han Soloesque starship captain.
Luke Hemsworth and Milo Ventimiglia join thriller Land of Bad: The upcoming action thriller Land of Bad has cast Luke Hemsworth and Milo Ventimiglia, joining the already cast Russell Crowe and Luke's brother Liam Hemsworth.  The movie follows Crowe as Reaper, a US drone pilot who is aiding a Delta Force team in the South Philippines.  When the mission goes wrong, Reaper has only 48 hours to try and resolve the situation and get the team out safely.  Will Eubank, who most recently directed Underwater, is directing the movie and it is filming soon in Australia.
1923 adds more cast members: Taylor Sheridan's next prequel to Yellowstone, 1923, has added a number of new cast members, most notably James Badge Dale, Darren Mann, and Marley Shelton.  Harrison Ford and Helen Mirren are co-starring in the series as Jacob and Cara Dutton and the show follows them as they run the family's Yellowstone ranch through the 20s, dealing with the end of prohibition, drought, pandemics, and, inevitably, the beginning of the Great Depression.
Poker Face adds more cast members: The previously mentioned Rian Johnson murder mystery series Poker Face has added even more cast members this week, including Cherry Jones, Luis Guzman, Hong Chau, and Reed Birney.  Natasha Lyonne stars but plot details are being kept under wraps still, although the show is an anthology series, with each episode being a new case.
New Jonathan Kent cast for Superman & Lois: After Jordan Elsass left the series earlier this year after not arriving back on set in Vancouver and citing personal reasons, Australian actor Michael Bishop has been cast as the new Jonathan Kent.  The series is going into its third season.
Unsolved Mysteries gets a premiere date: Volume 3 of Unsolved Mysteries on Netflix has a premiere date, debuting October 18th on the streaming platform.  It actually be three-week event, with three blocks of episodes dropping on the 18th, the 25th, and November 1st.  There are no details about what stories will be featured in the new season.
Bloom County animated series coming to Fox: An animated series based on the long-running newspaper comic Bloom County is in development and The Simpsons writer Tim Long has been hired as the showrunner.  Long will also co-write the series with Berkeley Breathed, who created the comic back in the 80s.
Nicolas Cage and Joel Kinnaman co-starring in thriller Sympathy for the Devil: Nicolas Cage and Joel Kinnaman will be co-starring in an action thriller from Israeli director Yuval Adler called Sympathy for the Devil.  Kinnaman is playing a character called The Driver, who gets caught in a cat and mouse game with The Passenger (Cage), a mysterious man who forces The Driver to take him around.  The movie is currently shooting in Las Vegas.
I'm like the J. Jonah Jameson of Everything Action, writing and editing and constantly demanding pictures of Spider-Man.
1923
ashoka
billy campbell
bloom county
carol kane
cherry jones
darren mann
eman esfandi
ezra bridger
hong chau
james badge dale
joel kinnaman
jonathan kent
land of the bad
luis guzman
luke hemsworth
marley shelton
michael bishop
milo ventimiglia
news shotgun
nicolas cage
omar sy
paper girls
phantom of the opera
poker face
rebels
reed birney
Star Trek
star trek: strange new worlds
star wars
superman & lois
sympathy for the devil
taylor sheridan
unsolved mysteries
wrath of khan
yasuke