Here's all the movie and TV news you need to know from the past week, it's the News Shotgun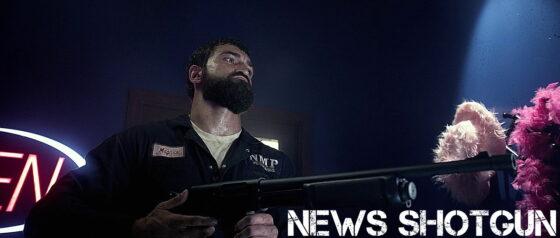 The Conjuring 4 officially in development: The next chapter in The Conjuring franchise is officially in development as David Leslie Johnson-McGoldrick, who wrote The Conjuring: The Devil Made Me Do It, is working on the new script.  James Wan and Peter Safran are returning to produce.  The Nun 2 is currently filming and will be the next entry in The Conjuring Universe.
Dylan McDermot starring in new action thriller: Dylan McDermot is the latest actor to get their own Taken/John Wick-style action movie with Ruthless. McDermot is playing a high school coach who is traumatized by the death of his daughter and takes matters into his own hands when one of his students is kidnapped by sex traffickers.  Art Camacho, who has been a stuntman and fight coordinator since the 90s, is directing the movie.
Simu Liu starring in action/adventure movie Seven Wonders: Shang Chi star Simu Liu is starring in a new action/adventure movie called Seven Wonders.  Based on the novel of the same name by Ben Mezrich, Seven Wonders finds Liu as Dr. Nate Grady, a botanist who has to team up with a shady fixer to solve an ancient mystery tied to the Seven Wonders of the Ancient World.  Justin Lin is directing the movie.
Twister sequel in development: Universal and Warner Bros. Discovery are teaming up with Amblin to develop a sequel to the 90s cult classic Twister.  There are few details as of now but the movie will most likely follow the daughter of Helen Hunt and Bill Paxton's characters, who takes up the family business of storm chasing.  The studios are hoping Helen Hunt will reprise her role.  Mark L. Smith, who wrote The Revenant and Overlord, wrote the script for Twisters, which is the current title of the movie, and Joseph Kosinski had signed on to direct but had to leave due to scheduling conflicts.  Current frontrunners to direct include Travis Knight, who directed Bumblebee, and Jimmy Chin and Elizabeth Chai Vaserhelyi, who directed Free Solo.
Chad Stahelski directing Black Samurai for Netflix: The upcoming adaptation of the Black Samurai series of novels has gotten a boost with John Wick's Chad Stahelski signing on to direct.  The movie will be a Netflix original and follows an American soldier, Robert Sand, who learns the ways of the samurai and returns home to fight evil.
Geiger comic becoming a TV series: Geiger, an Image comic series created by Geoff Johns, is becoming a TV series for Paramount.  The comic is set in 2050 and follows a man who is radioactive who fights to protect his family, who must stay in a fallout shelter so he doesn't kill them, and becomes the target of a criminal empire.  Dear White People's Justin Simien is producing the series along with Johns, who will also showrun the series and wrote the pilot.
Temeura Morrison starring in Chief of War series: Temeura Morrison is reteaming with Jason Momoa for a new Apple TV+ historical epic TV series, Chief of War.  The series is about the unification and colonization of Hawaii and Morrison will play King Kahekili, the king of Maui.  Momoa is executive producing the series but, as of right now, is not set to appear on screen.  Momoa starred in Apple TV+'s See, which ended late this summer with a third and final season.  The Hunger Games series director Francis Lawrence is also executive producing.
Silent Hill getting a reboot movie: Along with a slew of news about new games in the Silent Hill franchise, including a full remake of Silent Hill 2, Konami announced that a new Silent Hill movie is in development and Christophe Gans, who directed 2006's actually good Silent Hill movie, is back to direct.  The new movie is called Return to Silent Hill and will be mostly based on Silent Hill 2.  Both the new Silent Hill 2 remake and this movie were pitched by Victor Hadida, who produced the 2006 movie, and impressed Konami enough to jumpstart both projects.
Liam Neeson's Thug adds cast members: One of Liam Neeson's upcoming movies, the thriller Thug, has added some new cast members. Ron Perlman, Yolanda Ross, and Daniel Diemer have joined the cast.  The movie follows Neeson as an aging Boston gangster who is attempting to reconcile with his children and make up for his past mistakes but the criminal underworld won't give up its hold on him. Hans Petter Moland, who directed Neeson in the remake of his own movie, Cold Pursuit, is directing Thug.
I'm like the J. Jonah Jameson of Everything Action, writing and editing and constantly demanding pictures of Spider-Man.
black samurai
chad stahelski
chief of war
christophe gans
dylan mcdermot
geiger
geoff johns
jason momoa
justin lin
liam neeson
movie news
netflix
news shotgun
return to silent hill
ruthless
seven wonders
silent hill
simu liu
temeura morrison
the conjuring 4
the conjuring universe
thug
tv news
twister
twisters