Here's all the movie and TV news you need to know from the past week, it's the News Shotgun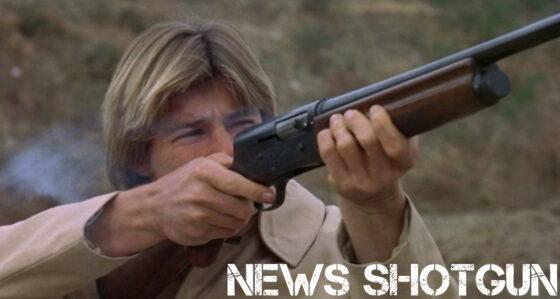 RIP Gallagher: Comedian Gallagher passed away at age 76.  He was best known for his observational and prop comedy, especially his "Sledge-O-Matic" routine where he would smash various objects, most famously watermelons, with a giant wooden mallet.  His first major comedy special was "An Uncensored Evening" in the 80s and he had various specials on Showtime in the decades that followed.
RIP Kevin Conroy: For many fans, the true Batman passed away this past week as Kevin Conroy died at age 66 from cancer.  Conroy was the voice of Batman on Batman: The Animated Series and proceeded to play the character in the shows that followed that series, as well as in the Arkham and Injustice video game series and various DC Animated movies.  He also appeared in live-action in the Arrowverse during the "Crisis on Infinite Earths" crossover and had a cameo in Kevin Smith's Yoga Hosers.  He also appeared in non-DC TV shows like Dynasty, Cheers, Murphy Brown, and Spenser: For Hire.
Good Night and Good Luck series finds writers: An AMC TV series based on George Clooney's Good Night and Good Luck has opened a writer's room and has Better Call Saul and Succession's Jonathan Glatzer as the showrunner and head of the writer's room.  The show will be set in an earlier time than the movie, which followed news reporter Edward R. Murrow's battles with Senator Joseph McCarthy during his anti-communist Senate hearings.  If AMC picks up the series, it will be six episodes.
The Acolyte adds cast members: The upcoming High Republic set Star Wars TV series has added a number of cast members this week. Carrie Ann Moss, Dafne Keen, Rebecca Henderson, Charlie Barnett, and Dean-Charles Chapman joined the series, which previously cast Lee Jung-Jae, Manny Jacinto, and Jodie Turner-Smith.  In the series, "A former Padawan reunites with her Jedi Master to investigate a series of crimes, but the forces they confront are more sinister than they ever anticipated.".  Russian Doll's Leslye Headland is the showrunner for the series.
More Monster and The Watcher coming to Netflix: Netflix is sticking with Ryan Murphy as the streamer ordered two more installments of his Monster series, with the current, absurdly popular, installment focusing on Jeffrey Dahmer, played by Evan Peters.  The show is one of the most-watched series in Netflix history, with around 1 billion hours watched.  The streamer also ordered another season of The Watcher, which stars Naomi Watts and Bobby Cannavale.
Gears of War movie and animated series coming to Netflix: On the heels of Castlevania, Bioshock, Cuphead, Cyberpunk 2077, Dragon's Dogma, and more video game adaptations, Netflix has gotten the rights to Gears of War and will develop a live-action movie and an adult-focused animated series based on the games.  Netflix will work with the current Gears developer, The Coalition, on the projects.
Daniel Kaluuya joins Across the Spider-Verse: Although he sat out Black Panther: Wakanda Forever, Daniel Kaluuya has joined another Marvel project with Spider-Man: Across the Spider-verse.  Kaluuya will play Hobart "Hobie" Brown aka Spider-Punk, who joins the other Spiders, including Miles Morales, Spider-Gwen, and Spider-Man 2099, on an adventure across the Multiverse to stop a new threat that could destroy everything.  Across the Spider-Verse is set for June 2nd next summer.
Lin-Manuel Miranda joins Percy Jackson: Lin-Manuel Miranda has joined the upcoming Percy Jackson Disney+ series as Hermes.  The show is a new adaptation of the Rick Riordan book series and stars The Adam Project's Walker Scobell as Percy Jackson.  Percy learns that he's a demi-god and the son of Poseidon but is also accused of stealing Zeus' lightning bolt and must go on an adventure to clear his name and restore order to Olympus. The show will debut on Disney+ sometime in 2024.
I'm like the J. Jonah Jameson of Everything Action, writing and editing and constantly demanding pictures of Spider-Man.
across the spider-verse
batman: the animated series
daniel kaluuya
gallagaher
gears of war
good night and good luck
kevin conroy
lin-manuel miranda
monster
movie news
netflix
news shotgun
percy jackson
spider-punk
star wars
the acolyte
the watcher
tv news