Here's all the movie and TV news you need to know from the past week, it's the News Shotgun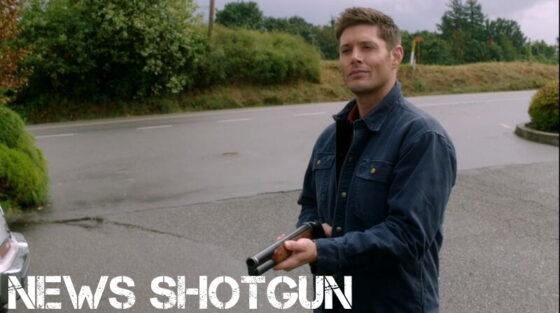 Fight Another Day action movie casts Martin Kove, Kevin Nash, and Eric Johnson: A new action movie, Fight Another Day, has cast Martin Kove, Kevin Nash, and Eric Johnson in the lead roles.  The movie, directed by James Mark, follows Johnson as a cop who is transported to a dystopian future where he's forced to fight in a brutal combat tournament.  Chuck Liddell and Kevin Shamrock will appear in the movie as well.
Escape from New York reboot in early talks: There's been talk about a reboot or remake of Escape from New York for decades now but a new version may be underway as Radio Silence, the directing team behind Scream (2022) and Ready or Not is in talks to direct a reboot of John Carpenter's cult classic.  Carpenter would be on board as an executive producer.  The Rock and Gerard Butler have both been attached to versions of a new Escape from New York that fizzled out.
Bradley Cooper starring in new Bullitt movie: Bradley Cooper will be taking on the iconic role of Frank Bullitt for Steven Spielberg's new movie based on the character most famously portrayed by Steve McQueen.  The new movie is not a remake of the 60s action classic but a new story featuring the character of Frank Bullitt.  Spielberg is directing the movie and Cooper is producing as well as starring.
Sony Marvel shows coming to Amazon: Sony has signed a new deal with Amazon to bring some of the Marvel characters they have the rights to both Epix (soon to be renamed MGM+) and Prime Video.  The first of these will be Silk: Spider Society, which will follow the character Cindy Moon, who was bitten by the same spider as Peter Parker and experimented on before she can escape and tries to find her missing family.  Angela Kang, who was one of the showrunners of The Walking Dead, is the showrunner of Silk.  The show will debut on MGM+ first and then make its way to Prime Video a short time afterward and other Marvel projects are coming from this deal.
Quentin Tarantino developing a TV series: After his foray recently into books with the novel of Once Upon a Time in Hollywood and Cinema Speculation, Quentin Tarantino is apparently looking to get into the world of prestige TV with an 8-episode TV show of some kind.  There are no details but Tarantino is currently working on it and hopes to go into production on it in 2023.  Tarantino has dabbled in TV before, directing episodes of ER and CSI and he essentially turned The Hateful Eight into a mini-series for Netflix, dividing the movie into four episodes.
Gamera returning on Netflix: Everyone's favorite giant turtle and friend to children, Gamera, is coming back with a new reboot movie on Netflix.  Gamera: Rebirth will be distributed globally on Netflix and is directed by Shusuke Kaneko, who previously worked on the 90s Gamera trilogy.  The last Gamera movie was in 2006, Gamera the Brave.
Lionsgate picks up Streets of Rage movie: The Streets of Rage movie has been officially picked up by Lionsgate.  Based on the Sega Genesis beat 'em up classic, the movie was written by John Wick's Derek Kolstad, who is also producing the movie along with execs from Sega.  There's no director or casting yet but now that the movie has been picked up, we should hopefully hear more soon.
RRR Sequel in the Works: There may be a sequel to S.S. Rajamouli's awesomely over-the-top epic RRR, as the Indian director said his father Vijayendra Prasad, who writes all of Rajamouli's films, is in the early process of working on a sequel movie.  RRR stars Jr NTR and Ram Charan as fictionalized versions of real-life Indian freedom fighters who team up to take down the ruthless British regime in control of the country.
Kyle Chandler and Glenn Close join Back in Action: Kyle Chandler and Glenn Close have signed on for Netflix's new action-comedy Back in Action, which is the return to acting for Cameron Diaz, who previously retired in 2018.  Diaz is co-starring with Kevin Hart and Horrible Bosses' Seth Gordon is directing the movie.  There's no word on what the plot entails yet.
Hunters ending with Season 2: Prime Video is ending their Al Pacino-led series Hunters with the upcoming second season. The show stars Pacino as the leader of a group Nazi hunters in 1977, who discover that hundreds of Nazis are secretly living in New York City and are plotting to implement a Fourth Reich in the US.  Season 2 will follow the Hunters as they travel the globe to find a still-living Adolf Hitler, played by Udo Kier, and eliminate him for good.
Margot Robbie's Pirates of the Caribbean movie not happening: Announced back in 2020, the Margot Robbie-led spin-off of the Pirates of the Caribbean franchise is not moving forward at Disney.  Christina Hodson, who wrote Robbie's Birds of Prey, was writing the script.  There may still be some sort of Pirates reboot in development at Disney.
Joseph Quinn joins A Quiet Place: Day One: Stranger Things co-star Joseph Quinn is joining Lupito Nyong'o in A Quiet Place: Day One, the upcoming spin-off to the A Quiet Place series.  Michael Sarnoski, who directed the Nicolas Cage movie Pig, is directing the movie, based on an idea from the series star, director, and writer John Krasinski.  Krasinski and Emily Blunt will likely not appear in this new entry but a third movie in the series, directed by Krasinski, is in development and looking at a 2025 release.
I'm like the J. Jonah Jameson of Everything Action, writing and editing and constantly demanding pictures of Spider-Man.
a quiet place: day one
al pacino
amazon
back in action
bradley cooper
bullitt
eric johnson
escape from new york
fight another day
gamera
glenn close
hunter
joseph quinn
kevin nash
kyle chandler
lionsgate
margot robbie
martin kove
Marvel
news shotgun
pirates of the caribbean
quentin tarantino
radio silence
RRR
silk: spider society
sony
SS Rajamouli
steven spielberg
streets of rage