Here's all the movie and TV news you need to know from the past week, it's the News Shotgun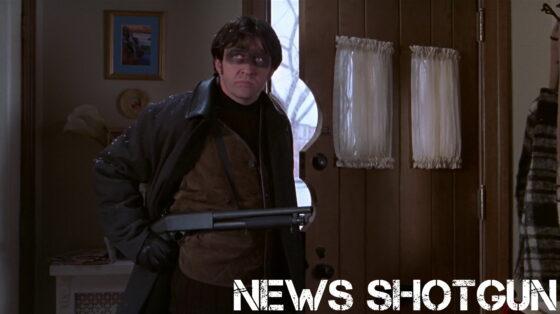 Election sequel in development with Reese Witherspoon: A sequel to the cult comedy Election is in devlopment at Paramount+ with Reese Witherspoon returning as Tracy Flick.  In the original film, Tracy Flick was a highly ambitious high school student running for class president who gets into conflict with teacher Jim McAllister, played by Matthew Broderick.  Alexander Payne, who directed the first movie, is returning to direct the sequel, called Tracy Flick Can't Win and follows an adult Flick as she continues to try and fight her way to the top.
Taron Egerton starring in Firebug for Apple TV+: Taron Egerton is returning to Apple TV+ after starring in the limited series Black Bird with the new series, Firebug.  Based on true events, the series is based on the John Leonard Orr arson case, where the former firefighter and arson investigator became an arsonist himself.  Egerton is playing a detective who teams with an arson investigator to track down a pair of serial arsonists.  Black Bird creator Dennis Lehane is writing and executive producing the series, reuniting with Egerton.
Mike Flanagan taking on The Dark Tower: After one mediocre movie adaptation of Stephen King's epic Dark Tower series, Mike Flanagan is taking a stab at the fantasy saga.  Flanagan and producing partner Trevor Macy are working on a new TV series based on The Dark Tower, that could also include two feature films.  Flanagan has previously directed, to great acclaim, King adaptations Gerald's Game and Doctor Sleep, as well as The Haunting of.. series, Midnight Mass, Oculus and The Midnight Club.  Flanagan and Macy are also moving to a deal with Amazon, leaving Netflix after numerous highly acclaimed projects, so this new Dark Tower could potentially by a Prime Video exclusive.
Wonder Woman 3 not moving ahead in current form: James Gunn and Peter Safran are already shaking things up as the new heads of DC Studios, as Wonder Woman 3, in it's current form, is not moving forward.  There's been mixed reporting but it seems like Patty Jenkins delivered a treatment that was similar in tone to Wonder Woman 1984 and Gunn/Safran and other executives at WBD/DC had numerous notes and revisions for it, which Patty Jenkins rejected, causing the movie to be halted and in jeopardy.  There's also rumors and speculation that Gunn and Safran might be looking to fully reboot the DC Universe, wiping out all the current continuity from the Snyderverse and starting fresh.  It's crazy mess at DC right now and hopefully we'll get some clarification on what's happening in the nea future.
Rings of Power adds 8 new cast members: For season 2 of Lord of the Rings: The Rings of Power, the show has added 8 new cast members to an already fairly sprawling cast.  Oliver Alvin-Wilson, Stuart Bowman, Gavi Singh Chera, William Chubb, Kevin Eldon, Will Keen, Selina Lo and Calam Lynch have joined the series, with no descriptions on who anyone is playing.  Sam Hazeldine, Gabriel Akuwudike, Yasen 'Zates' Atour, Ben Daniels, Amelia Kenworthy, Nia Towle and Nicholas Woodeson were also previously added, with Hazeldine taking over the role of Adar from recasting.
Taylor Kitsch starring in American Primeval for Netflix: Taylor Kitsch is reuniting with his Friday Night Lights collaborator, Peter Berg, for a new Western limited series, American Primeval, on Netflix.  Kitsch plays Isaac, "a traumatized man struggling to overcome his demons and find a reason to live in this brutal and punishing world" and the show follows the clashing of cultures, religions and communities in the American West.  Berg and Kitsch also collaborated on the Netflix series Painkiller, which will hit the streaming service next year.  American Primeval will be a six episode limited series and Berg is directing every episode.
RIP Kirstie Alley: Comic actress Kirstie Alley passed away this past week at age 71 after a battle with colon cancer.  Alley made her big debut in Star Trek II: The Wrath of Khan before becoming a mainstream star on Cheers, the Look Who's Talking Series, Veronica's Closet and other movie and TV projects.  Most recently she was featured on numerous reality shows, including Dancing with the Stars, The Masked Singer and UK shows like Celebrity Big Brother.
The Flash gets a premiere date: The final season of The Flash will debut on The CW on February 8th.  The ninth and final season will consist of 13 episodes and it picks up a week after the season finale of season 8 as a group of Rogues descend on Central City to challenge Team Flash, with a great challenge waiting in the background.  Jesse L. Martin, who plays Joe West, left the series as a regular but will appear in recurring capacity.  Javicia Leslie, who played Ryan Wilder/Batwoman on the cancelled Batwoman series is appearing in the final season of The Flash in a recurring role as well with potentially other familiar faces from the Arrowverse also showing up, as this is final chapter for the entire franchise with all the other shows already cancelled/ended and Superman & Lois revealed to not be on the same Earth/continuity.
Moonhaven cancelled at AMC+:  AMC has cancelled their streaming exclusive, Moonhaven, after 1 season.  The series previously had gotten a renewal for a second season but that decision was reversed this week.  AMC is seeing massive cost cutting measures and the CEO, Christina Spade, stepped down.  Moonhaven was one of the most popular shows on the AMC+ service and garnered some fairly strong critical reception as well.
I'm like the J. Jonah Jameson of Everything Action, writing and editing and constantly demanding pictures of Spider-Man.
alexander payne
american primeval
apple tv+
dc studios
dennis lehane
election
firebug
kirstie alley
mike flanagan
moonhaven
news shotgun
peter berg
reese witherspoon
rings of power
stephen king
taron egerton
taylor kitsch
the dark tower
the flash
tracy flick
wonder woman 3