The Pull List – Carmilla: The First Vampire TPB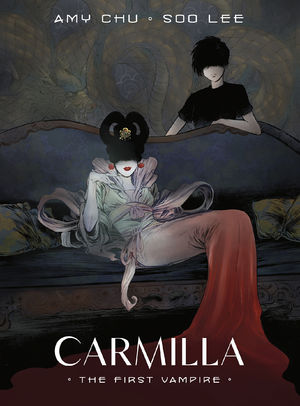 Publisher: Dark Horse Comics
Writer: Amy Chu
Artist: Soo Lee
Letter: Sal Cipriano
A young and ambitious social worker investigates reports of missing homeless women disappearing from the streets of New York City. When she follows a clue to Chinatown, she ventures into the mysterious nightclub, Carmilla's, and into a gripping fantasy that is no ordinary fairytale. The legends and past she knew before will be challenged, and the night becomes a little more frightful when it's dark in Carmilla: The First Vampire.
Carmilla: The First Vampire follows Athena, a hardworking social worker that does her best to improve the lives of the ignored and forgotten homeless population. Set in the Lunar New Year of 1996 in New York, Athena is helping people come off the streets and into someplace warm. Her work has been busy and it has put a strain on her relationship with her girlfriend Morgan. When she can, she makes time to visit her grandfather and get some martial arts practice. When Athena gets drawn into reports of murdered homeless victims that share a connection to Carmilla's, an LGBTQ+ friendly nightclub in Chinatown. It's there, Athena meets Violet, a coat check girl of the club. Violet is a wild and troubled woman that Athena believes could be the next target of a potential serial killer. However, lurking in the dark is something more sinister than Athena thought to be real. Her grandfather had warned her of the evil presence near Carmilla's but now it seems the presence has followed her home.
Amy Chu wonderfully reimagines Sheridan Le Fanu's vampiric story of Carmilla while blending Chinese culture and New York attitude in this modern gothic horror story. Chu crafts Athena as the young generation that culture clashes with the typical American experience. Thru her lenses, Athena points out the inequality and relates to the disdained and undesired. Her good nature unfortunately makes her an interesting target for a supernatural Carmilla. As an infamous vampiric figure, Carmilla is slowly brought up in the story and her elusive appearance lets the story establish more of the world and secondary characters. There's a twisted and tragic sense of romance that drives Carmilla to prey on the helpless. But without spoiling much, Athena is not a pushover and the Chinese cultural connection to vampiric lore is a great choice.
Soo Lee's soft details on characters and backgrounds make this story look and feel grounded when the plot looks at complicated matters like homelessness, racism, and heartbreak. However, the visuals can easily set a fantastical tone when the dramatic and supernatural occur, revealing the eastern variation of the Carmilla narrative. There is some creative use of color to make Violet appear like a gothic manic pixel dream girl.
It's nice to see an addition to modern takes on vampire stories that don't involve Dracula, and Carmilla: The First Vampire is a refreshing perspective with a new representation. The story pays homage to the original source material while showcasing its own message. The third act feels a little rushed for the big reveal, brushing off a few plot points that were getting some momentum to them. But it doesn't hold back the overall enjoyment of the story. Carmilla is a good read for horror fans that seem like they have seen everything to do with vampires and are ready to see a return to its roots.
Carmilla: The First Vampire was released on January 11th, 2023.
Bitten by a radioactive video store rental employee and overcome by Pac-Man fever, Chris seeks new comic books, games, and movies to review.
Amy Chu
Berger Books
carmilla
Carmilla: The First Vampire
comics
dark horse comics
Sal Cipriano
Soo Lee
the pull list
vampire