Here's all the movie and TV news you need to know from the past week, it's the News Shotgun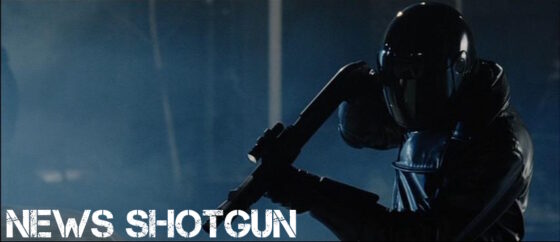 Sean S. Cunningham developing reboots of Friday the 13th and House: Original Friday the 13th director Sean S. Cunningham is working on developing a reboot film for Friday the 13th, as well as a reboot of the cult horror/comedy House, which Cunningham produced.  The rights issues for Friday the 13th were mired in legal issues until last year, when it was decided in court that Victor Miller, the original screenwriter of Friday the 13th, legally has the rights to the franchise and he's working on Crystal Lake, a prequel series on Peacock with Bryan Fuller.  Cunningham and writer Jeff Locker and director Jeremy Weiss are working on two different Friday the 13th reboots, one if they can work with Miller for the rights and one that should legally avoid any rights issues and be a direct sequel to the original movie.  Cunnigham is also working on an original film called The Night Driver, about a pharmaceutical salesman who is chased by a madman on the highway on his drive home from a cross-country trip.
Cobra Kai ending with Season 6: Netflix's fan-favorite Karate Kid series Cobra Kai is coming back for one final season, as the upcoming sixth season will be its last.  Show creators Josh Heald, Jon Hurwitz, and Hayden Schlossberg announced the final season in a letter to fans.  The final season will see Miyagido/Eagle Fang (and possibly the remnants of Cobra Kai) traveling abroad for a massive international martial arts tournament against some of the best fighters in the world.
The Boogeyman going from Hulu to Theaters: The Stephen King adaptation of The Boogeyman, which was originally announced as a Hulu exclusive, will now be coming to theaters.  20th Century Studios apparently had a test screening that went extremely well, which prompted them to shift the release to theaters.  The Boogeyman will now hit theaters on June 2nd this summer and it stars Chris Messina, Sophie Thatcher, Marin Ireland, and David Dastmalchian.  The story follows a teenager and his younger sister, who are mourning the death of their mother when a boogeyman from another dimension enters their home to terrorize them.  The story originated in King's Night Shift anthology.
Rami Malek playing Buster Keaton in a biopic: Rami Malek is heading back to the world of biopics after the Oscar-winning Bohemian Rhapsody with a bio series about silent film legend Buster Keaton.  Warner Bros. is developing a limited series about the life of Buster Keaton, who along with Charlie Chaplin is one of the famous and beloved stars of the silent era and was known for his death-defying stunts, including hanging off the front of a speeding train in The General or letting a building fall on him in Steamboat Bill Jr.  Keaton's stuntwork has inspired everyone from Jackie Chan to the Jackass guys, who have both recreated stunts that Keaton performed.
Biker Mice from Mars getting a reboot: The Nacelle Company, who have brought us The Toys and The Movies That Made Us series, have acquired the rights to the 90s cartoon Biker Mice from Mars and are planning a new series of toys as well as a new animated series.  The original series followed alien mouse bikers Throttle, Modo, and Vinnie, who escaped from Mars and ended up in Chicago.  Their race was all but wiped out by the evil Plutarkians, who followed the Biker Mice to Earth.  The Biker Mice, along with their human ally Charlene "Charley" Davidson, had to defend their new home from the Plutarkians and other threats using their motorcycle riding skills.  The Nacelle Company has been acquiring a number of 80s and 90s toy lines, including Robo Force, Sectaurs, Barnyard Commandos, and Madballs.
Dennis Quaid joins 1883: Bass Reeves: Dennis Quaid has joined the upcoming 1883 spin-off 1883: Bass Reeves, about the legendary Black lawman.  The show comes, of course, from Taylor Sheridan, who produced 1883 as well as 1923, Tulsa King, Mayor of Kingstown, and the upcoming Lioness for Paramount+, as well as Yellowstone on Paramount Channel.  David Oyelowo is playing Bass Reeves, who among other things was the inspiration for The Lone Ranger and capturing over 3,000 criminals and Quaid is playing Sherrill Lynn, a deputy US Marshall.
Tron 3 in development at Disney: Almost 15 years after Tron: Legacy came out, Disney is seemingly finally getting a Tron 3 into development.  Jared Leto is signed on to star in the new Tron with Maleficent: Mistress of Evil director Joachim Rønning at the helm.  Leto has been attached to star in the third Tron for a while and most recently talked about it in March of last year, where he revealed it was still in development and revealed the tentative title was Tron: Ares.  Tron: Legacy director Joseph Kosinski, who directed the absurdly great and successful Top Gun: Maverick last year, had been working on his own Tron sequel but that version fell apart as Disney focused more on Marvel and Star Wars in the wake of Tron: Legacy's release.
M3GAN 2.0 in development: Still doing incredibly well in theaters, M3GAN is getting a sequel in 2025 called M3GAN 2.0 that will debut on January 17th, 2025.  Stars Allison Williams and Violet McGraw will return along with everyone's new favorite killer robot doll.  Akela Cooper, who wrote the first movie, is returning to write the sequel but there's no director signed on yet.
Antoine Fuqua directing Michael Jackson biopic: Michael Jackson is the latest source of a musical biopic, with Antoine Fuqua at the helm.  Michael will follow the complex life of the King of Pop and the screenplay will be written by John Logan, who wrote Skyfall and Spectre and created Penny Dreadful, and produced by Graham King, who produced Bohemian Rhapsody.  Fuqua is currently finishing The Equalizer 3 and this will be his next project.
SEAL Team renewed for season 7: Now a Paramount+ exclusive, SEAL Team has been renewed for a seventh season.  David Borneaz stars in the series, which follows the professional and personal lives of a team of Navy SEALs.  A movie for the series was announced last year but the renewal didn't include any news about the film.
Anthony Hopkins joins Peacock's Those About to Die: Anthony Hopkins will lend his gravitas to the upcoming gladiator drama series Those About to Die on Peacock.  Hopkins is playing Vespasian, the Emperor of Rome who won his throne in a bloody 10-year civil war.  He's aging and has younger, rich rivals jockeying for position, so he decides to appeal to the people of Rome with a massive series of games in the Colosseum.  The series was ordered straight to series at Peacock and is based on Daniel Mannix's non-fiction book of the same name.
Meryl Streep joins Only Murders in the Building: Hulu's Only Murders in the Building continues to add big names to its cast, with Meryl Streep joining the cast in Season 3.  Steve Martin, Martin Short and Selena Gomez co-star in the show, which follows three residents in an Upper West Side apartment building who share a love of true crime podcasts that become involved in investigating mysterious deaths that occur in their building.  Paul Rudd and Andrea Martin are also co-starring in Season 3.
Rainbow Six movie in development at Paramount: As teased at the end of Without Remorse back in 2021 on Prime Video, a Rainbow Six movie is officially in development at Paramount.  Michael B. Jordan is returning as special forces badass John Clark, who in the world of Tom Clancy becomes the leader of Rainbow, a multi-national special forces team that takes down global threats.  The original book Rainbow Six, which the movie will be based on, follows Rainbow as they attempt to stop a deadly biological attack against the Olympics in Sydney, Australia.  John Wick's Chad Stahelski is signed on to direct Rainbow Six.
Channing Tatum producing and starring in a remake of Ghost: Channing Tatum has acquired the rights to the 80s classic Ghost and is producing and starring in a remake.  The original movie starred Patrick Swayze and Demi Moore and followed Swayze's character who became a spirit after being murdered but continued to watch over Moore and stop his killer.  Tatum will take over the Swayze role.
Power Rangers 30th Anniversary special coming to Netflix: Netflix is getting a 30th anniversary Power Rangers special in April to celebrate the original release of Mighty Morphin Power Rangers in 1993.  OG rangers David Yost, Walt Emanuel Jones, Johnny Yong Bosch, Karan Ashley, Catherine Sutherland, and Steve Cardenas will appear, and original Rita Repulsa voice actress Barbara Goodson will be involved as well.  The special will be a scripted new story that brings back all these OG rangers to morph once again to stop a new threat.  Jason David Frank doesn't seem to be involved in the special but hopefully, they will have some way to pay tribute to him following his tragic death in November last year.
Chucky and Reginald the Vampire renewed for new seasons: NBCUniversal has renewed two of their horror TV shows with Chuck getting a third season and Reginald the Vampire getting a season 2.  Both shows air on SyFy while Chucky also appears on USA Network and is also available on Shudder, Peacock, and AMC+.  Chucky is a continuation of the original Child's Play series with creator Don Mancini at the helm and Brad Dourif back as Chucky while Reginald the Vampire stars Jacob Batalon as Reginald Andres, a vampire trying to navigate the ups and downs of his undead life.
1883
1883: bass reeves
anthony hopkins
antoine fuqua
biker mice from mars
biopic
buster keaton
chad stahelski
channing tatum
chucky
cobra kai
dennis quaid
friday the 13th
ghost
hulu
jared leto
M3GAN 2.0
meryl streep
michael b jordan
michael jackson
movie news
news shotgun
only murders in the building
parmount+
patrick swayze
peacock
power rangers
rainbow six
ramik malek
reginald the vampire
SEAL team
sean s. cunningham
stephen king
the boogeyman
those about to die
tom clancy
tron 3
tron: ares
tv news