Here's all the movie and TV news you need to know from the past week, it's the News Shotgun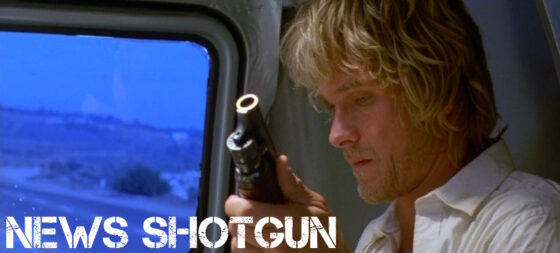 Phoebe Waller-Bridge developing a Tomb Raider TV series: Co-starring in Indiana Jones and the Dial of Destiny this summer, Phoebe Waller-Bridge is working on another famous treasure hunting series, Tomb Raider, developing a TV series for Amazon.  Waller-Bridge previously worked with Amazon for her critically acclaimed series Fleabag.  It's not clear if the new series will be based on any specific games or an original story.  The most recent adaptation of Tomb Raider was the Alicia Vikander movie, which was going to get a sequel before the rights to the franchise were sold and the sequel was scrapped.  There is supposed to be an animated series coming to Netflix featuring Haley Atwell as Lara Croft, although there hasn't been an update on that for a while.
The Last of Us renewed for Season 2: Surprising no one, The Last of Us has been renewed at HBO for a second season.  The video game adaptation was the second biggest HBO debut after House of the Dragon and the second episode saw viewership increase.  The show is also critically acclaimed and seems to be making most fans happy for its authenticity to the game while changing things smartly to make it work as a TV series.  Showrunner Craig Mazin has said that they will wrap up most of the story of the first game in this first season, meaning that it seems likely we will be getting into The Last of Us Part II in the second season.
Percy Jackson and The Olympians casts Zeus and Poseidon: The upcoming Percy Jackson Disney+ series has cast two of its biggest characters, Zeus and Poseidon.  Lance Reddick will be playing Zeus while Toby Stephens will be playing Poseidon.  The Adam Project's Walker Scobell is playing Percy Jackson and the first season of the series is adapting the first book in Rick Riordan's fantasy series, The Lightning Thief.
Children of the Corn remake coming to Shudder: Shot in New Zealand during the pandemic, Kurt Wimmer's remake of Children of the Corn is coming to theaters for a limited run before making its way to Shudder.  The new movie adapts the Stephen King story and follows a 12-year-old girl in Nebraska who is possessed by a demonic spirit.  Drawing the other kids in town into a cult, they murder all the adults and anyone else that stands in their way.  The movie will hit theaters on March 3rd before arriving on Shudder on March 21st.
The Recruit renewed for Season 2: Noah Centineo's espionage thriller The Recruit has been renewed for season 2 at Netflix.  The show was in the top 10 of most-watched shows globally on Netflix for five weeks after it debuted in mid-December last year.
The Simpsons renewed for two more seasons: Disney/Fox has renewed The Simpsons for two more seasons.  This will bring the venerable animated series to season 36 in 2025 and it will also pass 800 episodes during these two upcoming seasons.  Family Guy and Bob's Burgers were also renewed over at Fox.
Titans and Doom Patrol ending with current seasons: HBO Max's two major live-action DC shows, Titans and Doom Patrol, will both end with their upcoming season 4 conclusions.  Both shows had their fourth season split into two halves and the last batch of episodes for both shows will wrap them up.  The showrunners and their teams were aware that this would be a strong possibility and they planned to have an actual series ending with the last batch of episodes.  James Gunn went on social media and stated that this was not a part of his and Peter Safran's new plans for the DC Universe and was in motion before they took over.
Hulu and Adult Swim drop association with Justin Roiland: After the felony domestic abuse charges leveled against Justin Roiland were revealed, Adult Swim and Hulu have both dropped their association with him.  Adult Swim stated that Rick & Morty will continue and that Roiland will be recast for the title roles and he will not be involved behind the scenes and Hulu announced similar action for Solar Opposites and Koala Man.  Roiland also left Squanch Games, the game company behind Trover Saves the Universe and the recent Xbox hit High on Life.
Barbarian director sets up new movie Weapons: Zach Cregger, director of last year's horror hit Barbarian, has signed with New Line for his next horror project, Weapons.  After the somewhat contained Barbarian, it sounds like Cregger is getting ambitious with Weapons, which doesn't have firm plot details but is being described as being similar to Paul Thomas Anderson's Magnolia with its inter-related stories and scope.  Production will start later this year.
Superman and Lois casts Lex Luthor: Continuing to separate themselves from the mainline Arrowverse (after revealing they existed in a parallel Earth last season), Superman and Lois has cast its Lex Luthor in the form of The Walking Dead's Michael Cudlitz.  Jon Cryer played Lex on multiple seasons of Supergirl previously.  Cudlitz will debut as Luthor sometime in the upcoming third season of the show, which will debut on March 14th on The CW.
American Primeval adds cast members: Peter Berg's upcoming Netflix western series American Primeval has added more members to its cast with Betty Gilpin, Dane DeHaan, and Shea Whigham joining the cast.  Gilpin is playing Sara Rowell, a capable woman of composure and grace who is seeking a guide into the West, DeHaan is playing Jacob Pratt, a Mormon leading his family to Utah, and Whigham is playing Jim Bridger, who runs the trading post, Fort Bridger.  Taylor Kitsch, Jai Courtney, Kyle Bradley Davis, Nick Hargrove, and more were previously cast in the series.  The show will be a six-episode limited series.
Christoph Waltz starring in action/comedy Old Guy: Christoph Waltz will get to flex his action and comedy chops by starring in Old Guy for director Simon West.  Waltz is playing Terry Eubanks, a skilled veteran contract killer who is tasked by his employer, The Company, to train a new younger recruit.  The duo soon learns that The Company plans on liquidating all their competition, including veterans like Eubanks, and they team up to take them down.
I'm like the J. Jonah Jameson of Everything Action, writing and editing and constantly demanding pictures of Spider-Man.
adult swim
american primeval
barbarian
betty gilpin
blu ray
children of the corn
christoph waltz
dane dehaan
doom patrol
hulu
justin roiland
lance reddick
lex luthor
michael cudlitz
new on dvd
news shotgun
old guy
percy jackson and the olympians
phoebe waller-bridge
rick and morty
shea whigham
shudder
simon west
solar opposites
superman and lois
the last of us
the recruit
the simpsons
titans
toby stephens
tomb raider
weapons
zach cregger