Here's all the movie and TV news you need to know from the past week, it's the News Shotgun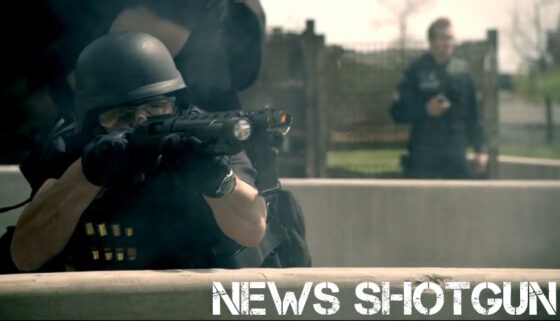 New Riddick movie in development: A fourth Riddick movie is in development with Vin Diesel and David Twohy reuniting.  Diesel is back as Riddick and the new movie is called Riddick: Furya and sees Riddick returning to his homeworld, the titular Furya, and finds a group of fellow Furyans fighting a new enemy.  Twohy will direct the movie, having directed all the previous Riddick movies, and also wrote the new movie.
Avenue 5 canceled at HBO: After having its second season air over two years ago in October 2021, HBO has finally announced that the sci-fi comedy series Avenue 5 is officially canceled.  The series was created by Veep's Armando Iannucci and starred Hugh Laurie as the captain of a future space cruise ship that is trying to return to Earth after its chief engineer dies.  The amount of time between seasons and the official cancelation saw the cast's options lapse and Laurie moved on to starring in Tehran on Apple TV+.
New Spartacus series coming to Starz: One of our favorite series here at Everything Action, the world of Spartacus is coming back to Starz with a new series from Steven S. DeKnight.  The new show will be set after the final season of Spartacus, War of the Damned, which saw Spartacus and his army of slaves defeated but having rocked Rome to its core.  The new show will be, "a new tale of treachery, deceit, and blood unfolding beneath the foreboding shadow of Rome".  DeKnight will be back as executive producer and showrunner.
New Star Wars kids show announced: A new Star Wars animated series aimed at kids was announced this week with Star Wars: Young Jedi Adventures.  The show will follow Yoda as he trains a group of young padawans in the High Republic era.  The show will air on Disney Junior and Disney+ and seems similar in tone and animation style to Spidey and His Amazing Friends and it begins on May 4th.
The Peripheral renewed for Season 2: Amazon has renewed their sci-fi series The Peripheral for a second season.  The show is based on the William Gibson novel and was created by Lisa Joy and Jonathan Nolan.  Chloë Grace Moretz stars as Flynne Fisher, who takes a security job in what she thinks is a virtual world but soon realizes is actually the future.
Spider-Man: Noir series coming to Amazon: A ton of Spider-Man-related properties are coming to Amazon thanks to a deal with Sony, with the first being the already announced Silk: Spider-Society and now we are also getting a live-action Spider-Man: Noir series.  The show will be written and executive produced by Oren Uziel, who most recently co-wrote The Lost City for Paramount, along with Lord and Miller and Amy Pascal.  It is not related to the Spider-Verse version of Spider-Man: Noir, voiced by Nicolas Cage, but will be a new universe and a new version of the character that is not a version of Peter Parker.  It is set in the 1930s and follows an older and more grizzled Spider-Man in New York City.
New Frozen, Toy Story, and Zootopia movies in development: On the Q1 earnings call for Disney, CEO Bob Iger announced that sequels to Frozen, Toy Story, and Zootopia are in development.  It will be the third Frozen, fifth Toy Story, and second Zootopia, all three of which are some of the biggest box office performers in recent memory for Disney.  On the same call, Iger announced that the company is looking to cut $5.5 billion across all divisions, including cutting content, and are getting rid of 7,000 jobs.
Constantine 2 still happening: In the wake of the Discovery/Warner Bros merger and James Gunn and Peter Safran taking over the DC universe, there were questions about the announced Constantine sequel with Keanu Reeves but it's apparently still happening.  A spokesperson for Warner Bros said the movie is still happening and it will most likely be dubbed an "Elseworlds" movie under Gunn and Safran's new plan, a title that Joker 2 and The Batman 2 will fall under when they release.
Boschverse expanding at Amazon: The world of Bosch is expanding at Amazon with two new spin-off shows.  Based on characters that appeared on the main series or in the world of Michael Connelly's book series, one show will focus on Jerry Edgar, played by Jamie Hector, who is Bosch's former partner that gets recruited by the FBI for a special mission in Little Haiti, Miami.  The other show will focus on a character from the books who has not appeared in the shows yet, Renee Ballard, who runs the LAPD cold cases division and was mentored by Bosch.
The Backrooms getting a movie adaptation: The experimental horror short series The Backrooms is getting a movie adaptation from A24 and James Wan, 17-year-old director Kane Parsons, who created The Backrooms series, is directing the movie and Robert Patino, who showran DMZ for HBO, is writing the movie and producing. You can watch the original short film here: https://youtu.be/H4dGpz6cnHo
Johannes Roberts directing a new shark movie: After directing both 47 Meters Down movies, Johannes Roberts is staying in the world of sharks for the new horror movie The Red Triangle.  The new movie follows a cruise ship that begins to sink in the waters of the titular Red Triangle, an area off the coast of California near San Fransisco that is the source of almost half of all record Great White shark attacks.  As the cruise ship sinks, the passengers become the target of a shark feeding frenzy.
Anthony Hopkins and Glen Powell starring in the action thriller Locked: Anthony Hopkins and Top Gun: Maverick's Glen Powell are co-starring in a new action thriller called Locked.  Directed by David Yarovesky, the movie is a remake of the Argentinian movie 4×4 and follows Powell as a thief who breaks into a luxury SUV, only to discover the vehicle is actually a complex and deadly trap.  Sam Raimi is producing the movie and worked with Yarovesky on the Nightbooks previously and Michael Arlen Ross, who wrote the movie Oracle, is writing the script.
Yellowstone coming to an end soon: Despite being one of the most popular shows in recent memory, Yellowstone is going to be ending earlier than expected due to star Kevin Costner's demands for shorter shooting schedules.  Costner and Taylor Sheridan/Paramount have been in disagreements over the shooting schedule, with Costner wanting much less time spent shooting.  This has caused Sheridan/Paramount to decide to end the main series soon and start up a new series that will continue the story but with Matthew McConaughey in the lead with many of the cast of Yellowstone coming over.  Costner is currently directing and starring in a Western epic series called Horizon, which is why his focus is not on Yellowstone.
I Know What You Did Last Summer getting a legacy sequel: Following on the heels of the new Scream movies, I Know What You Did Last Summer is coming back with a legacy sequel that will see the return of Jennifer Love Hewitt and Freddy Prinze Jr.  Jennifer Kaytin Robinson, who directed Do Revenge for Netflix, is directing the movie.  The original I Know What You Did was written by Scream's Kevin Williamson and is credited, along with Scream, for bringing back the slasher movie in the 90s.  Amazon tried to reboot the series with a TV show but it was canceled after 1 season.
AMC introducing tiered seating costs: Saying they are taking a cue from things like concerts and sporting events, AMC is going to be rolling out tiered seating prices, starting this weekend in select theaters in New York, Chicago, and Kansas City.  There will be three tiers of seating under this "Sightline" program, with different costs for each tier.  Standard Sightline is the cost of what tickets currently cost and will allow seating along the edges of rows and other "common" seating areas in theaters.  The Value Sightline will be the front rows but cost less than the other tiers and Preferred Sightline is the choice, middle rows and middle seats in theaters, which will have a premium price above the standard ticket price.  If you have Stubs A-List from AMC, the Preferred Seating will not have an extra price.  AMC says this will roll out to all AMC theaters by the end of the year.
I'm like the J. Jonah Jameson of Everything Action, writing and editing and constantly demanding pictures of Spider-Man.
amazon
amc theaters
anthony hopkins
avenue 5
bosch
constantine 2
david twohy
frozen
glen powell
i know what you did last summer
johannes roberts
locked
movie news
news shotgun
riddick
sightlines
spartacus
spider-man noir
star wars
the backrooms
the peripheral
the red triangle
toy story
tv news
vin diesel
yellowstone
zootopia