Everything Action Theater: King Solomon's Mines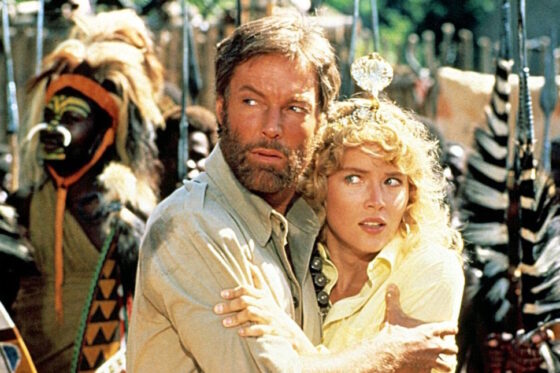 During their tenure running Cannon Films, Golan and Globus were not afraid to chase trends and put their own spin on bigger, successful movies.  Post Raiders of the Lost Ark in 1981, everyone was trying to get their own throwback action/adventure movie in theaters and Cannon tried multiple times with movies like Sahara, Firewalker and the two Allan Quartermain movies, the first of which you can watch in this edition of Everything Action Theater.  Based on the H. Rider Haggard novel of the same name, Richard Chamberlain starred as the famed adventurer, who joins Sharon Stone's Jesse Huston on a quest to find Jesse's lost father, who was on a quest for the fabled mines of King Solomon.  King Solomon's Mines went a step further than some other 80s action/adventure movies and actually cast an Indiana Jones co-star, with John Rhys-Davies appearing as Quartermain's adversary Dogati.  The movie was a fairly decent hit and Cannon quickly put a sequel into production, Allan Quartermain and the Lost City of Gold, which brought back Chamberlain and Stone, but that movie flopped, and a third film to make the series a trilogy never materialized.  You can watch King Solomon's Mines below thanks to YouTube.
I'm like the J. Jonah Jameson of Everything Action, writing and editing and constantly demanding pictures of Spider-Man.
80's action
80's movies
allan quartermain
cannon films
everything action theater
golan and globus
h rider haggard
herbert lom
indiana jones
j lee thompson
john rhys davies
king solomon's mines
raiders of the lost ark
richard chamberlain
sharon stone