Here's all the movie and TV news you need to know from the past week, it's the News Shotgun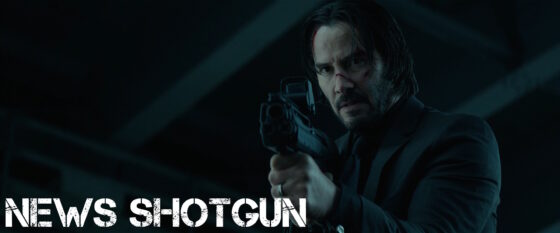 Lilo cast for Lilo & Stitch remake: Lilo & Stitch is on the agenda for a Disney live-action reboot and Lilo has been cast with Maia Kealoha.  This will be Kealoha's movie debut and she'll star alongside Zach Galifianakis and Chris Sanders, who returns to voice Stitch.  Marcel the Shell with Shoes On director Dean Fleischer Camp is directing the movie.
Jamie Campbell Bower starring in Witchboard remake: Stranger Things big bad Jamie Campbell Bower has signed on to star in a remake of the 80s horror movie Witchboard.  The original followed a college student who uses an old Ouija board alone after a party and accidentally unleashes an evil spirit.  The new version, directed by Dream Warriors and Scorpion King director Chuck Russell, follows a couple and their friends who are refurbishing an old carriage house in New Orleans into an organic café. They find an old pendulum board and one member of the group, Emily, becomes the target of evil forces.  Her fiancé Christian hires an occult expert to help and a coven of witches is also involved.
Starfleet Academy TV series in development: A project long dreamed about by Trek fans, a series set in Starfleet Academy is coming Paramount+.  Alex Kurtzman and Noga Landau will co-showrun and executive produce the series, which will follow a group of young cadets who enter Starfleet Academy and learn what it takes to be a member of Starfleet.  The series will go into production next year.
Scott Pilgram anime series gets movie cast: Netflix's upcoming anime series based on Scott Pilgrim got a serious boost this week as the entire cast of the cult classic Edgar Wright movie has signed on to reprise their roles.  Michael Cera, Mary Elizabeth Winstead, Allison Pill, Chris Evans, Aubrey Plaza, Jason Schwartzman, Kieran Culkin, Ellen Wong, and everyone else will be back to voice their characters and executive producer Wright also teased that Anamanaguchi may be doing the music for the series.  Scott Pilgrim creator Bryan Lee O'Malley is also signed on as an executive producer and is writing and showrunning with BenDavid Grabinski.
The Night Agent renewed for Season 2: In one of the earliest renewals in Netflix history, The Night Agent has gotten a second season renewal.  The show debuted on March 23rd and brought in 168.7 million hours of viewing time in its first few days and a Top 10 most-watched rank in 93 countries.  The show comes from Shawn Ryan and stars Gabriel Basso, Luciane Buchanan, and Hong Chau.
Man on Fire TV series in development at Netflix: Man on Fire is coming to Netflix as TV series based on the original book series that spawned the character of John Creasy.  Written by A.J. Quinnell, Man on Fire kicked off the series and was then followed by four more books.  Netflix has ordered an 8-episode first season straight to series that will be based on Man on Fire and the second book, The Perfect Kill.  The books were previously adapted in Tony Scott's classic 2004 action movie starring Denzel Washington and a much more obscure 1987 Italian version starring Scott Glenn.
Star Trek series renewals: Paramount+ is keeping the Star Trek train going with early renewals of new seasons for Star Trek: Strange New Worlds and Star Trek: Lower Decks.  Strange New Worlds was renewed for a third season while Lower Decks was renewed for a fifth season.  The second season of Strange New Worlds and the fourth season of Lower Decks will both air later this year, with Strange New Worlds' season premiere arriving on June 15th.
Ryan Coogler developing an X-Files reboot: In a recent radio interview, X-Files creator Chris Carter revealed that Creed and Black Panther director Ryan Coogler is developing a reboot of The X-Files.  There are very few details but Carter said the series would have a diverse cast.  The OG X-Files came back fairly recently with two seasons of new episodes bringing back Gillian Anderson and David Duchovny.
Samara Weaving starring in action movie Bella: Samara Weaving has signed on to star in a 1980s set action thriller, Bella.  Weaving plays the daughter of a cop who is clinging to life after an assassination attempt and she goes on a revenge-fueled rampage across New York City to find those responsible.  The script was on the Black List for 2020 and was written by Jason Markarian.  Chad Stahelski is producing and Larysa Kondracki is directing.
Lena Headey starring in The Abandons: Lena Headey has signed on to star in Kurt Sutter's upcoming Western series, The Abandons.  The show, which will stream on Netflix, is about, "a group of diverse, outlier families pursue their Manifest Destiny in 1850s Oregon, a corrupt force of wealth and power, coveting their land, tries to force them out. These abandoned souls, the kind of lost souls living on the fringe of society, unite their tribes to form a family and fight back".  Headey is playing Fiona, "a strong, devout matriarch who, unable to have her own children, took in four orphans to create her own family. Driven by a higher purpose – and a strong-willed Irish temper – her faith and love for her family trump all".
Questlove directing a reboot of The Aristocats: The Aristocats is getting an animated/live-action reboot from The Roots drummer, and Summer of Soul director, Questlove.  Questlove will also executive produce and oversee the music.  The original film followed a group of pampered cats in Paris who are set to receive their wealthy owner's fortune but a greedy butler kidnaps them and they are forced to team up with a craft alleycat to get home and get their inheritance.
Liv Tyler returning to the MCU for Captain America: New World Order: Liv Tyler is returning as Betty Ross for the upcoming Captain America: New World Order.  Last seen 15 years ago in The Incredible Hulk, Tyler is joining fellow Hulk co-star Tim Blake Nelson, who seems to finally be fulfilling his tease of becoming The Leader, and Harrison Ford, who is taking over the role of Thunderbolt Ross from the late William Hurt.  Anthony Mackie, Danny Ramirez, and Carl Lumbly are also starring.
Samuel L. Jackson and Vincent Cassel starring in action thriller Damaged: Samuel L. Jackson and Vincent Cassel are co-starring in a new action thriller, Damaged.  The movie follows a Chicago detective who travels to Scotland as he believes a serial killer he was tracking for five years has reemerged overseas.  Terry McDonough, who directed episodes of Breaking Bad and Better Call Saul, is directing the movie.
Universal remaking The Mole People: Universal is digging deep into the archives and is remaking The Mole People.  Coming out in 1956, the original movie followed a group of archaeologists who discover a hidden society of the titular Mole People, who have no pigmentation and can see in low light thanks to their existence in mostly pitch-black darkness.  The new movie will follow a woman who travels to an isolated town to rescue her grandchildren from their father and finds herself in a hellish system of tunnels where The Mole People reside.  Similar to the upcoming Renfield, Universal is teaming with Skybound for The Mole People remake.
I'm like the J. Jonah Jameson of Everything Action, writing and editing and constantly demanding pictures of Spider-Man.
bella
betty ross
captain america; new world order
jamie campbell bower
lena headey
lilo & stitch
liv tyler
lower decks
maia kealoha
man on fire
movie new
netflix
news shotgun
questlove
ryan coogler
samara weaving
samuel l jackson
scott pilgrim
Star Trek
starfleet academy
strange new worlds
the abandons
the aristocats
the mole people
the night agent
the x-files
tv news
vincent cassell
witchboard