Here's all the movie and TV news you need to know from the past week, it's the News Shotgun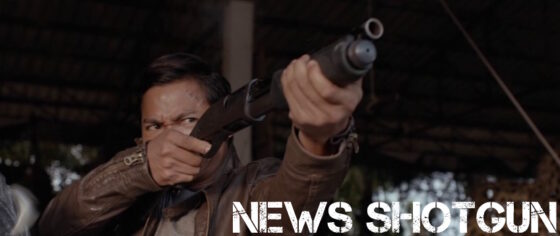 Baywatch remake in development: A new Baywatch TV series seems to be in the works, as the current rights holder Fremantle has been developing a reboot and shopping it to broadcast networks and streaming.  Fremantle in recent years remastered the original series and it airs on streaming services like Roku and Pluto TV.
Clint Eastwood finds stars for next movie: At 92, Clint Eastwood is still cranking out movies and his latest movie, a thriller called Juror #2, has cast Nicholas Hoult and Toni Collette in the lead roles.  The movie would find Hoult on the jury of a murder trial but slowly realizes that he's the one that killed the victim in a reckless driving accident.  He needs to figure out some way to save the innocent defendant while not incriminating himself.  Toni Collette will play the District Attorney on the case.
Robocop and more MGM series potentially getting TV shows: Since Amazon bought MGM, they have a plethora of IP to use and it seems like they are looking into possibly rebooting Robocop with both a movie and TV series, with the TV series coming out first.  Amazon is also looking at Stargate, Legally Blonde, Fame, Barbershop, The Magnificent Seven, Pink Panther, and The Thomas Crown Affair for potential remake films or TV shows.  Robocop is getting a new video game, Rogue City, later this year.
Glen Powell joins Twisters: Top Gun: Maverick and Devotion co-star Glen Powell has signed on to the upcoming Twister sequel, Twisters, to co-star with Daisy Edgar-Jones.  Plot details are still under wrap but it will take place in the same universe as the original Twister and follow a new group of storm chasers.  Lee Isaac Chung is directing.
Suicide Squad: Kill the Justice League pushed back to 2024: After being featured in the February Playstation State of Play presentation, and getting a May 26th release date, Rocksteady has delayed Suicide Squad: Kill the Justice League to February of next year.  The reception to February's State of Play was mixed at best, with many fans disappointed by the gameplay and similarity to games like Destiny 2 or Marvel's The Avengers, with a massive emphasis on co-op and loot and less the single player, story-driven content of the Arkham trilogy.  There wasn't any specific reasoning given for the delay, just that they had "to take the time needed to work on getting the game to be the best quality experience for players".
Metalocalypse is coming back: Cult favorite heavy metal Adult Swim series Metalocalypse is returning with a new movie, a new album, and a live tour.  The new movie is titled Metalocalypse: Army of the Doomstar, and "starts with the band's fearless rescue of Toki Wartooth as Nathan Explosion finds himself in "a brutal professional and romantic flat-spin." Tasked with fulfilling the prophecy and overcoming "the ultimate songwriting challenge to save the planet," Deathklok's frontman must look beyond his ego to ultimately save his band, stop the Metalocalypse and defeat the evil Salacia".  Show creator Brendan Small is back to write and direct the movie.  An album called Dethalbum IV will release with the movie and the "band" will tour live starting on August 30th this year and feature Babymetal as a co-headliner.
Wes Chatham joins Ahsoka: The Expanse co-star Wes Chatham is jumping to another sci-fi franchise, joining the cast of Ahsoka.  Described as "Thrawn's Right Hand Man", it's not confirmed who exactly Chatham is playing but he will serve Lars Mikkelsen's Grand Admiral Thrawn and fight the Ahsoka and the Ghost crew as they attempt to stop Thrawn and find their lost Jedi friend Ezra Bridger.
Creature Commandos voice cast announced: The voice cast for Creature Commandos, one of the new shows under James Gunn and Peter Safran's rebooted DC universe, has been revealed.  Frank Grillo will play Rick Flagg Sr., David Harbour will play Eric Frankenstein, Sean Gunn is reprising his Suicide Squad role as Weasel, Indira Varma is The Bride, Zoe Chao is Nina Mazursky, Alan Tudyk is Dr. Phosphorous and Maria Bakalova is Princess Ilana Rostovic.  Steve Agee is also returning as his Suicide Squad/Peacemaker character John Economos.  There's no release date yet but Gunn confirmed that at least Frank Grillo will reprise his role in live-action, which is the plan for every role in the new universe.
Mia Goth joins Blade: X, Pearl, and Infinity Pool star Mia Goth is heading to MCU, co-starring with Mahershala Ali in Blade.  There are no plot details and no details about who Goth would be playing. Yann Demange is directing the movie, stepping in to replace the original director Bassam Tariq.  Blade is coming out in September of next year.
Morena Baccarin and Stefan Kapicic return for Deadpool 3: Some familiar faces are joining Ryan Reynolds' Deadpool in the MCU as Morena Baccarin and Stefan Kapicic were confirmed to be returning as Vanessa and Colossus respectively for Deadpool 3. Karan Soni and Leslie Uggams were previously announced to return as Dopinder and Blind Al.  Hugh Jackman is co-starring with Reynolds, reprising his role as Wolverine, and Matthew Macfadyen and Emma Corrin joined the cast as well.  Shawn Levy, who directed Reynolds in Free Guy, is directing Deadpool 3, with Rhett Reese and Paul Wernick returning to write the script.
Julie Bowen starring in Peacock series Hysteria!: Julie Bowen has signed to star in the upcoming Peacock thriller Hysteria!.  Set against the background of the 80s Satanic Panic, Bowen plays Linda Campbell, who is the mother to a teenage outcast. She "experiences a series of supernatural disturbances that force her to question everything she knows about her son, as well as the growing threat of Satanism in their small Midwestern town".
Radio Silence developing a Universal Monsters movie: After two successful Scream movies, the directing team known as Radio Silence, aka Matt Bettinelli-Olpin & Tyler Gillett, has signed to direct a mysterious Universal Monsters movie.  There's no word on what monster (or monsters) will be featured but The Invisible Man and Dracula have seen new incarnations.  Scream star Monica Barrera is reuniting with Radio Silence to star in the new movie.
Sebastian Stan and Maria Bakalova co-starring in spy comedy: Paramount is developing an untitled spy comedy and Sebastian Stan and Maria Bakalova have signed on to co-star.  Paul Feig, who has experience with espionage comedies with Spy, is producing and possibly directing the new movie.  The plot is about a failed double agent who somehow becomes an unlikely success.
All Dick Wolf NBC shows renewed: Both of Dick Wolf's massive NBC franchises have been renewed with all three current Law & Order series and the One Chicago shows all getting renewals.  All the shows have been picked up for new 22-episode seasons, except Law & Order: Organized Crime, which will have a shorter 13-episode season.  All of the shows are still big hits, with Chicago PD being one of the biggest dramas on network television.
Star Wars: The Bad Batch renewed for a final season: Clone Force 99 will be back for one more mission as the animated series was renewed for a third and final season.  A spin-off of The Clone Wars and Star Wars Rebels, the show follows a group of genetically modified clone troopers who escape Order 66 and make their way post-Clone Wars as mercenaries.  The final season will debut sometime next year.
Stranger Things getting an animated series: Along with an upcoming London stage play prequel, Stranger Things is also getting an animated spin-off on Netflix.  There were no details about what the new animated series will be about but the Duffer Brothers will be executive producing it and Eric Robles, who previously created Fanboy & Chum Chum, is the showrunner.  The Duffers said they wanted to create a Stranger Things animated series that was like the Saturday morning cartoons they grew up with.
RIP Michael Lerner: Character actor Michael Lerner passed away this past week at age 81.  Lerner earned an Oscar nomination for Best Supporting Actor for his role in Barton Fink and also appeared in movies like Elf, Godzilla, X-Men: Days of Future Past, Eight Men Out, No Escape, My Favorite Martian, and A Serious Man.
Die Hart renewed for Season 3: The Kevin Hart action-comedy series Die Hart has been renewed for a third season on The Roku Channel.  The series originally began life on Quibi before Roku purchased the rights to all of Quibi's content and produced Die Hart 2: Die Harter as a Roku Original.  The March 31st debut was the biggest opening weekend audience ever for a Roku Original.  Kevin Hart plays an exaggerated version of himself in the series, who is trying to become the greatest action star of all time.  Nathalie Emmanuel, John Cena, Ben Schwartz, and Paula Pell co-starred in the second season.
I'm like the J. Jonah Jameson of Everything Action, writing and editing and constantly demanding pictures of Spider-Man.
ahsoka
baywatch
blade
clint eastwood
creature commandos
deadpool 3
dick wolf
die hart
hysteria
julie bowen
juror #2
kevin hart
law & order
metalocalypse
mia goth
michael lerner
morena baccarin
movie news
news shotgun
one chicago
peacock
radio silence
robocop
satanic panic
star wars: the bad batch
stefan kapicic
stranger things
suicide squad: kill the justice league
tv news
twisters
universal monsters
wes chatham