More Bubbles to Pop in Puzzle Bobble Everybubble! (Trailer)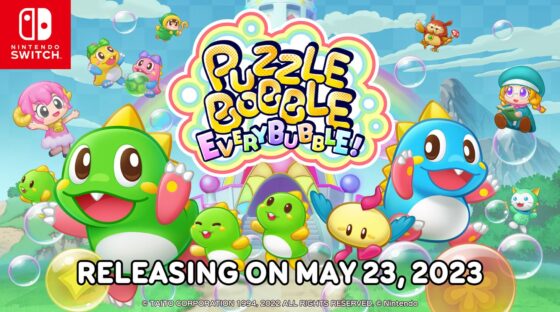 The colorful and classic Puzzle Bobble/ Bust-a-Move series is getting an entry for the Nintendo Switch in Puzzle Bobble Everybubble! TAITO's timeless color-matching puzzler first hit the gaming scene in 1994 and has become a genre-defining video game with many entries. The games follow a match-3 puzzle mechanic with bubble pieces being launched into a grid of other color bubbles. You can slowly eliminate bubbles by stacking or completely wiping out a column with some trick shots.  Puzzle Bobble Everybubble! retains all the cute characters, animations, and solid gameplay, with a new story mode, challenges, and multiplier features. Check out the trailer below.
The single-player story mode brings Bub, Bob, Peb, and Pab back to the Rainbow Islands, where mysterious creatures called Miniroons have become blowing bubbles. Now Rainbow Islands has been covered in bubbles, causing issues for the residents and now the team of bubble dragons set off to pop bubbles to save the day! There are all new puzzle designs and challenges that await players to tackle. There are also bonus unlocks for completing stages with certain conditions. For a competitive challenge, the multiplier player has been greatly expanded for new types of verse modes. For the first time, Puzzle Bobble Everybubble! introduces 4-player mode, where 4 people can out-bubble pop each other or in 2v2.
Puzzle Bobble Everybubble! will have lots of fun features and gameplay that should be a delight for long-time fans and newcomers alike. You can check out the pre-order page on the Inin Games
Bitten by a radioactive video store rental employee and overcome by Pac-Man fever, Chris seeks new comic books, games, and movies to review.
Bust-a-Move
game trailer
Inin
Puzzle Bobble
Puzzle Bobble Everybubble!
Puzzle game
strictly limited games
taito
trailer