Here's all the movie and TV news you need to know from the past week, it's the News Shotgun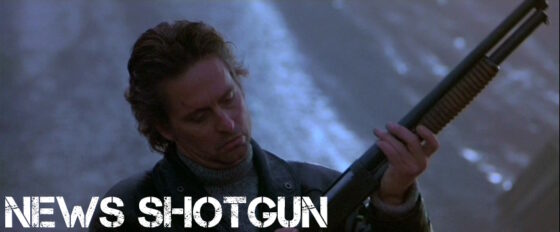 Nic Pizzolotto joins Blade reboot: Reuniting with his Season 3 star Mahershala Ali, True Detective creator Nic Pizzolotto has signed on as a writer for the upcoming Blade reboot.  Pizzolotto is working off a draft from Emmy nominee Michael Starrbury.  Shooting for the movie is expected to start late in May this year and the movie has a September 6th, 2024 release date.  Yann Demange is directing the movie with Aaron Pierce, Mia Goth, and Delroy Lindo co-starring with Ali.
Vampire Survivors getting animated series: The extremely popular roguelike shooter Vampire Survivors is getting an animated series with production company Story Kitchen teaming with the game's developer Luca Galante.  The show will be a "premium animated series" and will be shopped to potential buyers.  It will follow the same story of the game, which follows members of the Belpaese family as they fight through hordes of monsters to try and destroy the evil vampire Bisconte Draculó.
Gladiator 2 adds 2 new cast members: The upcoming sequel to Ridley Scott's Gladiator continues to flesh out its cast and two new additions were added this week.  Returning from the original movie is Connie Nielsen, who is closing on a deal to reprise her role of Lucilla, the mother of Lucius who will be played by Oscar nominee Paul Mescal.  Stranger Things' Joseph Quinn has joined the cast as well and will play Emperor Caracalla.  Barry Keoghan and Denzel Washington were previously added to the cast and Ridley Scott is directing and producing this new movie.
Transformers animated movie announces voice cast: Along with this summer's Transformers: Rise of the Beasts, Paramount is also developing a fully animated Transformers movie, revealed to be Transformers One, and the voice cast was announced this week. Chris Hemsworth will voice Optimus Prime while Bryan Tyree Henry will voice Megatron. Scarlett Johansson, Laurence Fishburn, Jon Hamm, and Keegan-Michael Key will also co-star and the movie is a prequel that follows how Optimus and Megatron were brothers-in-arms on Cybertron but became sworn enemies.  Pixar veteran Josh Cooley is directing the movie, which opens in July next summer.
Dodgeball sequel in development: Just shy of 20 years since the first movie came out, a sequel to 2004's Dodgeball is in development with Vince Vaughn back to star.  Vaughn will also produce the movie and a script is being developed.  There's no word on a potential plot or if any other original cast members would return.
RIP Jerry Springer and Harry Belafonte: Two drastically different personalities passed away this past week with controversial talk show host Jerry Springer passing away at age 79 and actor/singer/activist Harry Belafonte passing away at age 96.  Springer passed away from pancreatic cancer and was best known for his over the top daytime talk show, that often resulted in massive brawls and featured outrageous characters and topics.  Springer appeared as himself in a number of movies and TV shows and also played a slightly fictionalized version of himself in the movie Ringmaster.  Belafonte died from congestive heart failure and appeared in movies like Bright Road, Carmen Jones, Buck and the Preacher and Uptown Saturday Night.  He also famous for his calypso music, most notably "Banana Boat (Day-O)", which featured prominently in Beetlejuice and was a top 5 hit on the Billboard charts in 1957.  He was also extremely active in the civil rights movement, becoming a confidante of Dr. Martin Luther King Jr.
How to Sell a Haunted House movie in development: Following up last year's adaptation of My Best Friend's Exorcism, another Grady Hendrix book is becoming a movie with How To Sell a Haunted House.  The novel follows a woman who travels home to Charleston to sell her parents' home after they have died but finds that a malevolent force within the house doesn't want to be sold.  Sam Raimi and Robert Tapert's Ghost House Pictures is producing the movie along with Legendary Entertainment with James Ashcroft, the director of Coming Home in the Dark, signed on to direct.
Joel Kinnaman starring in new Neill Blomkamp movie: Neill Blomkamp is returning to the genre that put him on the map with the upcoming alien abduction thriller They Found Us. Joel Kinnaman has signed on to star and the movie follows an estranged father and daughter taking a camping trip to Utah to try and mend their relationship but they are attacked by a hostile alien lifeform.  Blomkamp most recently worked on the Gran Turismo movie for Sony, which is coming out in August.
James McAvoy starring in action movie Control: James McAvoy will star in a new action thriller, Control, directed by Red director Robert Schwentke. Based on the podcast Shipworm, McAvoy stars as a doctor who wakes up with a mysterious device in his head and a voice giving him commands.  If he refuses or fails to follow these orders, horrible consequences will ensue.
Amazon getting three Batman animated projects: As part of their strategy post-merger, Warner Bros. Discovery is licensing some of their IP to other places outside of WBD control and Amazon is getting three new animated Batman projects.  Merry Little Batman is a Home Aloneesque animated movie that finds young Damian Wayne defending Wayne Manor from criminals on Christmas Eve and will be directed by Regular Show's Mike Roth.  A sequel series, Bat-Family, will continue the story as Damian, Alfred, and Bruce deal with the "fun and frustrations of being a super family".  Both projects are family comedy takes on the Dark Knight. The third project is Batman: Caped Crusader, which was originally going to be an HBO Max series but was sold post-merger to Amazon. This series is the spiritual successor to Batman: The Animated Series with Bruce Timm, JJ Abrams, and Matt Reeves producing.
Robert DeNiro series Zero Day adds cast members: The upcoming Robert DeNiro starring Netflix series Zero Day has added a number of high profile cast members with Lizzy Caplan, Jesse Plemons, Connie Britton, and Joan Allen joining the series.  The show follows DeNiro as "a massively popular, but complicated, former American President who is pulled from retirement to head a commission tasked with investigating a devastating global cyber-attack".
The Magnificent Seven series coming to Amazon: Along with the previously mentioned news of joining Blade, Nic Pizzolotto is also working on a reboot of The Magnificent Seven as a TV series for Amazon.  Originally working on an original western series for Amazon but they put the Magnificent Seven IP onto it.  The new show will follow a former outlaw and his gang as they defend a group of immigrant homesteaders from ruthless cattle barons.  Pizzolotto worked on the 2016 movie reboot of The Magnificent Seven, which starred Denzel Washington and Chris Pratt and was directed by Antoine Fuqua.
Arnold Schwarzenegger starring in new action movie Breakout: Arnold is starring in his first TV series, FUBAR, later this year on Netflix and he's returning to theaters for the first time since Terminator: Dark Fate with the new action movie Breakout.  Directed by Expendables 4 director Scott Waugh, the movie finds Arnold as a father who travels overseas when his stepson is arrested and put in prison for 25 years and attempts a daring jailbreak and escape.  The movie will start shooting later this year in Eastern Europe.
I'm like the J. Jonah Jameson of Everything Action, writing and editing and constantly demanding pictures of Spider-Man.
arnold schwarzenegger
bat-family
batman
batman: caped crusader
blade
breakout
brian tyree henry
chris hemsworth
connie britton
connie nielsen
CONTROL
damian wayne
dodgeball
gladiator 2
grady hendrix
harry belafonte
how to sell a haunted house
james mcavoy
jerry springer
jesse plemons
joan allen
joel kinnaman
joseph quinn
lizzy caplan
mahershala ali
merry little batman
movie news
neill blomkamp
news shotgun
nic pizzolotto
optimus prime
robert deniro
robert schwentke
scott waugh
the magnificent seven
they found us
transformers one
tv news
vampire survivors
vince vaughn
zero day