Here's all the movie and TV news you need to know from the past week, it's the News Shotgun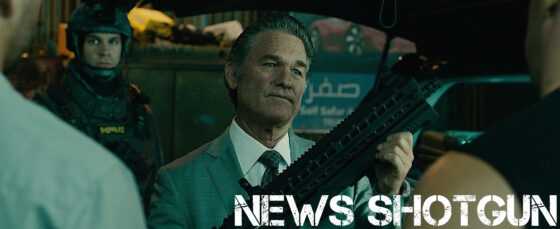 RIP Jim Brown: Legendary Cleveland Browns running back, civil rights activist and actor Jim Brown passed away this past week at age 87.  Brown was a Hall of Fame NFL player who played nine seasons for the Browns and led the league in rushing 8 times and he had the most rushing and touchdown yards in NFL history when he retired in 1966.  Brown then went on to an extensive acting career, appearing in movies like The Running Man, Mars Attacks!, Any Given Sunday and The Dirty Dozen.
Live-Action Powerpuff Girls TV series no longer in development: The CW has scrapped its plans to reboot The Powerpuff Girls in live-action.  The show was announced back in May 2021 and had shot a pilot that was sent back to be reworked but The CW is no longer developing any version of the show.  Dove Cameron, Chloe Bennett, and Yana Perrault were going to star as the adult versions of Bubbles, Blossom, and Buttercup.
Disney removing multiple shows from Disney+ and Hulu: Disney is following on the heels of other streamers and removing content from its services.  Willow, Y: The Last Man, The World According to Jeff Goldblum, Just Beyond, Big Shots, Little Demon, and many more movies and shows are being removed from Disney+ and Hulu, mostly as a cost-cutting measure to eliminate licensing and royalty payments for shows and movies that are not being watched enough to justify their cost on the service.  It's possible that some of these shows could end up on an ASVOD service like Pluto TV or Tubi, as WB Discovery did with shows like The Nevers and Westworld, which would generate ad revenue for Disney.
Galactic Starcruiser closing in September: Speaking of Disney cutting costs, there was huge news from the theme parks this week as Disney announced that the Star Wars Galactic Starcruiser will be closing in September.  The Starcruiser was Disney's insanely expensive hotel/interactive experience that aimed to give guests a sort of cruise ship experience in the Star Wars universe, with interactive plot lines involving live actors that guests could experience and various activities to do.  The cost of staying and experiencing the Starcruise was exorbitant, with a room costing around $5000 for two nights, which is most likely a major factor in it not drawing the business Disney wanted.  The last "voyage" of the Starcruiser will be at the end of September and Disney has not said what they will do, if anything, with the facility.
Eddie Murphy in talks for a Pink Panther reboot: Eddie Murphy is apparently in talks to take on the role of Inspect Clouseau for a new version of The Pink Panther.  Jeff Fowler, who has directed the Sonic the Hedgehog movies, will be directing this reboot of the 1960s and 70s comedy series, which originally starred Peter Sellers as Clouseau.
Dinner and a Movie coming back to TBS: A staple of TBS in the mid-90s to 2011, Dinner and a Movie is coming back to TBS.  The show was hosted by two celebrities/comedians and a chef and there would be segments sprinkled throughout a presentation of a movie that would feature a food dish inspired by the movie and going over the steps to prepare it.  Paul Gilmartin and Claud Mann co-hosted the show with a rotating third female host that included Anna Gurwitch, Lisa Kushell, and Janet Varney.  No word on the chef or celebrity hosts that will be on the new version.
The Joe Schmo Show getting Rebooted: Speaking of TBS reboots, The Joe Schmo Show is getting a revival on the network.  Originally a Spike series, The Joe Schmo Show was a reality show where the premise was there was 1 real person who was not aware that everything else around them was fake, like their fellow cast mates all being actors.  The show has been back in conversation recently with the release of Freevee's series Jury Duty, which had a similar premise.  Cat Deeley will host the new version of the series.
Nicolas Cage joins Dead by Daylight: Dead By Daylight has added numerous guest characters over the years, including Freddy Krueger, Jigsaw, Leatherface, and Michael Myers but the one and only Nicolas Cage is coming to the game's universe as himself.  More details will be coming in July but the teaser trailer shows a digital Nicolas Cage saying things about imagination like, "It can shake the fabric of reality, transforming everything you may think you know".
Michael Bay developing a true crime series for Investigation Discovery: The master of Bayhem, Michael Bay, is heading to Investigation Discover with a new true crime documentary series, the topic and title are currently under wraps.  Bay will executive produce the series, which will tell a little-known true crime story.  Bay previously dabbled in true crime, albeit in his own ridiculous, over-the-top style, with Pain & Gain, which was based on real events in Miami.
Echo dropping all episodes at once: Disney+ is going to try a Netflix-style release strategy for their upcoming Hawkeye spin-of Echo, with all episodes of the series dropping on November 29th.  Alaqua Cox returns as Maya Lopez, aka Echo, and Vincent D'Onofrio and Charlie Cox will return as Kingpin and Daredevil as well as Zahn McClarnon, who played Maya's father in flashbacks.
Loki Season 2 gets a premiere date: In other Marvel Disney+ TV news, Loki Season 2 finally has a release date, October 6th.  The show will have the normal Disney+ weekly release schedule with Tom Hiddleston, Owen Wilson, Gugu Mbatha-Raw, Sophia Di Martino, Wunmi Mosaku, and Richard E. Grant all returning from Season 1.
Chiwetel Ejiofor joins Venom 3: Chiwetel Ejiofor is jumping across the multiverse to the Sony Marvel universe to co-star with Tom Hardy in the upcoming Venom 3.  There's no word on who Ejiofor is playing but it's a good bet he'll be the new antagonist to Eddie Brock and Venom.  Juno Temple also joined the cast and Kelly Marcel, who wrote the previous two movies, will write and direct Venom 3.
Scott Adkins and Marko Zaror co-starring in the action movie Diablo: After both appearing in John Wick Chapter 4, Scott Adkins and Marko Zaror will face off in the upcoming action movie Diablo.  Adkins plays Kris Chaney, who is recently released from prison and forced to keep an old promise and kidnaps the daughter of a powerful gangster.  The gangster puts the word out to the criminal underworld, sending killers like Zaror's El Corvo after Chaney.  Adkins and Zaror co-starred in the excellent Savage Dog previously and Diablo is being directed by Ernesto Díaz Espinoza, who directed Zaror in The Fist of the Condor and Redeemer.
Dave Bautista starring in the action comedy The Killer's Game: Dave Bautista will headline another action comedy movie with The Killer's Game, coming from Day Shift director JJ Perry.  The Killer's Game follows Bautista as an accomplished hitman who is diagnosed with a painful and terminal disease.  He puts a hit out on himself but then learns that he was misdiagnosed and will leave, which forces him to then fend off all the other assassins trying to collect on the contract.  The movie is based on the novel of the same name by Jay Bonansinga.
Nurse Jackie and Weed revivals in development at Showtime: Showtime is looking to bring back two of the popular comedy shows with both Nurse Jackie and Weeds potentially getting a revival.  Edie Falco and Mary Louise Parker are both apparently in talks to return to their respective shows and also executive produce the sequel shows.  There are not any specific plot details but both revival shows would continue the stories from the original shows, with the Weeds revival possibly following the characters trying to navigate the new world of legalized marijuana.
David Mamet assembles cast for JFK thriller Assassination: Pulitzer Prize-winning and Oscar-nominated screenwriter David Mamet is writing and directing a new JFK thriller Assassination and has assembled an eclectic cast to star.  Assassination is a reimagining of the JFK assassination, pitching it as a hit by the mafia as revenge for JFK undermining them after they helped him get elected.  Al Pacino, Viggo Mortensen, John Travolta, Shia Laboeuf, Rebecca Pidgeon, and Courtney Love will star in the movie.
Kitchen Nightmares returning to Fox: After a decade off the air, Kitchen Nightmares is returning to Fox.  The American version of the UK series Ramsay's Kitchen Nightmares, the show was the first major series starring Gordon Ramsay, who later had Masterchef, 24 Hours to Hell and Back, Hotel Hell and Hell's Kitchen.  Ramsay's Studio Ramsay will produce the new series, which will give Ramsay the rights to the show, which is one of the issues that ended the original incarnation as ITV America had the rights to the original run of the series.
Twisters rounds out its cast: The sequel to Twister, Twisters, has rounded out its cast with Maura Tierney, Harry Hadden-Paton, Sasha Lane, Kiernan Shipka, Nik Dodani, David Corenswet, Tunde Adebimpe and Katy O'Brian all joining the disaster movie.  Glen Powell, Daisy Edgar-Jones, Anthony Ramos, Brandon Perea and Daryl McCormack were previously cast in the movie, which will be directed by Minari director Lee Isaac Chung.  The plot remains under wraps but will be set in the same universe as the original Twister and presumably follow a new group of storm chasers following tornadoes.
I'm like the J. Jonah Jameson of Everything Action, writing and editing and constantly demanding pictures of Spider-Man.
assassination
chiwetel ejiofor
david mamet
dead by daylight
dinner and a movie
disney
echo
eddie murphy
galactic starcruiser
gordon ramsay
hulu
investigation discovery
jim brown
kitchen nightmares
little demon
loki
marko zaror
michael bay
movie news
news shotgun
nicolas cage
nurse jackie
powerpuff girls
scott adkins
star wars
the CW
the joe schmo show
the pink panther
tom hardy
tv news
twisters
venom 3
weeds
willow
y the last man