Everything Action Theater: The Flash (1990)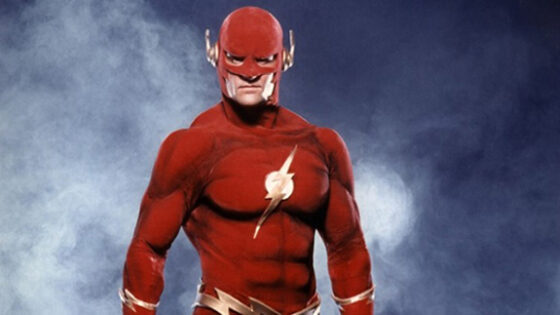 The Flash is making his first solo feature film debut this weekend with the highly anticipated, much-hyped blockbuster DCEU entry but the Multiverse is full of other versions of Barry Allen, including the campy 1990s TV series.  John Wesley Shipp played Barry Allen aka The Flash, a forensic scientist working for the Central City PD when he is struck by lightning, which sends him crashing into various chemicals in his lab that combine to give him super speed and other incredible abilities.  Barry uses these new powers to fight villains like Trickster (Mark Hamill), The Ghost (Anthony Starke), Pike (Michael Nader) and other rogues while trying to maintain his secret identity and social life.  The show's ambitions far outstripped the limits of 1990s TV budgets and most of the effects are painfully terrible looking back and the tone varies wildly from melodramatic to sitcom between scenes and it seemed like it was trying somewhat to capture some of the magic of Tim Burton's Batman, even getting Danny Elfman to help with the score, but getting more into Adam West/Schumacher territory.  Fortunately for Shipp and the show, The CW's Flash brought some redemption, as Shipp got to play The Flash's father, Henry Allen, along with the Jay Garrick version of The Flash and even reprised his 1990s Flash to much greater effect.  Other cast members from the 90s series appeared on The Flash as well, including Hamill's Trickster, who returned to menace Grant Gustin in multiple episodes.  The series is available digitally on platforms like Amazon and has also been released on DVD and Blu-ray.  You can watch the first episode, which was actually a TV movie, below.
Where to watch The Flash Season 1
I'm like the J. Jonah Jameson of Everything Action, writing and editing and constantly demanding pictures of Spider-Man.
1990
90s TV
alex desert
amanda pays
anthony starke
barry allen
cbs
corinne bohrer
danny bilson
everything action theater
grant gustin
john wesley ship
joyce hyser
julio mendez
mark hamill
michael nader
paul de meo
pike
prank
the CW
the flash
the ghost
the trickster
tina mcgee
tv episode