Everything Action Theater: Mystic Knights of Tir Na Nog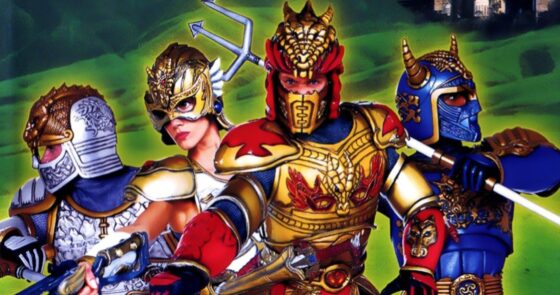 Riding high on the success of Power Rangers, Saban tried their hand at the fantasy genre with the series Mystic Knights of Tir Na Nog.  Debuting in September 1998, the series ran for 50 episodes until May 1999.  The show was set in the fantasy realm of Kells, which is under threat from the evil Queen Maeve (Charlotte Bradley), who uses the mystical "Rune Stone" to create monsters and wreak havoc, like a medieval Rita Repulsa.  A group of warriors, including a druid's apprentice named Rohan (Lochlann Ó Mearáin), the princess of Kells, Deidre (Lisa Dwan), a prince from a distant land, Ivar (Justin Pierre), Rohan's best friend Angus (Vincent Walsh) and Garrett (Ben Palmer), the prince of Kells' ally Rheged, go on a quest and are awarded with magical armor and weapons that give each of them the power of a certain element, like fire for Rohan, along with a dragon ally named Pyre.  The group uses their new allies and powers to battle Queen Maeve and her forces to defend Kells and the show loosely adapted and utilized Irish folklore throughout.  The show was Saban's attempt to try and do a live-action show in the vein of Power Rangers, but without using existing footage from another series.  The series had a similar push to Power Rangers, getting toys, books, and a McDonald's tie-in, and a second season, subtitled Battle Thunder, was in development but Fox canceled the series and put more resources into Power Rangers: Lost Galaxy and Digimon.  You can watch the first episode of the series, "Legend of the Ancient Scroll" below, thanks to YouTube.
I'm like the J. Jonah Jameson of Everything Action, writing and editing and constantly demanding pictures of Spider-Man.
90s TV
angus
ben palmer
charlotte bradley
everything action theater
fantasy
fox kids
garrett
irish folklore
ivar
justin pierre
kells
lisa dwan
lochlann o mearain
mystic knights of tir na nog
power rangers
princess deidre
pyre the dragon
queen maeve
rohan
saban
vincent walsh