Here's all the movie and TV news you need to know from the past week, it's the News Shotgun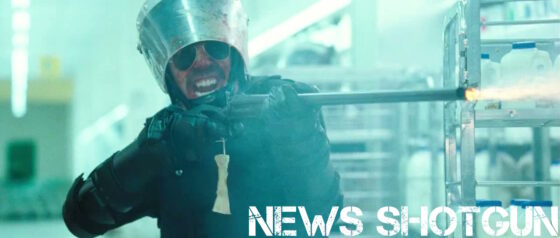 The Last Drive-In Renewed for Sixth Season: Joe Bob Briggs is returning to Shudder for a sixth season of The Last Drive-In.  The movie watch party/interview show will feature more than 30 movies in the new supersized season and the show will change formats in March of next year.  This year Joe Bob will have two Halloween specials in October, a holiday special in December, and a Valentine's Day special in February.  The new season will shift to featuring a single movie to spotlight, instead of the double features that have been featured in the previous episodes.
James Gunn reveals who will return in the new DC Universe: James Gunn confirmed on Threads this week that three actors from the current DCEU will continue on into the new DC Universe run by himself and Peter Safran.  Xolo Maridueña will continue to be Jaime Reyes aka Blue Beetle, John Cena will be Peacemaker and Viola Davis will be Amanda Waller.  A new season of Peacemaker and an Amanda Waller series are scheduled to be part of the new initiative, although it's not clear if the characters will be new versions played by the same actors or continuations of the old DCEU.  Gunn stated that once Superman: Legacy and Creature Commandos launch, everything following those projects is canon to the new DC Universe unless specified as an Elseworlds tale, like Todd Phillips' Joker sequel.
RIP Michael Gambon and David McCallum: Two acting elder statesmen passed away this week with Michael Gambon and David McCallum.  Gambon was best known recently for playing Albus Dumbledore in the Harry Potter series and over 150 other credits across film and TV. Gambon passed away peacefully at age 82 after developing pneumonia.  McCallum passed away of natural causes at age 90 and was best known for playing Ilya Kuryakin on The Man From UNCLE in the 60s and Dr. Donald "Ducky" Mallard on NCIS.
Moonlighting coming to streaming for the first time: The 80s classic Moonlighting is finally coming to a streaming platform for the first time when it debuts on October 10th on Hulu.  The Bruce Willis/Cybil Shephard starring series was a massive ratings hit when it was airing in the mid to late 80s but it has been caught in a legal quagmire that has finally been resolved.  Original show creator, Glenn Gordon Carron has been working on remastering the series to HD and getting clearance from most of the pop music that was heavily featured on the series, along with resecuring the rights to the classic Al Jarreau theme song.
Golden Globes adding two new categories: Although numerous scandals have drastically decreased the perceived importance and legitimacy of The Golden Globes, they are still one of the bigger award ceremonies for the entertainment industry and the upcoming ceremony will feature two new categories.  The Globes have added "Cinematic and Box Office Achievement" which will feature movie nominees that succeeded financially at the box office along with creatively (which seems specifically created to award Barbie) and "Best Performance in Stand-Up Comedy on Television" will feature nominees based on filmed stand up comedy specials across streaming, premium cable and broadcast television.
Starz cancels several shows: Starz put several shows on the chopping block this past week with Heels, Run the World, and Blindspotting all getting canceled.  Another series, The Venery of Samantha Bird, will not air at all on the network, despite a full first season being filmed and finished.  For Heels, show creator Michael Waldron stated that they would be shopping the series to other platforms to see if they can get picked up and continue.
The Office reboot reportedly in the works: A reboot of the beloved comedy series The Office is reportedly in development, with original creator Greg Daniels on board to oversee it.  There has been talk of some sort of reboot or continuation of The Office, with Daniels previously mentioning it could be a show set in the same universe but with new characters and various cast members from the original series, like John Krasinski and Mindy Kaling, have said they would reprise their roles if the opportunity presented itself.  The series finale was just over 10 years ago but the show has not lost any cultural relevance or interest, still streamed constantly and referenced and memed, so it seems odd to reboot it when the series is still so relevant and beloved.
The Writers Strike is officially over: The Writers Strike that lasted 146 days was officially ended this week as the WGA and the AMPTP reached an agreement on the new guild contract.  The WGA received almost all the concessions they were requesting in some capacity or another, including a new plan to pay out residuals for popular streaming content, a new minimum rate for work and agreements over the use of AI.  All guild members will vote to ratify the agreement next week but writers returned to work or can return to work during the voting process.  SAG-AFTRA is still on strike but they are reportedly going to meet with the AMPTP early next week to hopefully resolve their contract.
blindspotting
bruce willis
cybil shephard
david mccallum
dc universe
golden globes
greg daniels
heels
james gunn
joe bob briggs
john cena
michael gambon
moonlighting
movie news
news shotgun
run the world
shudder
starz
the last drive-in
The Office
tv news
viola davis
writer's strike
xolo mariduena