Here's all the movie and TV news you need to know from the past week, it's the News Shotgun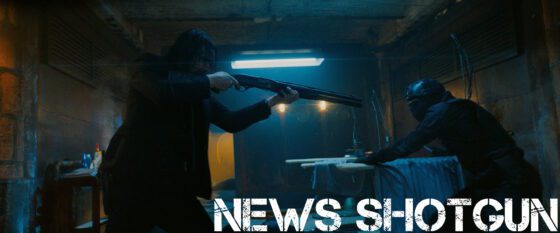 Mr. and Mrs. Smith Series Gets Premiere Date: Amazon's reboot of Mr. & Mrs. Smith has a premiere date of February 2nd, 2024.  The new series stars Donald Glover and Maya Erskine and takes a slightly different tack than the Doug Liman movie starring Brad Pitt and Angelina Jolie.  In the new TV series, John and Jane Smith are both given jobs working for the same spy agency and all the luxurious benefits that come with it.  The catch is that they must take new identities as a married couple.  Each episode will focus on John and Jane trying to figure out their new relationship dynamic while taking on high-risk missions.
Omen prequel gets a release date: The First Omen, a prequel to the 1976 horror classic, is coming out next year on April 5th.  Directed by Arkasha Stevenson, The First Omen follows a young woman who arrives in Rome to begin a life in service to the Catholic Church but she uncovers a conspiracy to bring about the birth of the Antichrist. Nell Tiger Free, Tawfeek Barhom, Sonia Braga, Ralph Ineson, and Bill Nighy co-star.
Harley Quinn renewed for Season 5: Max's hilariously raunchy take on the DC universe is coming back for a fifth season on the streaming service.  The animated series was renewed this week, although there's no word on when we can expect to see Season 5.  A spin-off, Kite Man: Hell Yeah, is coming out next year on Max.
Netflix cancels 5 original shows: Netflix canceled five of their original shows this week, most of them after 1 season.  Agent Elvis, Glamorous, Shadow and Bone, Farzar, and Captain Fall were all canceled.  Shadow and Bone is probably the biggest cancelation, as it was a hit in its first season and had developed a strong fanbase but the performance of the second season was down as far as viewership and the delay from the strikes would have delayed a third season significantly, so Netflix instead decided to cut the show instead.
Pedro Pascal in talks to play Reed Richards in Fantastic Four: The MCU's version of the Fantastic Four may be close to finding its first major star as Pedro Pascal is apparently in talks to play Reed Richards.  Nothing is official but the actor has apparently met with the studio and negotiations are ongoing.  Pascal has been all over the place in recent years, including The Mandalorian, The Last of Us, Wonder Woman 1984, Game of Thrones, and Narcos and he has Gladiator 2 and the second season of The Last of Us coming up.  Wandavision and Monarch: Legacy of Monsters executive producer Matt Shakman is directing the movie.
Jon Hamm starring in podcast adaptation American Hostage: Jon Hamm is starring in a live-action adaptation of a podcast that he starred in, American Hostage.  The adaptation will be a TV series executive produced by Shawn Ryan, with Hamm reprising his role of Fred Heckman, a real-life radio reporter who was taken hostage by a man named Tony Kiritsis and forced to interview him on his popular radio show.  If successful, Ryan sees the series becoming an anthology, with each season featuring a dramatization of other hostage situations.
SEAL Team ending with Season 7: SEAL Team is coming to an end with the upcoming seventh season.  The show started as a network CBS drama series for four seasons and then jumped over to Paramount+ to become an exclusive there.  Season 5 of the series is currently back airing on CBS due to the lack of content available from the writers/actors' strikes.  The seventh season will go into production early next month and debut next year.
Superman: Legacy finds villain: The big first entry in the James Gunn/Peter Safran DC Universe, Superman: Legacy, has found its villain with The Engineer, played by María Gabriela De Faría.  De Faría has appeared on TV shows like Animal Control and The Moodys and is the lead in the movie The Exorcism of God.  The Engineer is a comic character created by Warren Ellis and Bryan Hitch and is the alter ego of Angela Spica, who gets her abilities from nanobots built into her body.  Darren Corenswet is playing Clark Kent/Superman and Rachel Brosnahan is playing Lois Lane with Nathan Fillion as Guy Gardner/Green Lantern, Isabela Merced as Hawkgirl, Edi Gathegi as Mister Terrific, and Anthony Carrigan as Rex Mason/Metamorpho.  The movie is still on track, despite the strikes, for a release on July 11th, 2025.
Supergirl finds screenwriter: In other DC Universe news, the upcoming Supergirl: Woman of Tomorrow movie has found a screenwriter with Ana Nogueira.  Nogueira is an actor turned writer, who has written the Off-Broadway play Which Way to the Stage? and the adaptation of the novel Mothers, Lock Up Your Daughters.  There is currently no director attached for Supergirl: Woman of Tomorrow but it going to be based on the graphic novel of the same name by Tom King.
Amazon looking to pick up canceled Netflix Masters of the Universe movie: Amazon is in talks to acquire the abandoned Masters of the Universe project that Netflix was developing before canceling over this past summer.  One of the many MotU projects at Netflix, including Kevin Smith's animated series, the live-action movie was being directed by Adam and Aaron Nee, who directed The Lost City, and starring Kyle Allen.
Denzel Washington starring as Hannibal for Netflix historical epic: Denzel Washington will star as the famous ancient warrior Hannibal for a historical epic movie at Netflix,  Washington is reteaming with his frequent collaborator Antoine Fuqua, with the pair most recently making The Equalizer 3.  The new movie will follow Hannibal during the Second Punic War as he battled the Roman Empire.  Denzel is currently slated for another historical epic, Gladiator 2, which Ridley Scott is directing for a Thanksgiving 2024 release.
american hostage
antoine fuqua
captain fall
denzel washington
donald glover
doug liman
fantastic four
farzar
glamorous
hannibal
harley quinn
jon hamm
María Gabriela De Faría
masters of the universe
maya erskine
mr and mrs smith
netflix agent elvis
news shotgun
pedro pascal
reed richards
SEAL team
shadow and bone
supergirl: woman of tomorrow
superman: legacy
the engineer
the first omen