Have a Seat: "A Little Kiss"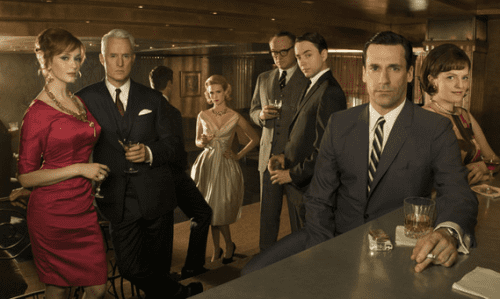 Hey folks, today begins the first day of our recap of the fifth season of AMC's hit drama "Mad Men". While the show itself might not be predominately action per se, it does star some actors previously seen in action movies, such as Jon Hamm ("The Town", "Sucker Punch"), John Slattery ("The Adjustment Bureau") and Christina Hendricks ("Drive"). It's also a personal favorite of the staff here. Plus there was that scene where a lawnmower sliced off that dude's toes.
If that last bit counted as a spoiler for you, then you may not want to read ahead as these recaps assume the reader has caught up to the series. You can also take a look at our Up to Speed recap for the latest plot-lines concerning the show. So shut the door, have a seat, pour yourself a scotch and enjoy!
It has been approximately 525 days since the last new episode of "Mad Men". Forget that's a long span of time in general; it's eons in the TV world. Not to mention that like most TV season finales, we saw some dramatic shockers and cliffhangers for us to chew on. (And chew on for maybe a bit too long.) Joan became pregnant with Roger's kid, but chickened out of an abortion to raise it as her husband's. Betty and Henry begrudgingly moved themselves and the Draper kids, setting off more pent up emotion from daughter Sally. And, in the most dramatic twist yet, Don proposed his new secretary on a family trip to California.
Out of all those plot-lines, all of them good, the Don Draper engagement stands out the most. This isn't only because Don is our de facto main character of the series. It's because it represents a dramatic shift in what we knew as the character. Don's always been the type to avoid big flashy statements while trying to revel as the center of attention. Modesty is the next biggest gun in his arsenal along with his good looks and charisma. To make a big life-altering change like this on the spot is simply out of left field.
Despite the time off and the drastic changes, it's business as usual when we catch up at Sterling Cooper Draper Pryce. (Even Bert Cooper who "quit" in the finale is back.) Peggy and Stan fail to wow the execs at Heinz with their "bean ballet" campaign. Although Don would normally blow up or come close to it normally, he is calm and consoles Peggy by saying she would get it next time. Peggy even reveals to Joan that this new Don is "kind and patient". He even would rather stay home and is constantly late to work.
Meanwhile, Megan conspires with her co-workers on throwing Don a surprise 40th birthday party. Some of them lament how it might not be the greatest idea, but Megan still attempts on what she knows will be a good time. In her words, she wants to throw a party for people to go home to have sex.
The party happens to be a success, even though a late Roger and Jane pretty much spoil the surprise. The SDCP crew hobnob with some of Megan's hipper friends. It's an interesting comparison: the high-class starting their own families along with the young, pot-smoking crew. The party reaches a high moment when Megan gives Don her present, a very sexy rendition of the classic French song "Zou Bisou Bisou". Even the SDCP staff get a big impression, especially the males.
Later that evening, Megan is in good spirits while Don wants to sleep. He laments how Dick Whitman's party was months ago and that Megan's sexy little number was an embarrassment to him. She thinks he's making a big deal of it, but his instance to be left alone makes her wonder what she's really gotten herself into.
Her bottled up feelings are released after she gets angry at Peggy's perceived passive aggresive-ness. "What is wrong with you people? You're all so cynical! You don't smile; you smirk!" she complains, before Peggy corrects her and attempts to apologize. The conflict reaches a head when Megan gone home and defiantly tells Don she's cleaning the party mess in her underwear and only he can watch. This is ended when Don, you know, decides to take action in the best way he can.
Their conflict in this episode highlights this new, "kind and patient" Don. You know if Betty pulled anything like this, he'd call her out as a petulant child. (And most likely be right.) But with his new outlook on life, he's giving Megan more credit than any other lover he's had in the past. The fact he already divulged his true identity also shows this. While last season was dominated by Don's soul-searching and the proposal finding Don possibly moving away from the end of that search, it seems he's finally content in this opener.
Other happenings are afoot at SDCP. Pete Campbell finds his meetings vultured by a peppy Roger Sterling, and pulls a power play to have Roger get him a new office. Long story short: Roger coerces Harry to switch with Pete in a very funny scene.
The other plot in this episode finds Lane Pryce trying to find the owner of a missing wallet, only to be smitten by the owner's girlfriend's photo and voice on the phone. It is isn't immediately interesting, but it shows even with his wife now in NYC, Lane is still tempted by some forbidden fruit.
In 900 plus words, I've recapped only the first episode (or two episodes, since it was a two-hour premiere) of the season. Phew. So where do we go? This doesn't feel like the only issues Don and Megan will face, and Pete Campbell seems more power-hungry than ever. Joan's secret is still out there. What bubble will burst next? This is the perpetual question of the series. And with it finally back, we have more to chew on than ever.
BAMF: Pete Campbell, for his successful power play. His cunning look after moving into Harry's office shows this is only the beginning.
Maddest Man: Megan, whose semi-naked cleaning breakdown is brought down by, ahem, Don's dominance. Though resolved, only the beginning of the new wife's struggles to come.
MIA: Betty Draper-Francis. We see the kids dropped off at their new fancy mansion. But the last we left the Francis', it wasn't really paradise.
Techie guru, who also posts sometimes.
a little kiss
don draper
harry crane
have a seat
john slattery
jon hamm
mad men
megan draper
peggy olsen
pete campbell
roger sterling
zou bisou bisou