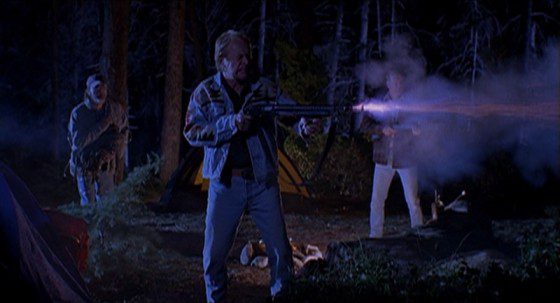 Ashton Kutcher to play Steve Jobs: It came out on April Fool's Day but it's actually true, Ashton Kutcher will be playing the late Apple CEO Steve Jobs in an indie bio pic called "Jobs".  The movie will follow Jobs from his early days as a hippie college student to becoming one of the most influential creators of technology.  The main question I have is why didn't they just ask Noah Wyle to do it again?
Roland Emmerich directing "White House Down": After boring pretty much everyone to death with Anonymous last year, Roland Emmerich is switching gears back to action with the movie "White House Down", where terrorists take over the White House and is being compared to Die Hard or, more appropriately, Air Force One.  No casting news or any other plot details at this point since the script was just recently sold but whoever stars as the, hopefully, ass kicking president is going to have some big shoes to fill with the likes of Presidents Palmer, Marshall and Whitmore in the past.
Universal rebooting The Mummy:  Universal has been riding The Mummy franchise for over a decade now since the original came out in 1999 and now the studio is rebooting the series with a darker and more serious take from Prometheus script writer, Jon Spaiths.  The first two movies are still a ton of B action/adventure fun and The Scorpion King isn't that bad either but Tomb of the Dragon Emperor and the direct to DVD Scorpion Kings have definitely ground out whatever fun was left in the series.
Hunger Games' "District 12" is on the market: Henry River Mill Village, the location chosen to represent the destitute District 12 in The Hunger Games is apparently now on the market and available to purchase for a cool $1.4 million.  70 miles outside of Asheville, North Carolina, the village includes a number of buildings on 72 acres of land.
The Tomb adds supporting cast:  We've been keeping a close eye on The Tomb, if only for the fact that it's co-starring Sly Stallone and Arnold Schwarznegger.  The movie, in case you don't know, finds Stallone, whose character designs security for prisons, being wrongfully imprisoned and having to use his security know how to escape.  A bunch of co-stars was just announced as being cast this week and they include Amy Ryan, Vinnie Jones, Vincent D'Onofrio and 50 Cent.
Captain America 2 set for 2014:  The Avengers will be back to their own solo movies in the next couple of summers and Steve Rogers will be back in 2014 in the second Captain America movie.  The movie will apparently take place following the events of The Avengers.
Silent Night, Deadly Night being remade:  Probably most famous now for it's sequel's catchphrase of "Garbage Day!!!", Silent Night, Deadly Night was one of the most controversial Christmas horror movies of it's time, especially it's ad of an ax wielding Santa coming out of a chimney and the killer dressing as Santa for most of the movie.  Now a remake, now just called Silent Night, is being readied to shoot and will be released at the end of this year with Malcolm McDowell starring as the hero, Sheriff Cooper, who must hunt down and stop the sadistic Christmas time killer.
The lost Nightmare on Elm Street Prequel: In an interview with Movie Hole, Robert Englund talked about the never produced Freddy prequel, First Kills, which would have revealed the origins of everyone favorite nightmare inducing serial killer in a fake documentary following the human Freddy as he prepared and executed his first killings and then getting exonerated due to his sleazy lawyers, drawing the rage of the vigilante parents who eventually take matter into their own hands and burn him alive.
2014
50 cent
air force one
amy ryan
ashton kutcher
bio pic
brendan fraser
captain america 2
die hard
district 12
for sale
freddy krueger
garbage day
hunger games
malcolm mcdowell
News
news shotgun
nightmare on elm street
north carolina
prequel
president of the united states
real estate
reboot
robert englund
roland emmerich
schwarznegger
silent night deadly night
Stallone
steve jobs
the mummy
the scorpion king
the tomb
universal
vincent d'onofrio
vinnie jones
white house down