Review: "Fargo" Season 1
By brian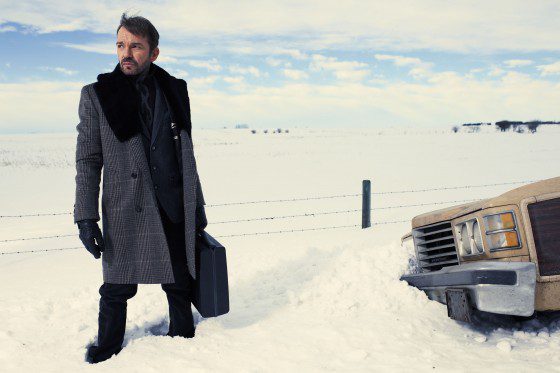 Remakes are fickle things. Usually, they're lazy attempts to jazz up old material. Sometimes they're vanity projects out for something new (and mostly failing at that). Some remakes, especially lately, are based off Hollywood's sacred cows in an attempt to squeeze more material out of something that most people would agree is perfect as is. On the surface, FX's revamp of "Fargo", the Coen brothers tense thriller classic, seems to fall into that category. The 1998 film ranks among the Coen's best, with an engaging plot and dazzling acting from William H. Macy and Francis McDormand. (In fact, the latter earned an Academy Award for her role.) If it ain't broke, why try to fix it. Noah Hawley and the rest of his crew deserve heaps of praise on how they've handled it. "Fargo" is the perfect example of how a TV adaptation should be.
Rather than try to repeat the Coen success, Hawley side-steps it a bit by only using the source material as a notebook rather than scripture. "Fargo" in anchored by great performances by three main characters. As timid insurance salesman Lester Nygaard, Martin Freeman plays his imp-ish qualities to perfection. Not to mention that the Englishman knows his way around a Minnesota accent. Newcomer Allison Tolman plays the McDormand role as the plucky cop Molly Solverson. And then there's Billy Bob Thorton's sadistic killer Lorne Malvo. We know from his past roles how mischievous Thorton can be when he dives into a character, and his Cheshire Cat-esque pure evil performance as Malvo is pitch-perfect. Emmy's: take note on all three. (The cast is also rounded out by great turns by bit players, like the over-sexed widow played by Kate Walsh, and a supermarket magnate with a mysterious past played by Oliver Platt.)
As far as plot, "Fargo" hits the same notes as the original film. Confidence-less Nygaard is sick of being bullied by everyone around him. That is until a chance encounter with the devilish Malvo, who simply offers to "take care of" a former child bully that sent Lester to the ER. Malvo dispatches of the bully, but by doing so puts into a place an awe-inspiring series of events that take course over the length of the series. Malvo wreaks havoc solely to see how it plays out. And to see if he can get normal-seeming people to sink to his level.
The ten-episode run of "Fargo" hits the heads of a lot of Great TV nails. The writing is superb, the plotting is nearly perfect, and the acting is (of course) top notch. The direction however is in a league of its own; at times it had the pure feel of a Kubrick film. And that to me is the sign of people knowing what they're doing. "Fargo", will of course, draw a ton of comparisons to the original film. Uniquely enough, it doesn't come at the expense of either the TV show or the film. Both draw off of the same beats but are different enough in plot and direction to be entirely separate pieces of work. FX and the main actors from this season are only committed for this ten-episode run, but the critical praise and slight success prove one new thing: maybe some sacred cows aren't so sacred.
[rating=5]
Techie guru, who also posts sometimes.
allison tolman
bill bob thorton
colin hanks
F/X
fargo
keith carradine
key and peele
martin freeman
miniseries
minnesota
tense