Everything Action at Scare-a-Con 2014

Through sheer coincidence, or maybe due to our increased con presence, we were randomly followed on Twitter about a month or two ago by Scare-a-Con, which I was shocked to discover was going to be at the Turning Stone Casino in Verona, NY, literally 30 minutes from my house.  The combo of a decent celebrity guest list, random movie screenings, alcohol and gambling was enough to bring Chris up from New Jersey for a weekend in CNY.
After Chris fought his way though Jersey traffic, we headed out on Friday night for the first day of the Con, which was being held in the Event Center of Turning Stone, usually reserved for big concerts and boxing but now dominated by vintage toys, comics, paranormal investigators and the various celebs.  It was an interesting setup compared to, say, Monster Mania, where the celebs are sectioned off in a side room.  Here, they were right in the thick of things and you had a very good chance of just bumping into them, like Ted Raimi asking Chris for directions to one of the casino's clubs or giving a shout to Honky Tonk Man while he's waiting in line for a restaurant.  Also compared to Monster Mania, it seemed slightly more low key and relaxed and it was definitely less crowded.  I believe the con is only in it's second year but if they can keep things going, it definitely seems like it has the potential to be one of the big Northeast horror cons.
After checking out the con floor for a bit, the big event Friday night was checking out the East Coast premiere of "The Murders of Brandywine Theater" starring Dian Bacher, probably best known for his roles in Baseketball, Orgazmo and South Park.  He turns in a slightly more dramatic role in this movie, which stars Bacher as ventriloquist Henry Kosta, who dreams of hitting it big with his puppet Moxxie (voiced by Les Claypool).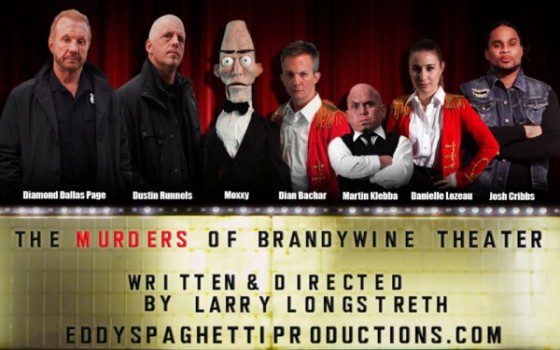 Chris and I both enjoyed the movie, especially the surprising and hilarious turn by Diamond Dallas Page as a detective/puppet enthusiast.  His partner is also Dustin Runnels aka Golddust, so definitely some added fun if you are a wrestling fan.  Check out the trailer below to kind of get a feel for what the movie is like.
https://www.youtube.com/watch?v=vBZhKKK7tac&list=WL&index=24
After the screening, Chris was eager to indulge in some gambling and we were able to get some free spins on the slots after signing up for the Turning Stone card.  Chris somehow won some money on the Family Guy slots, which bankrolled some drinks and celebrity photos/autographs the next day.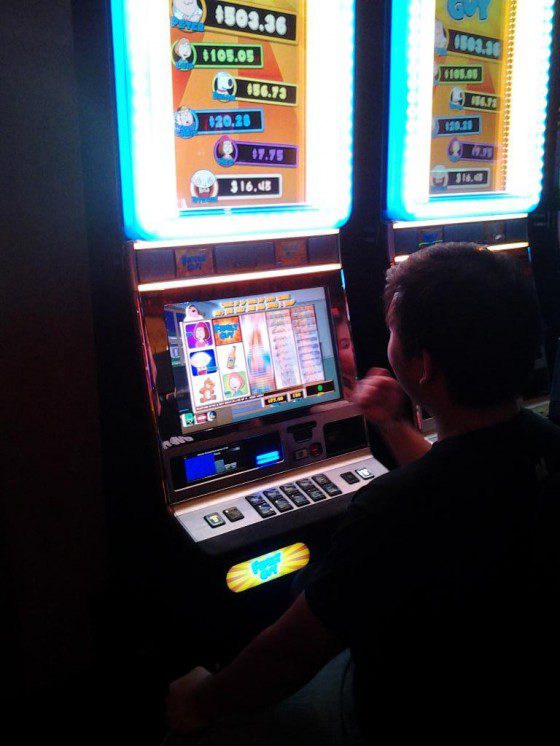 Zach, meanwhile, got out negotiated by the Pawn Stars and "won" $0.17.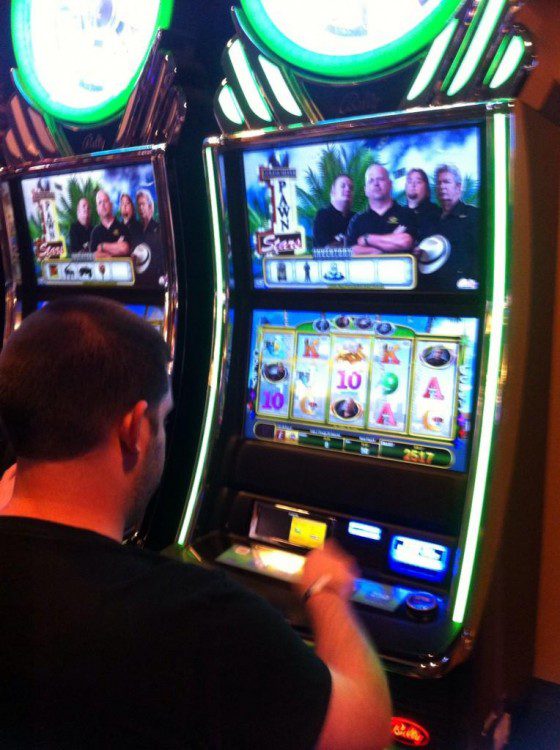 Chris then took to rolling the bones, first at Beat the Dealer, where we ran into the awesome guys from The Trash Pile, who were selling and trading ridiculous VHS movies at the Con.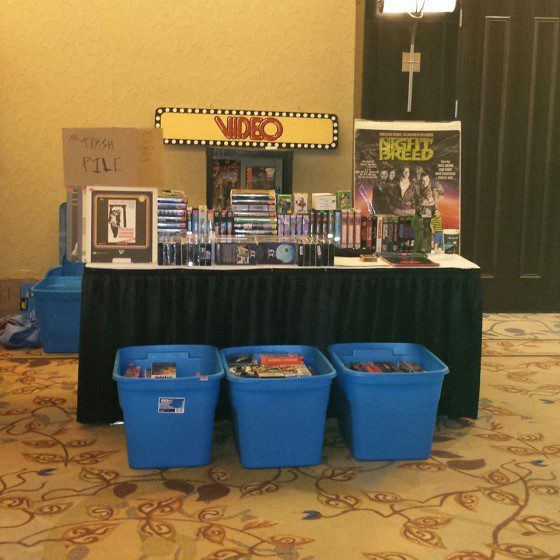 After sort of breaking even on Craps, we called it a night and headed back to Everything Action HQ to watch "Gleaming the Cube", the Christian Slater skateboarding movie with one of the greatest trailers in history.
Unfortunately, the movie does not live up to that greatness, as it weirdly transitions from a skateboarding movie to a murder mystery where Christian Slater acts as a jr private investigator, trying to solve the death of his adopted brother, Vinny, who uncovers some sort conspiracy involving a Vietnamese, St Louis Rams obsessed colonel and a generic evil white businessman.  It definitely doesn't live up to the premise of "his skateboard becomes his weapon" or the tagline of "When getting even means risking it all".  We also never figured out what the hell "gleaming the cube" actually means, because it never factors into the movie at all.  We did discover the existence of the Coreys movie "Dream A Little Dream", which finds Corey Feldman at peak MJ impersonation levels switching bodies with a clearly not teenage high school girl because of some sort of ritual being conducted by their elderly neighbors.  We asked VHPS or the VHS Preservation Society, who we got Gleaming the Cube from at Monster Mania, about Dream a Little Dream the next day at the con and were shocked to learn that there are two movies and the sequel involves the Coreys finding magical glasses that have mind control powers.  Needless to say, we tried to find either movie on youtube and could only find the sequel but our quest now is to find and watch the first movie.  After watching the trailer, how could you not?
Day 2 of the Con opened back on the con floor and kicking things off by meeting and getting pictures with one of the marquee celebrity guests, Eric Roberts, who lived up to title of "Best of the Best".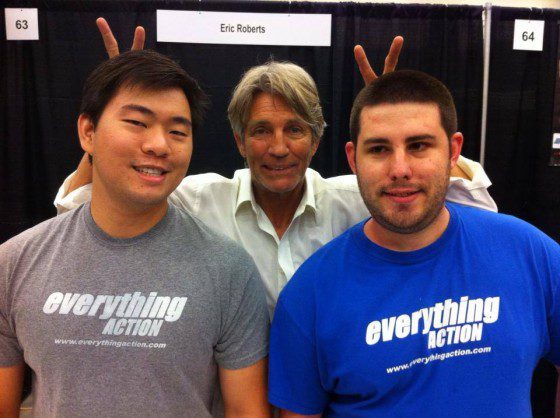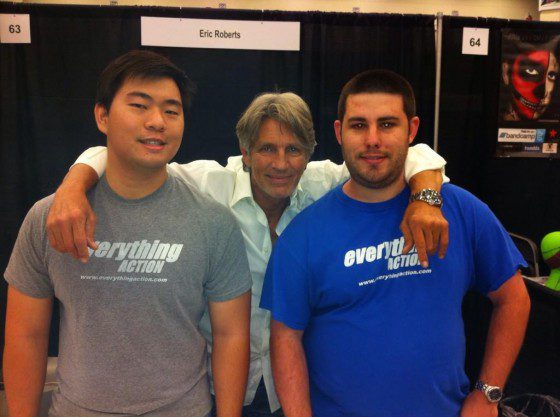 Chris also got to get an autograph and photo with Dian Bacher.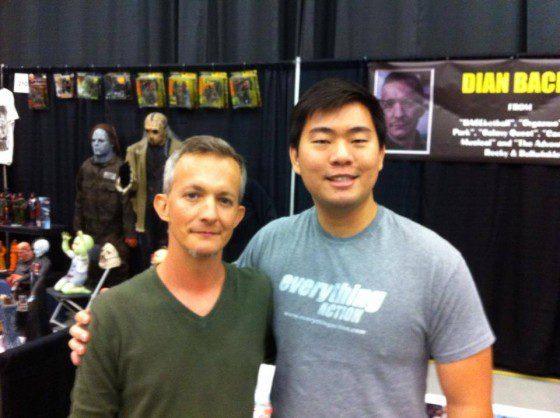 We checked out the rest of the vendors on the floor and saw some interesting costumes, like a Scare-a-Con zombie girl: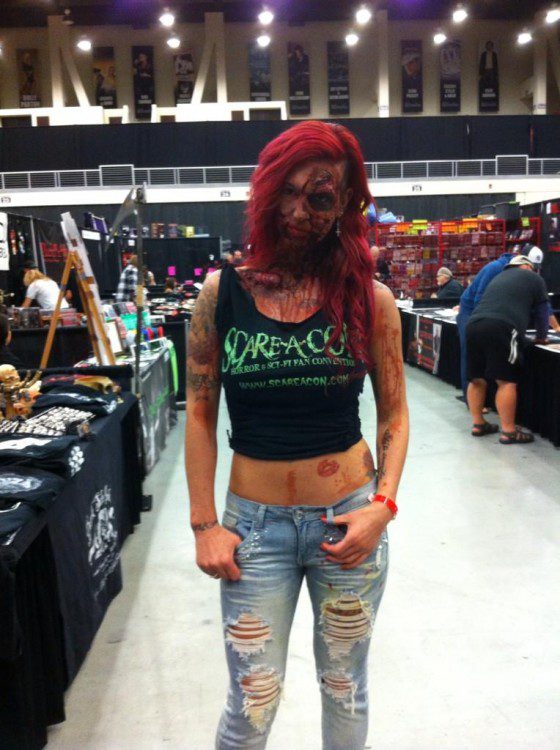 and vendors, like horror themed coffee at a company called Deadly Grounds: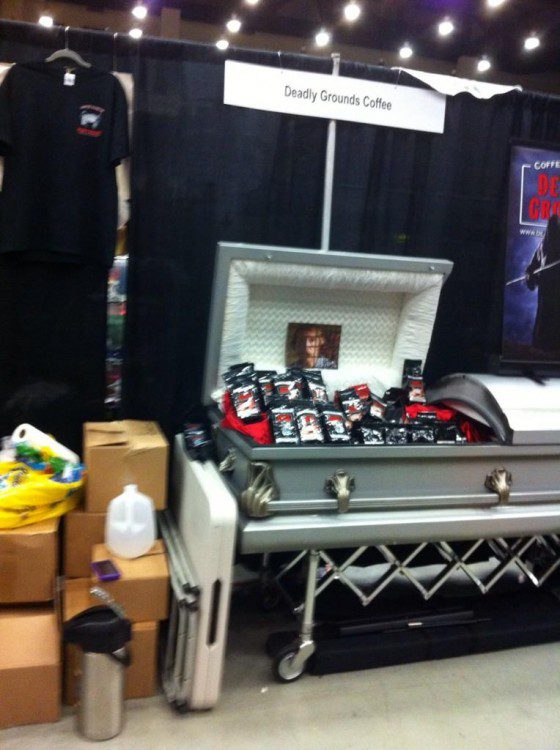 One of the events we attended on Day 2 was a Q&A with Herbert West himself, Jeffrey Combs, who was delightfully foul mouthed and had tons of great stories from all the weird projects he's been involved with over the years, from Re-Animator to Star Trek: Deep Space Nine to The Frighteners.  Some fun facts about Frighteners is that Combs barely beat out Joe Mantegna for the role of FBI Agent Dammers and that it was originally supposed to come out in October of 1996 but Stallone's Daylight got delayed and there was a gap in Universal's summer lineup, so The Frighteners ended up there and kind of flopped.  Combs is also a huge Edgar Allen Poe fan and currently doing a one man show called Nevermore that he's trying to do a movie version of.  It was recently on Kickstarter but didn't get funded but it seems like he might regroup and try it again.  It was a solid hour of Q&A, which you hardly ever see from a convention.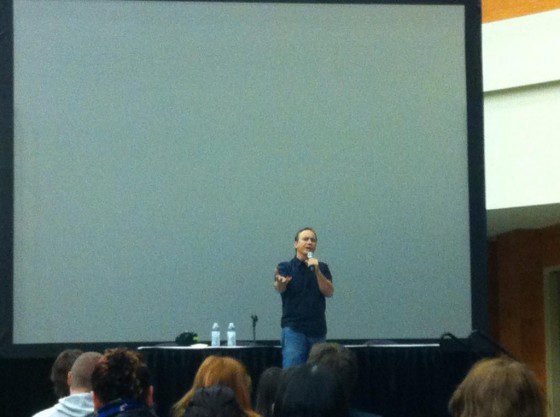 After the Q&A with Jeffrey Combs, Chris and I wandered over to the three screening rooms to see what was playing and got drawn into the low budget anthology movie, Hi-8, a take off of VHS, as Hi-8 is a similar, dead, format that was a favorite of indie filmmakers in the 70's and 80's.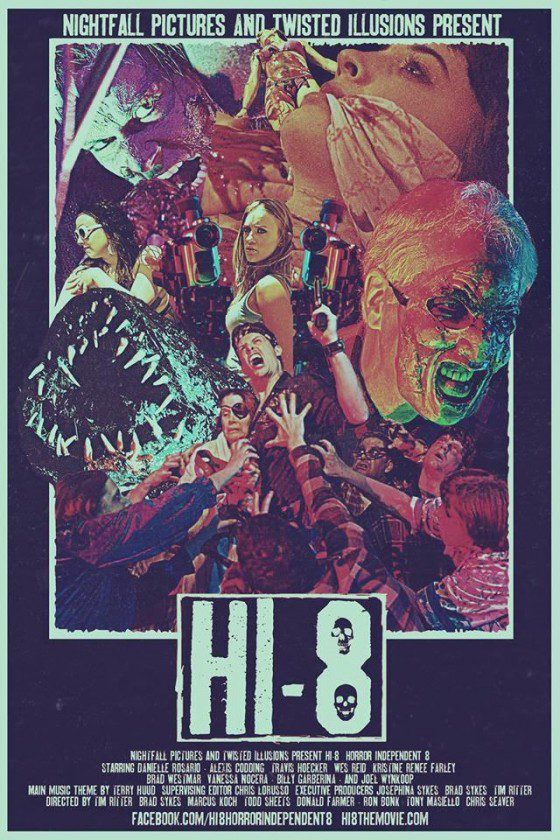 The premise is that some college(?) kids are filming a horror movie and then it's intercut with various short horror movies, ranging from an alien invasion movie to a cursed horror movie called Bloodgasm to, the highlight, a zombie parody called "Gang Them Style" starring action hero Mongoose MacReady.  Chris and both agreed about how jarring it was just how good that segment was compared to everything else, the music, jokes and effects all jump up in quality, with tons of great 80's cult classic references, a fun/dumb hero and some genuinely funny moments.  None of the other shorts even approached the level of "Gang Them Style" but it was still somehow impossible to not sit through the entire movie, just to see what kind of bizarre thing would happen next.  You can get a taste of what the movie offers by checking out the trailer:
https://www.youtube.com/watch?v=a9hfOFHbH9k
After the screening of Hi-8, we regrouped at the hotel and then headed out to the Scare-a-Con Saturday night party, which featured 80's cover band Pop Rox, a ton more cos-players and horror themed cocktails.  Chris tried out the The Zombie Bomb and The Lost in Space, which may have in fact been the same, weirdly strong drink.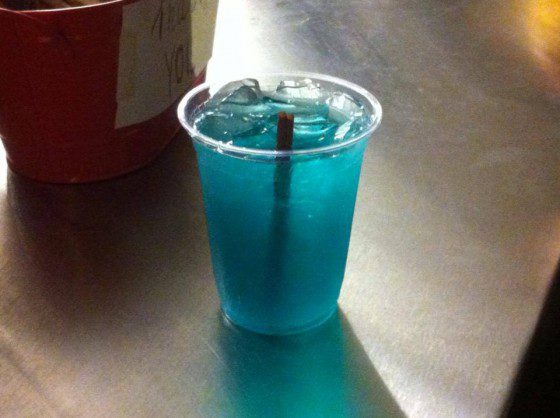 I lucked out with the much tastier Candyman and the Nuclear Sunset cocktails: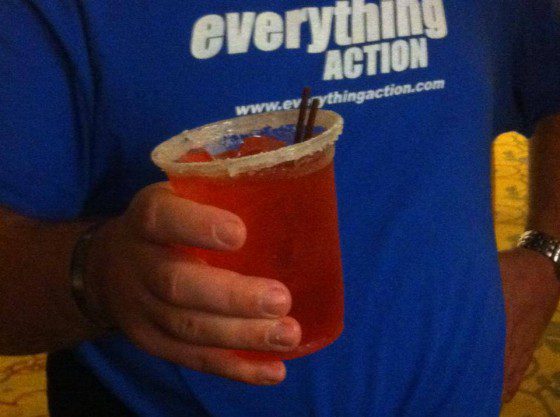 One of the cool things that happened during the party was that Ari Lehman, the original Jason Voorhees, jumped on stage and rocked out with the band by shredding on keytar: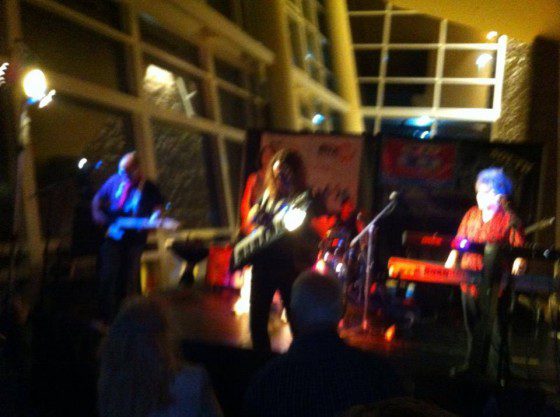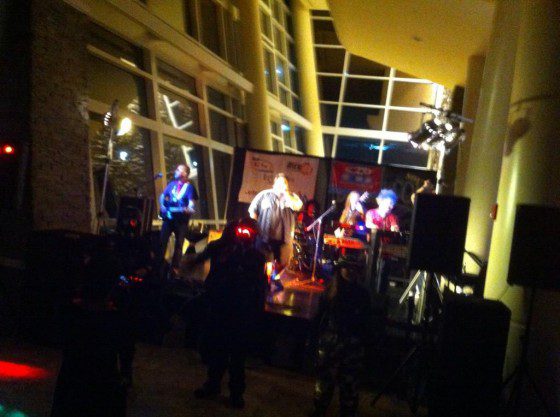 Like I mentioned before, there were also lots of cosplayers at the party including the Rochester chapter of the Ghostbusters and a rare Alfred Hitchcock's The Birds costume: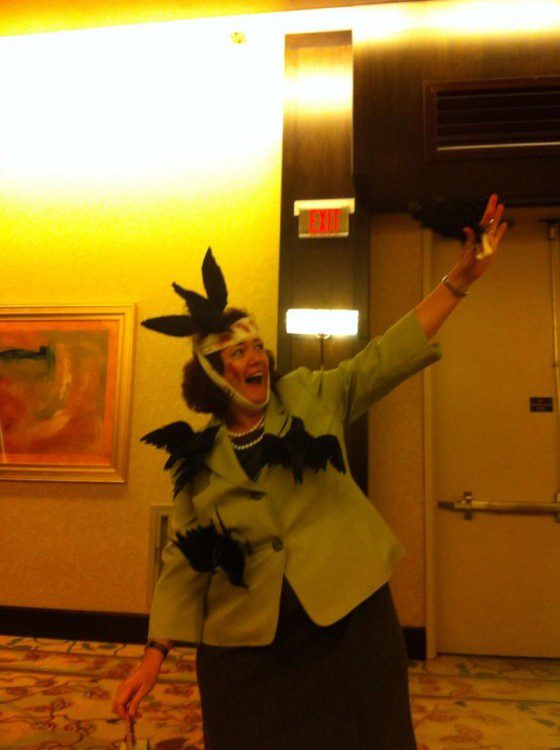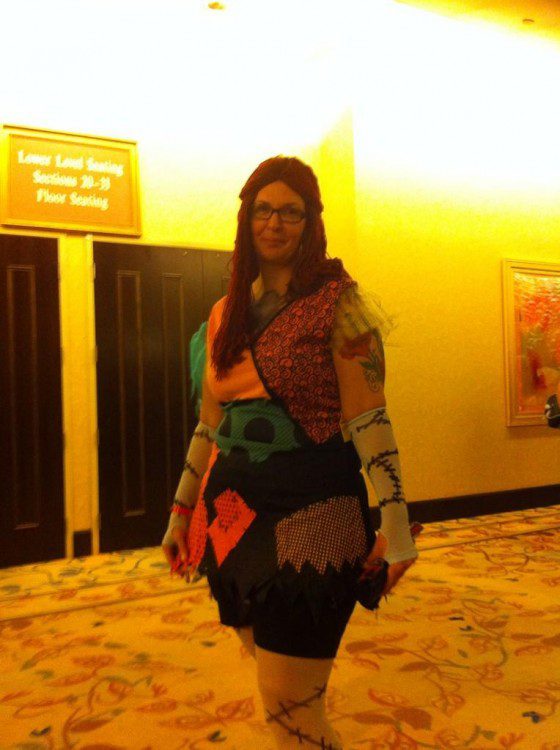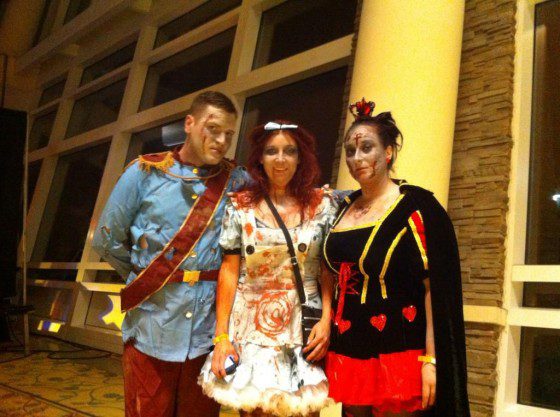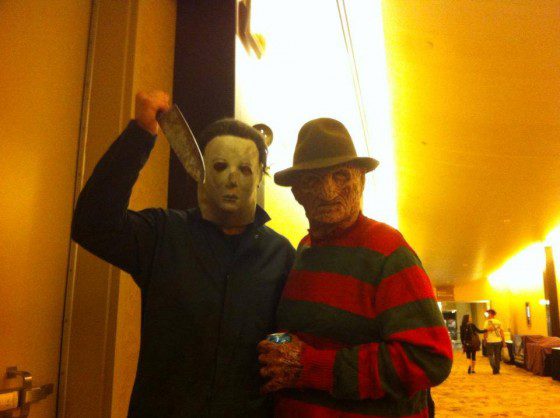 There was even action happening outside as both the Rochester Ghostbusters' ride and Graveyard Fresh, a hearse that offers up the fun photo op of lying in a coffin, were parked out front and drawing crowds.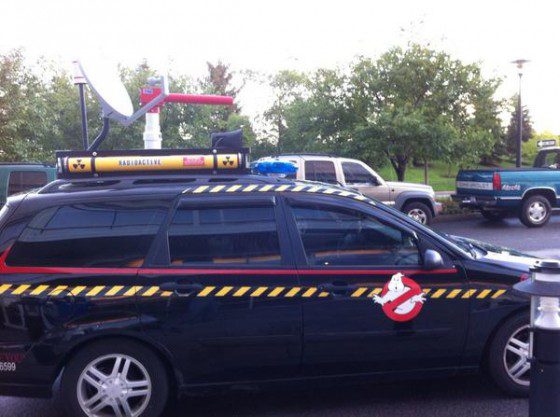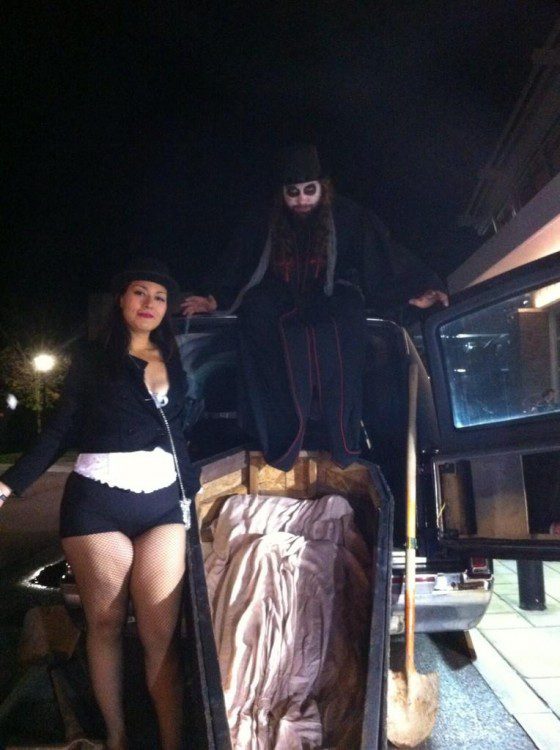 After the party wrapped up, we hit the gaming floor one more time where I failed spectacularly on Back to Future slots and Chris got intimidated at the Baccarat tables and then limped to the finish in Craps.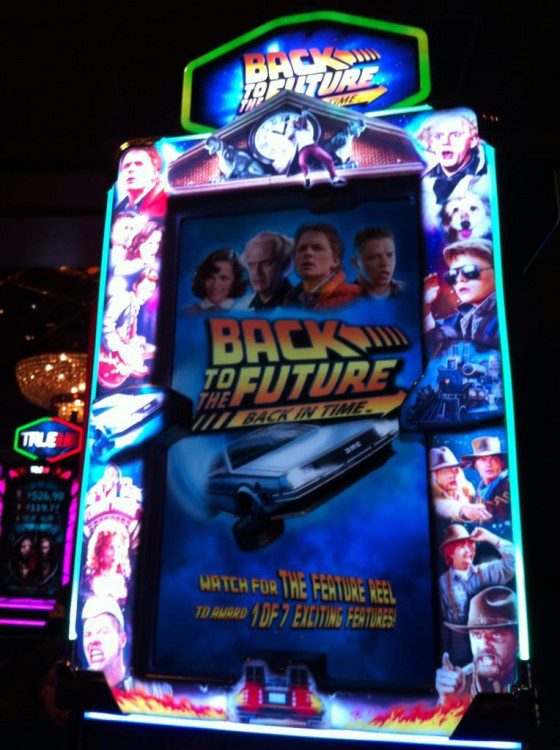 Overall, we're really lucky that Scare-a-Con just happened to follow us, because we would have missed out on a fun, unique con that seems like it has tons of potential to grow and expand.  We'll definitely try to get back next year and who knows, maybe someday you'll be able to check out an Everything Action panel: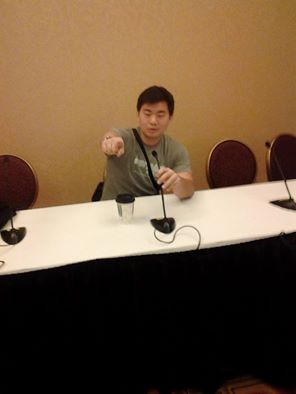 I'm like the J. Jonah Jameson of Everything Action, writing and editing and constantly demanding pictures of Spider-Man.
ari lehman
christian slater
Conventions
dian bacher
dream a little dream
eric roberts
gambling
ghostbusters
gleaming the cub
hi-8
honky tonk man
horror con
jeffrey combs
murders of brandywine theater
on tour
pop rox
scare a con
ted raimi
the coreys
the trash pile
turning stone casino
vhsps