Enter the Asylum: Mercenaries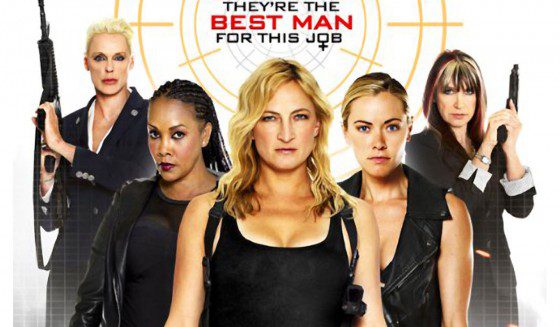 Enter the Asylum is back after a long hiatus with The Asylum's take on Expendables, or more specifically the upcoming Expendabelles, with Mercenaries.
Wow, that's actually a pretty great lineup: Definitely, as far as who The Asylum could get, they managed to kind of match the old school action charm of The Expendables by getting former action heroines like Bridgette Nielsen, who is kind of channeling Eric Roberts from Expendables 1, Cynthia Rothrock, who is kind of the Bruce Willis/CIA overlord and then mixing in the likes of Kristanna Loken and Zoe Bell, who is basically the Stallone of Mercenaries.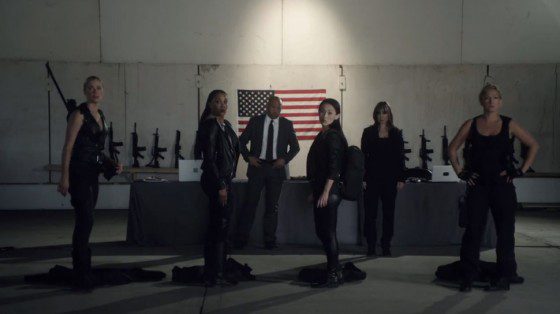 So what's the plot: Bridgette Nielsen is an evil Russian warlord who wants to take over Kazakhstan and kidnaps the First Daughter, who is in the country on a PR mission.  Nielsen is extremely paranoid and doesn't trust any men except her right hand man, Gregor, so women may have an easier time getting in but all the CIA's female agents aren't able to be pulled out so Cynthia Rothrock recruits a quartet of women currently serving time but in possession of a particular set of skills to rescue the President's daughter in exchange for pardons.

That sounds like the Suicide Squad: Oh, someone at The Asylum is definitely a fan or at least familiar with the Squad because Cynthia Rothrock is bascially Amanda Waller, they make a joke about putting bombs in their heads and the entire movie has transitions that are comic book panels.  Kristanna Loken is also basically a female Deadshot, as she's the team's resident sniper who never misses.
How's the action?: It's not great but it's competent and a huge step up from the usual Asylum movie.  It probably helps that you have Zoe Bell, who is basically a walking special effect, able to do anything you need action wise and she gets the most opportunities to kick ass.  It is a little disappointing that Cynthia Rothrock is kind of behind the scenes and only has the barest sliver of a fight when they go to recruit Vivica A Fox,whose Raven has history with Rothrock.  I wasn't expecting anything on the level of Undefeatable aka the greatest fight in movie history but it would have been fun to see her get in on more of the action.
So how does the team blast their way in Expendables style?:  Well, they are ladies so they are a little more subtle and manage to bluff their way into the compound by offering up Mei Lin, their explosives expert, up as the rich daughter of a Chinese businessman,  once inside, they manage to get to Elise, the First Daughter, but Raven pulls a Dolph Lundgren  and betrays them, flipping to Bridgette Nielsen's side.  Zoe Bell is the only one who escapes and has to fight her way back and is determined to not just rescue Elise but all the the girls Bridgette has working for her as prostitutes.
How does that work out?: Not very well, the Mercenaries decide to arm all the completely untrained prostitutes with AK-47s and leave them to fight off Gregor, who arrives with a gigantic machine gun and kills them all, which apparently Kristanna Loken just watches before jumping in to fight him.
So they don't rescue any of the girls?: Nope, they leave possibly the only survivor to go ahead and castrate Gregor while they head off to rescue Elise.  Granted that was their main objective but Zoe Bell was super gung ho about saving everyone, but she kind of blew it.
Hey, is there any Expendables style overly dramatic moments?: Oh definitely, Zoe Bell has a monologue when she's talking to Bridgette Nielsen describing why she got kicked out of the Army Rangers and then she has a moment where she finds the Mercenaries local help, Lexi, dying on the side of the road and tells her that she's going to bring her to America to go the mall, go to prom, etc.  It's still not as ridiculous as the Tool, "Girl on a Bridge" story from the first Expendables, though.
Is it worth watching?: As far as Asylum movies go, it's at near the top and it's actually a decent action movie with a cast that smartly matches what The Expendables tries to do.  They can't go nearly as crazy as The Expendables as far as the action but it's competent for what they had to work with, so yeah, it's on Netflix, check it out.
I'm like the J. Jonah Jameson of Everything Action, writing and editing and constantly demanding pictures of Spider-Man.
bridgette nielsen
CIA
cynthia rothrock
enter the asylum
first daughter
kazhakastan
kidnapping
kristanna loken
mercenaries
rescue mission
the asylum
the expendables
vivica a fox
zoe bell