Review: Lego DC Super Heroes: Justice League vs Bizarro League
By Zach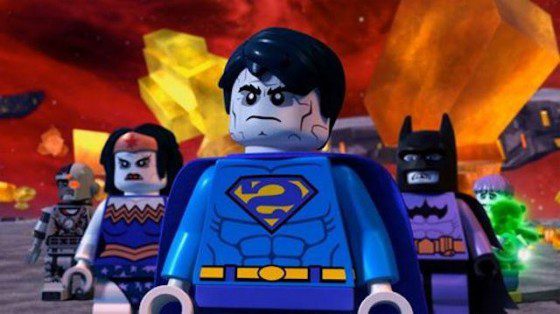 Pretty much everything Lego recently has been gold, from the various Lego video games to last year's incredible, despite what the Academy thinks, The Lego Movie and Warner Bros Animation delivers another solid entry into the Lego pantheon with DC Super Heroes: Justice League vs Bizarro League.
Picking up from Lego Batman the Movie: DC Super Heroes Unite, the movie finds Superman (Nolan North) trying to figure out what to do with his well meaning but destructive clone, Bizarro, who wants to be a hero like Superman but usually just ends up endangering citizens and destroying buildings.  Superman brings Bizarro to a whole planet of his own but, a year later, Bizarro returns and steals the Duplicato Ray and creates a Bizarro League with clones of Wonder Woman, Batman, Green Lantern and Cyborg to fight a threat against Bizzaro World.  Along with Nolan North, the rest of the voice cast is a who's who of amazing voice actors including Diedrich Bader as Guy Gardner, Troy Baker as Batman, John DiMaggio as Deathstroke/Lex Luthor, Tom Kenny as Plastic Man/Penguin, Kari Wahlgren as Wonder Woman, the list goes on.  Troy Baker in particular is fantastic, as Batman is constantly having hilarious, paranoid inner monologues about Superman's true intentions in one of the best running jokes of the movie.
If you're a DC fan, Justice League vs Bizarro League is full of great jokes and tons of cameos.  The Justice Leauge is introduced in a great sequence where Gorilla Grodd attempts a heist and mind controls various villains like Giganta, Deathstroke, Penguin and Captain Cold and the League arrives to save the day.  There's some fun pairings, like Plastic Man taking on Deathstroke and Green Arrow taking on Penguin, that you don't really see anywhere else.  Once the Bizarro League is introduced though, the extra characters leave the movie and we're with the core group of League members and their clones, who are fun in their own right but it's a little bit of a tease to have guys like Hawkman and Plastic Man and have them disappear.  The movie does a great job of taking the core essence of say, Wonder Woman, and turning into a bizarro version.  Bizarra, Wonder Woman's clone, is a kind of disgusting, ungraceful mess and that's true for the rest of the Bizarro league as well.
A bonus on the Blu Ray/DVD is a whole other special "Batman Be-Leaguered" which follows Batman has he, with great annoyance, meets and has to rescue the Justice League from a plot from one his more bizarre villains.  This special has some characters who weren't in Bizarro League, like Aquaman, and it's great to see Batman team up one on one with each League member before they mysteriously disappear.
If you're a fan of the Lego sense of humor that has been built up by the Lego video games and are also a DC comics fan, both movies on the Blu Ray are well worth checking out.  There's tons of fun that will appeal to both kids and comic veterans alike.
[rating=4]
I'm like the J. Jonah Jameson of Everything Action, writing and editing and constantly demanding pictures of Spider-Man.
batman
bizarro league
cyborg
dc super heroes
diedrich bader
green arrow
john dimaggio
justice league
kari wahlgren
lego
nolan north
superman
tom kenny
warner bros.
wonder woman