Best of 2015: Zach's Top Ten Movies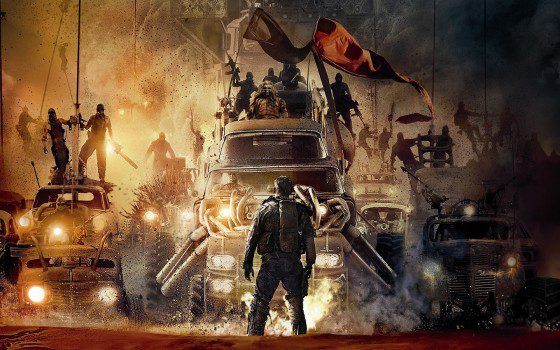 This year was the year of beloved franchises making big returns, including the juggernauts of Jurassic World and The Force Awakens, the excellent closure of Marvel Phase 2 and so much more.  Here are my picks for the top ten movies of the year.
Mad Max: Fury Road: The fact that this movie was embraced by literally everyone is kind of mind boggling to me because it felt going in like this was going to be a Dredd situation, fans of the genre love it but no one else really gets on board but whether it was the sheer audacity and insane imagination of George Miller's world or Tom Hardy and Charlize Theron as the wasteland's greatest partnership, it all came together in stunning fashion and will be referenced for years to come.
Star Wars: The Force Awakens: With basically impossible expectations, JJ Abrams somehow did everything we could possibly want from a new Star Wars and finally wiped away the taint of the prequels so that now we can all be unabashed in our love of Star Wars.  All the new characters are fantastic and instantly likable and it's incredible seeing the returning cast as well, especially Harrison Ford, who delivers fully with his return as Han Solo.  It's a little bit of a remix of the original trilogy but it's so much fun and the way it leaves things makes me cannot wait continue this new chapter with Episode VIII.
Ant-Man: After all the behind the scenes drama, it seemed like possibly Ant-Man was going to be the first disaster of the MCU but not only was it a blast on pretty much every level, I feel like it was better than the gigantic team up of Age of Ultron (which we'll get to in a sec).  Paul Rudd is as charming and hilarious as ever as Scott Lang and he has such great chemistry with Evangeline Lilly and Michael Douglas, especially when he's training to use the Ant-Man suit.  The whole heist structure is also just a fun breathe of fresh air after endless magical MacGuffins that will destroy the world.
Avengers: Age of Ultron: There's so much jam packed into this movie that it's kind of overwhelming and lots of things got lost or cut, like Thor's whole subplot, but movies don't get much bigger than this.  All of the Avengers are still great together with lots of banter and the cool team ups, especially in the opening sequence, and there's some stand out sequences like the Hulkbuster vs Hulk fight and the whole finale where Ultron is threatening to drop an entire city from orbit.  Although it's not like the comics, I also kind of dug sassy James Spader Ultron and Elizabeth Olsen as Scarlet Witch.
Creed: Lots of people forget after all the Ivan Dragos and Clubber Langs of the world that original Rocky won best picture in 1978 and Creed brings the series back to those original, prestigious roots.  Michael B. Jordan is great as Adonis Creed, the son of Apollo Creed, who has fighting in his blood and wants to try and prove himself worthy of his fahter's name.  Stallone is also incredible in what might be the performance of his career.  Rocky has never been more vulnerable or weathered than he is in Creed but he still has that charm and attitude that makes everyone love him.  The boxing in this movie is also some of the best filmed sequences of the Rocky franchise, especially an incredible one take match about halfway through.
Mission Impossible: Rogue Nation: Mission Impossible is one of those series that has somehow gotten better with each subsequent movie and Rogue Nation, while not quite as good as Ghost Protocol, is still one of the most incredible action movies of the year, kicking things off right from the start with Tom Cruise hanging off of a plane.  In a year with heroines like Jessica Jones and Furiosa, Rebecca Ferguson is right up there as MI6 agent Ilsa Faust, who effortlessly keeps pace with Ethan Hunt and even saves him when he's in over his head multiple times.  Sequences like the cat and mouse opera house hunt and the underwater "bank heist" are just a couple of the excellent sequences in a movie and a franchise that constantly puts up excellent sequences.
Jurassic World: Jurassic World isn't the cinematic achievement that the original Jurassic Park was and it's a lot dumber than the original as well, but damn it, it's so much fun that all of that doesn't matter.  Chris Pratt continues to the best as the cocky Owen Grady, velociraptor trainer and all around bad ass, who's up against the genetic abomination Indominus Rex.  There's just a lot of fun dinosaur action, especially the crazy and ridiculously great finale, and the world apparently agreed since it's was the highest grossing movie of the year before the 500 ton gorilla that was Star Wars debuted.
Kingsman: The Secret Service: One of the biggest surprises of the year, Kingsman was both an homage to classic spy movies while upping the action to ridiculous levels, especially one of the craziest and best sequences in a Westboro Baptistesque church with the unlikeliest of bad asses, Colin Firth.  Samuel L. Jackson is also fun as the lisping billionaire villain and Taron Egerton made a big splash in what is basically his debut role.
Spy: The other super fun, foul mouthed spy movie of the year, Spy is easily my favorite Melissa McCarthy movie and the funniest comedy I saw this year.  It has so much fun clever bits, including McCarthy starting out in a more subdued persona before she has to adopt the crazy, cursing persona as a spy cover. Also, Jason Statham is goddamn hilarious and I could watch an entire movie of him describing things that have happened to him on past missions.
Furious 7: The plot makes no sense, the characters are ridiculous but Fast & Furious is still one of the biggest, dumbest and funnest franchises going right now.  Delivering sequences that would normally be the finale of other action movies as just regular sequences, including the first big action scene where the F&F crew parachute out of a plane in cars and then battle the bad guys for probably a solid 30 minutes of car carnage.  It also delivered an actually genuinely moving tribute to the late Paul Walker and let Brian drive into the sunset while the rest of the crew gear up for future adventures.  There's also Jason Statham, The Rock and Kurt Russell in great, bad ass supporting roles.
Honorable Mentions
It Follows: The best horror movie of the year, it delivered wonderfully on it's simple but creepy premise.
Ex Machina: If you love the dark British sci-fi show Black Mirror, Ex Machina is definitely worth checking out, as it feels like an extended episode of that show and the main trio of Domnhall Gleeson, Oscar Issac and Alicia Vikander all play off each other excellently.
Man from UNCLE: Speaking of Alicia Vikander, she was also great in Man from UNCLE, which just feels "cool" with it's super stylish version of the 60's and great bickering partnership between Henry Cavill and Armie Hammer.
Electric Boogaloo: The Wild, Untold Story of Cannon Films: The insane true story of one of our favorite 80's studios that brought us ninjas, Charles Bronson, Chuck Norris and so much more.
I'm like the J. Jonah Jameson of Everything Action, writing and editing and constantly demanding pictures of Spider-Man.
ant man
avengers: age of ultron
best films of the year
best of 2015
creed
ex machina
furious 7
it follows
jurassic world
kingsman
mad max: fury road
man from UNCLE
mission impossible: rogue nation
spy
star wars: the force awakens