The Pull List – Hellboy Omnibus Volume 1: Seed of Destruction TPB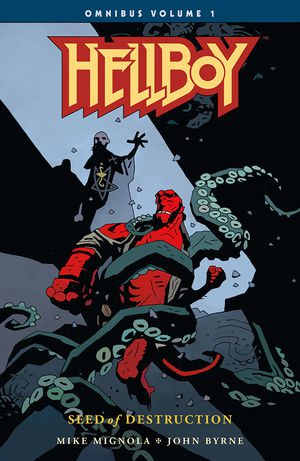 Raise your hands of doom in the air Hellboy fans, for this a huge compilation of Hellboy comics in one book. Mike Mignola, John Brynbe, and Dark Horse Comics present Hellboy Omnibus Volume 1: Seed of Destruction, a collection Hellboy stories that cover the 90's adventure of Hellboy stories in chronological order. This omnibus contains the the story arcs of Seed of Destruction, and Wake the Devil, and mini stories of Wolves of St August, The Chained Coffin, and Almost Colossus from The Chained Coffin and The Right Hand of Doom story arcs. In addition, there are notes and sketches from Mike Mignola that shows insights about his process and early designs of scenery and characters. 
The character Hellboy started as a character sketch by Mike Mignola of a devil with a belt buckle titled "Hellboy" in 1991. Hellboy would be developed into a mini-series in 1994 with Seed of Destruction by Mike Mignola and John Byrne. Seed of Destruction story arc that first introduced a good portion of the major characters and a glimpse of Hellboy's destiny. In his first appearance, Hellboy is summon to the Earth in 1944 and grows to become a gruff, hard hitting paranormal investigator that lets his fist do most of the talking. Hellboy works for the Bureau for Paranormal Research and Defense (BPRD), a government agency that contains strange and demonic activities. Hellboy and his colleagues have battles the forces of evil for decades, taking on unholy creatures, mystical beasts and corrupt  science experiments. Thought out it all, Hellboy strives to be humanity's protector while trying to resist his fate as the herald of Earth's destruction.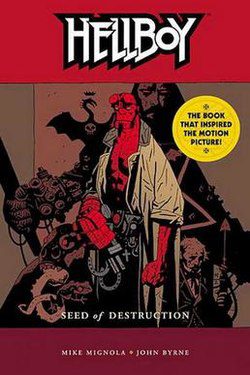 Written by Mike Mignola and John Byrne, art by Mike Mignola, Mark Chiarello and Matt Hollingsworth, Seed of Destruction begins in 1944 with Grigori Rasputin and the Third Reich exchanging in Project Ragna Rok, a endeavor that will summon a creature of destruction. Rasputin had plan to his power to help the Nazi win the World War and change the world into a new Eden. However, the summon creature does not appear before Rasputin, it appears in front of collations of US Allies. Trevor Bruttenholm, also known as Professor Broom, Lady Cynthia Eden-Jones, Professor Malcom Frost, masked hero Torch of Library, and Sgt Whitman and his squad of US troops. Hellboy would adopted by Trevor Bruttenholm and become a valuable agent in the BPRD. When Bruttenholm appears after being missing on a expedition to the arctic in 1994, Hellboy is sent to investigate his father's reappearance, but when Hellboy begins to question his father, Bruttenholm is killed by a deadly creature. On the hunt for answers, Hellboy is joined by BPRD agents Elizabeth "Liz" Sherman, a pyrokinetic, and Abraham "Abe" Sapien, a humanoid amphibious man. The trio follow clues until they find themselves facing off against the mastermind, Rasputin.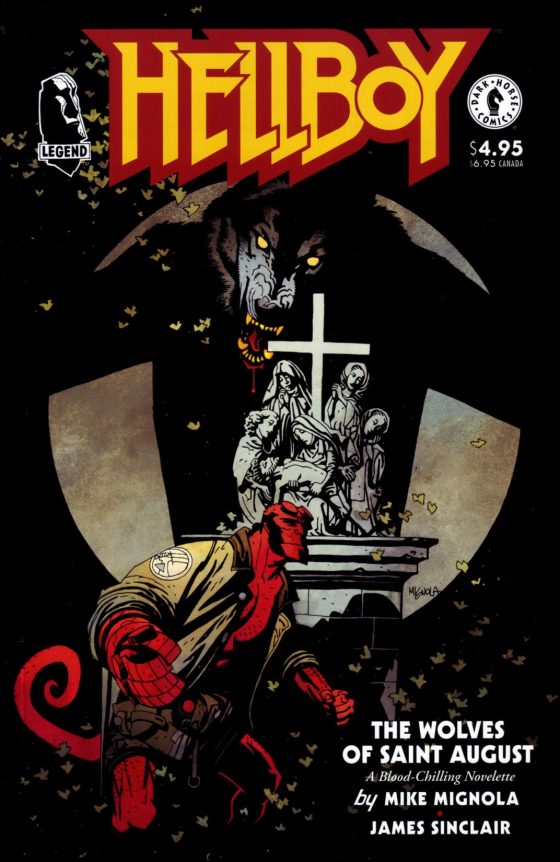 Written and illustrated by Mike Mignola, and colored by James Sinclair, The Wolves of Saint August follows the Hellboy and BPRD consultant Doctor Katherine "Kate" Corrigan arrivie at the town called Griart after it's towns people have been massacre by a wild beast. Hellboy's old friend, Father Kelly, had arrived to reopen the town's chapel, but was never heard from after his arrival. Soon Hellboy and Kate Corrigan discover the town's dark past and find themselves facing off against a giant Werewolf.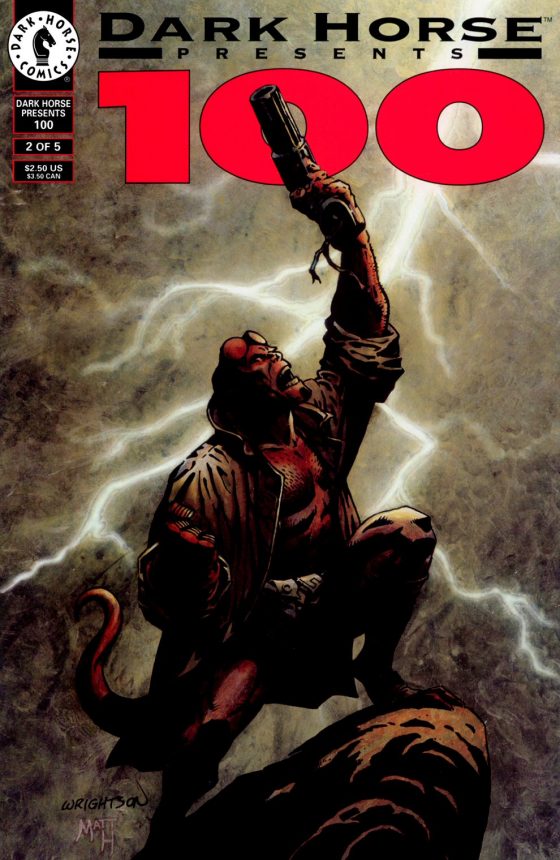 Written and illustrated by Mike Mignola, and colored by James Sinclair, The Chained Coffin is a small side story of Hellboy returning to the church in England where is was summon to Earth. Considering the ruin church his birth location, Hellboy reflects about the memory of his first appearances and his purpose for being there. Hellboy has a vision about a dying woman that was a witch and renounces her past on her death bed. In an effort to save her soul, she asks her children to watch over her as she is chained into a coffin for three nights to protector her from a demon. The meaning of the woman, the demon and Hellboy's true purpose all come to light in the darkness of the church.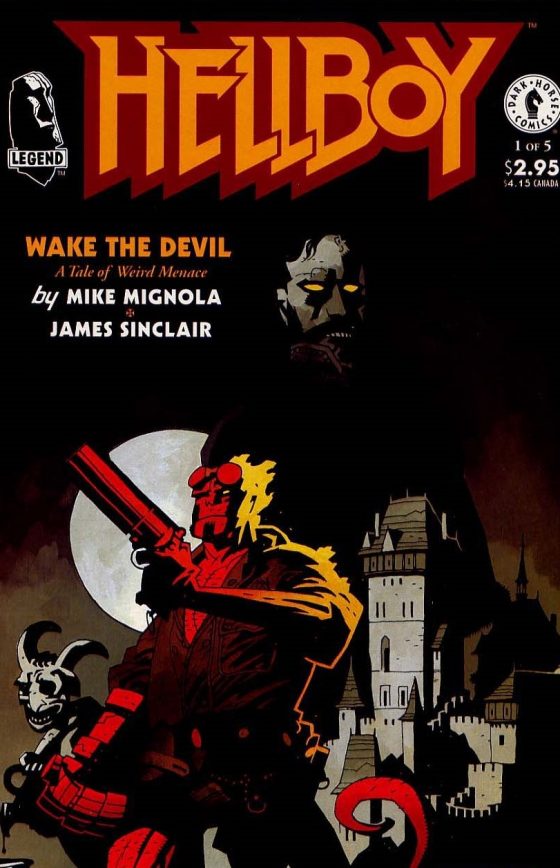 Written and illustrated by Mike Mignola, and colored by James Sinclair and Dave Stewart, Wake the Devil follows Hellboy in 1997, and BPRD agents are investigate a case of the disappearance of the body of Vladimir Giurescu, a mythical vampire from the 15th century, from a wax museum in New York. Vladimir Giurescu was believed to be a powerful vampire that could resurrect with the power of moonlight at his castle estate. Giurescu had worked with the Nazis during WWII, but was betrayed by Adolf Hitler and kept locked up, preventing his resurrection. Nazi scientist and Rasputin follower Ilsa Haupstein secures Giurescu body and prepares a resurrection, bringing a powerful force for Rasputin to command. The BPRD sends their agents to prevent Vladimir Giurescu from being in a new reign of terror.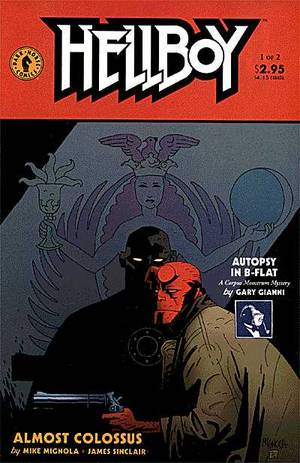 Written and illustrated by Mike Mignola, and colored by James Sinclair and Dave Stewart, Almost Colossus follows eight days after the events of Wake the Dead, with Liz Sherman and her team discovered a laboratory with a homunculus in Romania. Her pyrokinetic powers accidentally activates the creature and it causes a rampage. The homunculus had absorbed not only Liz's power, but her life force and Liz is slowly dying. Hellboy and Kate Corrigan searching for a homunculus for a help Liz, but discover a must large threat that has been collecting human remains and making a sinister creation.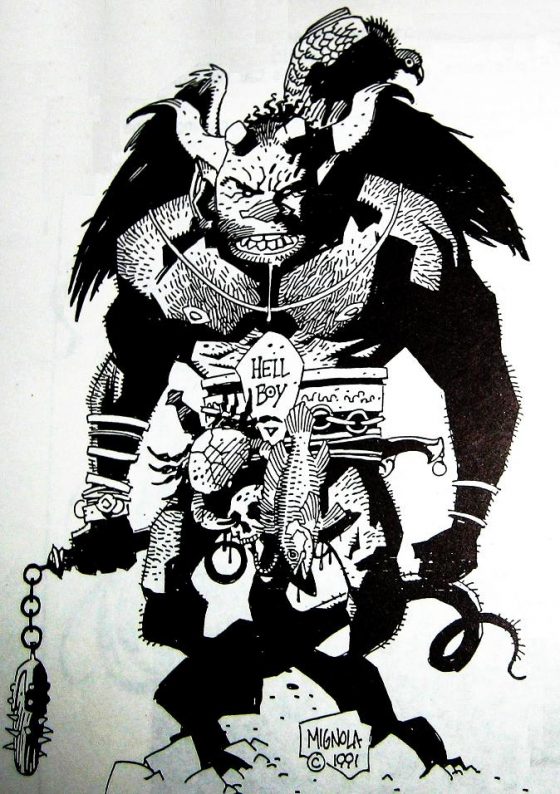 The Hellboy series has come a long way from Mike Mignola sketch of the character. Since 1994, there have been multiple story lines added to the main narrative, spin offs tales, a few video games and two cult favorite movies, with a reboot coming in 2019. Mike Mignola works remain a classic and introduced one of the best characters made in modern comics. Hellboy is a fun character with lots of different character traits that work perfectly, he's a paranormal expert, a hardboiled detective, a redemptive demonic being and packs a killer right hook. The stories have a dark, thrilling tone to them, filled with super natural situations and light humor, resembling something like a modern day fairy tale. The artwork is powerful, with Mike Mignola signature style and the amazing usage of shadows, giving each panel a ghostly feel that adds to the horror element of the stories. The Hellboy Omnibus Volume 1: Seed of Destruction is perfect for anyone reading the series for the first time or getting reacquainted with the main story line. The Hellboy Universe has a dazzling array of interesting characters, astonishing adventures of good verse evil, and this collection is a great drop in point to explore it all.  
Hellboy Omnibus Volume 1: Seed of Destruction will be released May 9th 2018
Bitten by a radioactive video store rental employee and overcome by Pac-Man fever, Chris seeks new comic books, games, and movies to review.
comics
dark horse comics
hellboy
Hellboy Omnibus Volume 1: Seed of Destruction
mike mignola