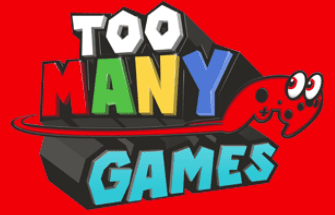 Back for another great gaming event, TooManyGames 2018 was an amazing weekend filled with fun events, great music and of course, games. TMG is a staple in the gaming convention circuit in the East Coast, running for over 15 years as a simple gaming swap meets to a large gaming hub. Currently located in Oaks, PA at The Greater Philadelphia Expo Center, TMG houses a huge community of gamers that come nationwide to attend. With three full days of events and activities, TMG offered everything a nerd would want. There were content creators to meet, indie games to try, arcade classics to try and merch tables to browse through. And lastly, awesome people to meet along the way. We had a blast checking out all the sights, and our recap only captures just some of what we did.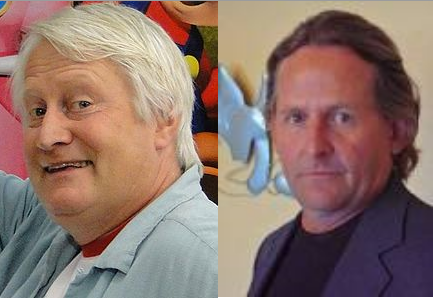 This year's theme was based on Nintendo's Mario, and to celebrate the theme they got two voice actors from the series. The special guests this year was Charles Martinet and Kenny James, the voice actors of Mario and Bowser respectively. These guys have been in the industry for some time now, lending their voices across multiple titles and different characters. Gamers from the 1990's definitely grew up hearing these guys laugh, scream and roar in almost every Mario title.
Showfloor Highlights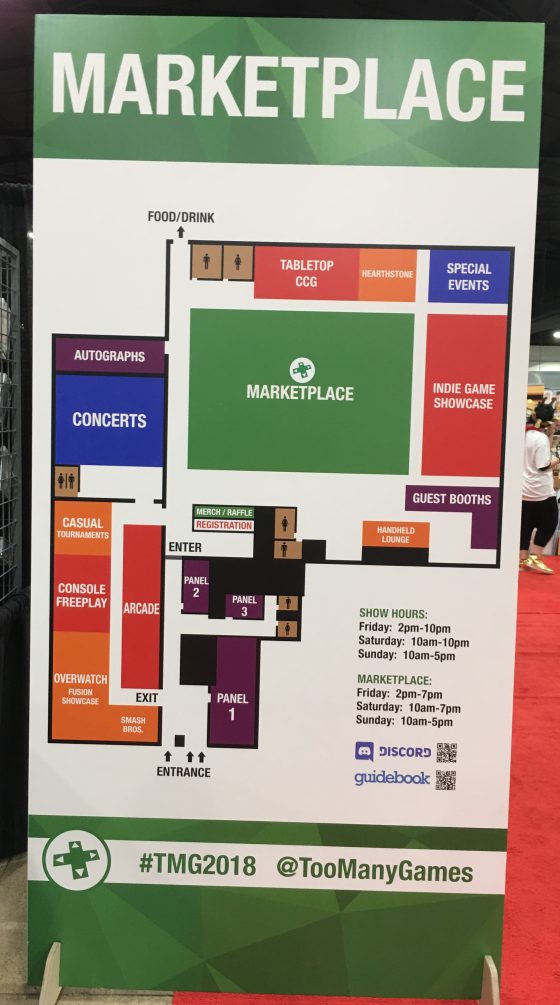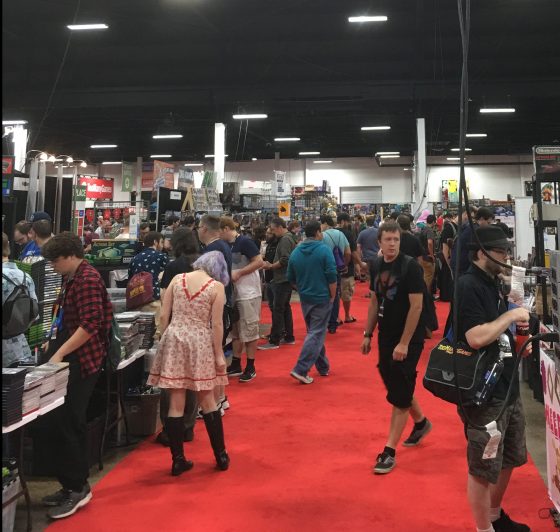 With a large vendor hall, there were lots of nerdy collectibles to see on sale and indie games to play. There were specialty booths like the Monster Energy booth that handed out free monster drinks during the whole day, which gave us the caffeine rush we needed to sort through the whole place.
Super Sox Shop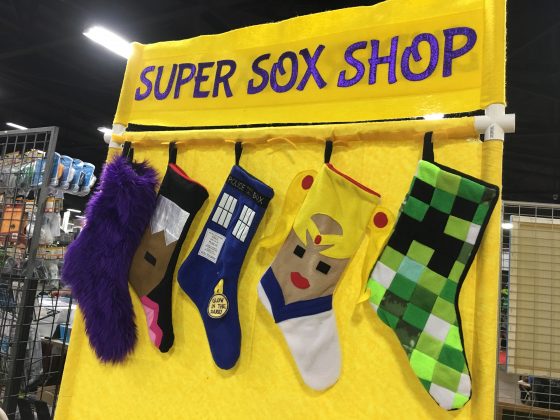 Known for her oversize nerdy Christmas stockings, Gina's Super Sox Shop offers soft plushy crafts inspired by pop nerd culture. We stopped by the Super Sox Shop booth to chat with Gina and look at her new wares she sewed up. One the sock display was a fuzzy purple sock, a Garnet from Steven Universe, the phone booth from Doctor Who, Usagi from Sailor Moon, and a Creeper from Minecraft.
Operation Supply Drop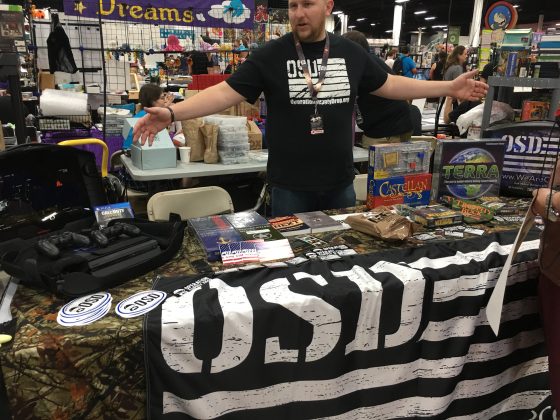 At the Operation Supply Drop, an organization that sends nerdy gifts to USA troops, we heard about their latest charity events. They were also offering a small challenge to be the top gamer in their Halo tournament that gave out small prizes.  We actually received a ration, which we heard wasn't bad tasting. This organization is a great resource to help gamers connect and supports a good cause, so definitely worth checking out at conventions if you see them.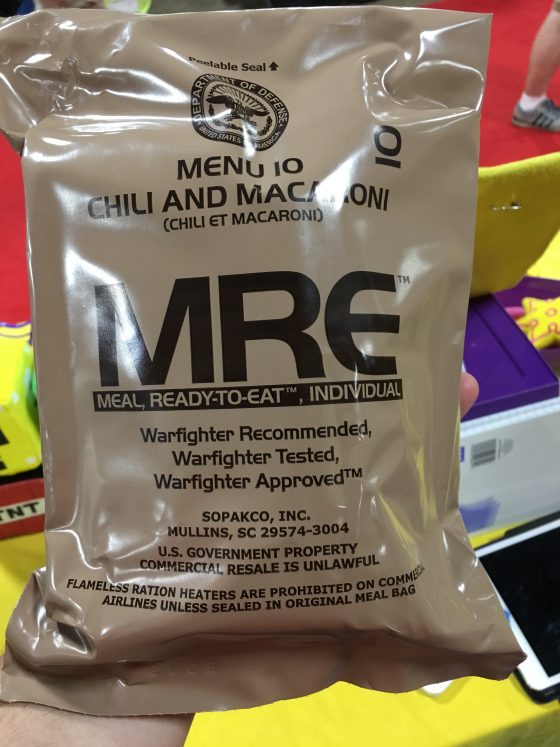 Screenwave Media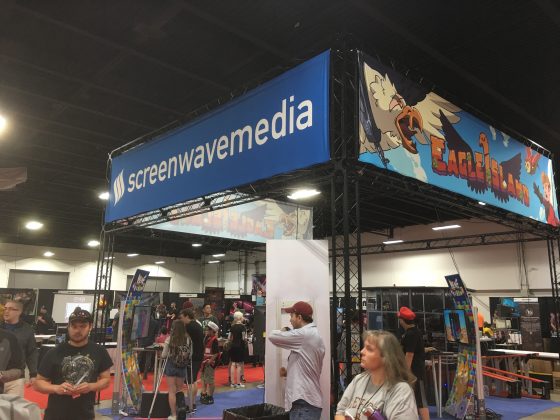 We checked out Screenwave Media's indie game booth that contained playable demos of their latest games they published such as Meme Machine, Spook's Jump Scare Mansion, Use Your Words. We checked out an early version of Meme Machine last Pax East, since then the final version was released on June 22nd, 2018. The final version contained more characters, tighter controls, and the same internet silliness.  This booth also had a live stream booth where gamers would throw on a stream and talk about their convention experience.
RedEssenceGames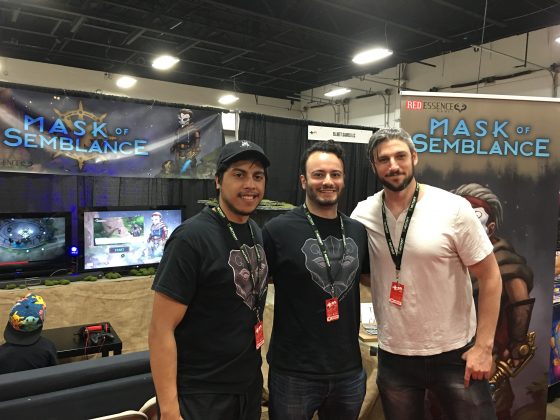 The dev team at RedEssenceGames have been working hard on building their first major title Mask of Semblance. We have met the team over the year on our convention trips and it's been great watching this game grow every time. Mask of Semblance is an action adventure title that features glorious hand-drawn art and fast-paced combat. The gameplay follows the traditional hack and slack game mechanics and has fluid controls to jump in and out of combat easily. Lining up attacks and unleashing combines feels fun and the art style is colorful to keep the eyes entertained. This game is in early development and the demo can be downloaded now.
Nicholas Hydock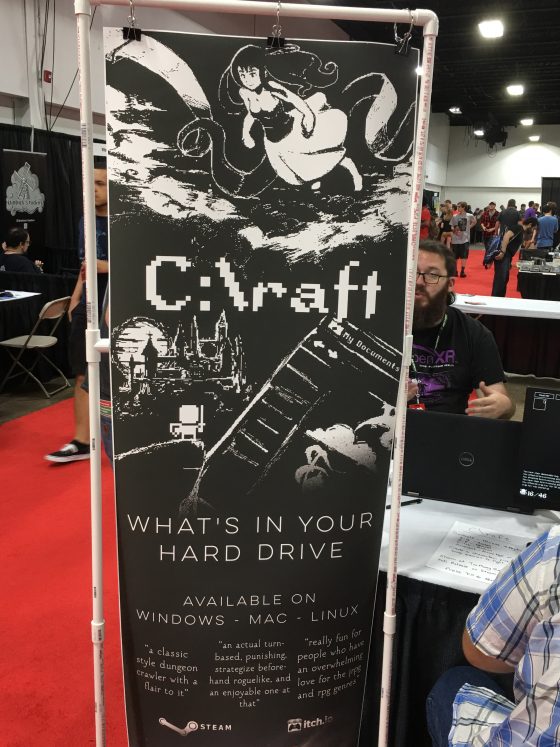 Nicholas Hydock offers a different take on the randomly generated, rogue-lite, dungeon crawler game experience in his game C:\raft. The game's structure use's the host's computer file system to dictate how C:\raft will be generated. C:\raft will analyze the host computer and create a special game design that features randomly generated items, levels, and quest that is based on the host computer. The gameplay and art style is simplistic in black and white. The controls are very basic, using very few inputs. In fact, the C:\raft highlights that the game is great to play with a beer in one hand and one on the keyboard or tablet.
Paralily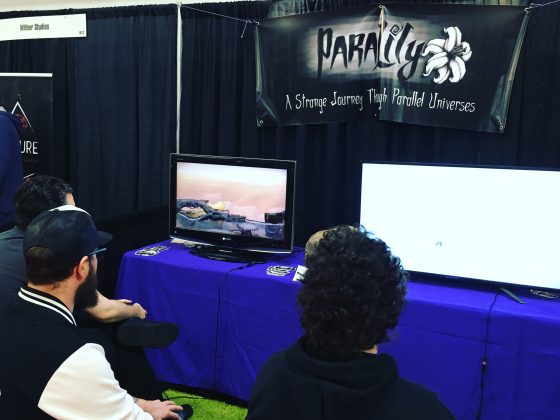 The developers working on Paralilly have presented another build of their game, updating what we played during our time at AVGC early in the year. Paralilly stars Patches, a little girl that's on a quest to rescue her lost stuffed dragon that is lost between realities. Patches must shift between parallel universes to navigate obstacles, solve puzzles and avoid dangers.
Wimbus Studios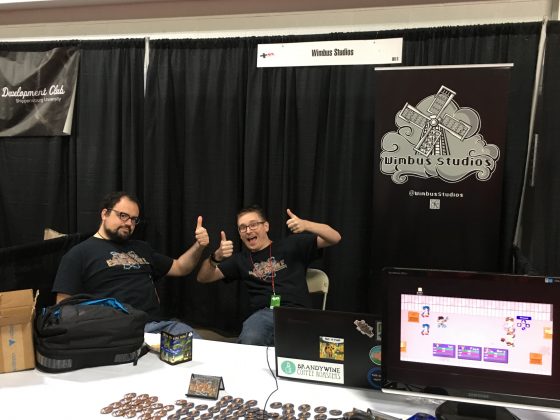 The team over at Wimbus Studios has always been one of our favorite stops at TMG. Their game, The Island of Eternal Struggle, takes inspirations from classic turn-based RPGs like Final Fantasy and Dragon Quest, and mix it with their own unique humor. They had made Steam early access last year and working towards improving their game.
Mega Cat studios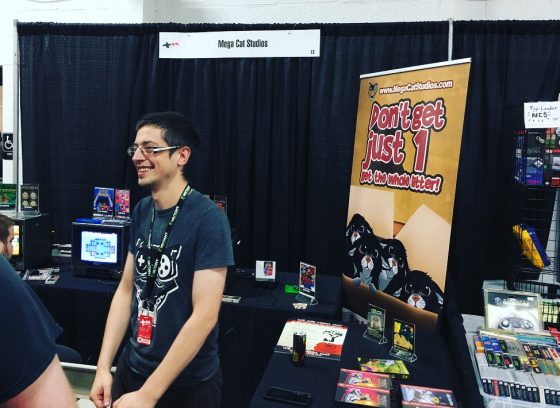 When it comes to being a triple threat, Mega Cats Studios doesn't mess around. Not only do they make their own games, but they published their games digitally and in retro formats. They make games they always wanted to make as kids and aim to make them a tab stranger. Their latest game, Coffee Crisis, is their take on the beat'em up genre and was loads of fun to play when we got our hands on a review copy a few months ago. They were showing off their latest updates for the PC version and were showing off their game catalog at their booths.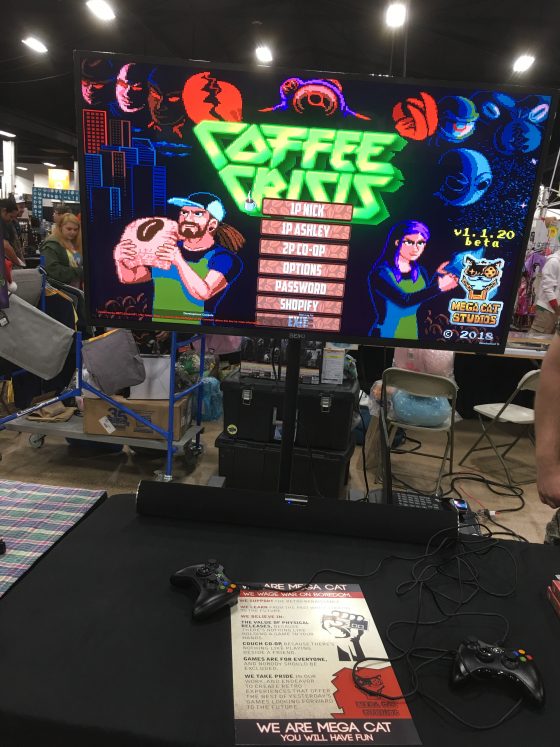 Cosplay Pro-Wrestling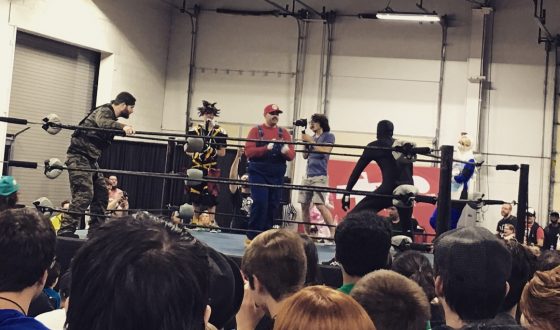 When's the last time you saw Mario punch Sora, while a Mr. Game and Watch moves in for a cheap shot at their groins. The nimble and talented geeky wrestles at Cosplay Pro-Wrestling know how to pump up the crowds while dressed as fan-favorite characters. They not only embodied the spirit of their character persona's, they perform heart-stopping wrestling moves that get the wrestling fan in everyone cheering. Their shows are fun and we also have a good time screaming and boo-ing for our heroes and villains.
Pole Pole Pole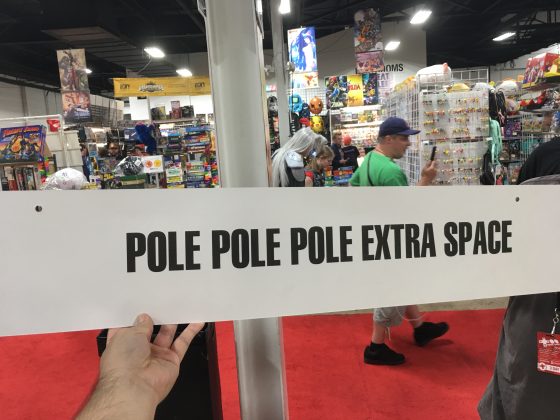 Our favorite booth. It was a sign about a pole, placed next to a pole, to warn others about a pole.
Panels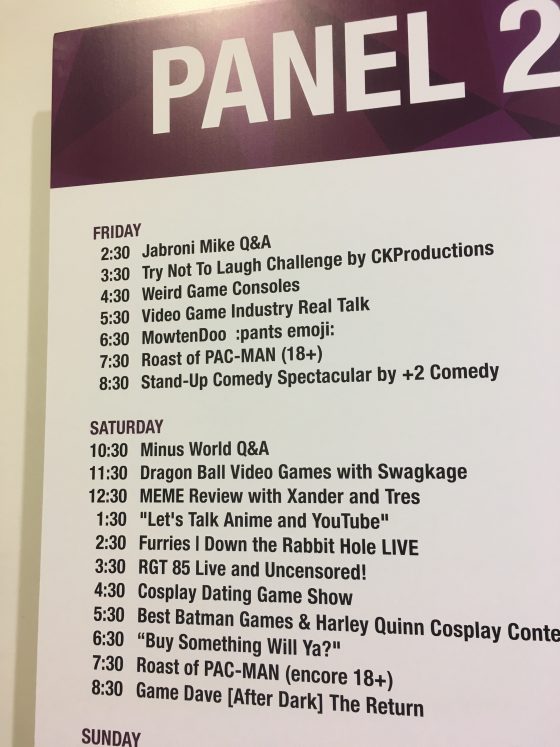 Panels held through the hours of TooManyGames discuss a wide range of nerdy interest. Some talk about their experience being a content creator, analyzing games, or show off a strange performance piece. There were three rooms that ran a new panel every hour, so you can hop around all day listening to random topics and some amusing feedback from the crowds.
Completely Unnecessary Podcast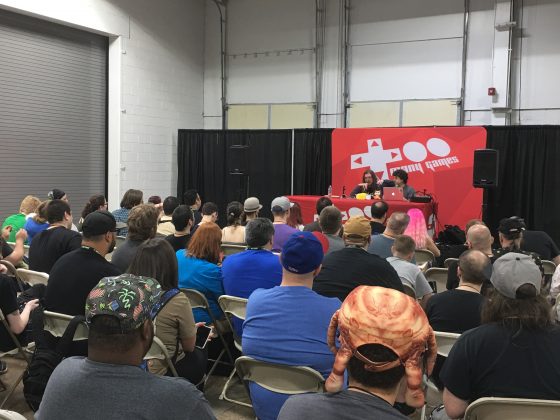 Pat the NES Punk and Ian Furguson look back at their past experiences about their podcast, their gaming collection and fun stories about traveling to conventions and meeting some strange characters along the way.
Dais of Thunder – Roast of Pac-Man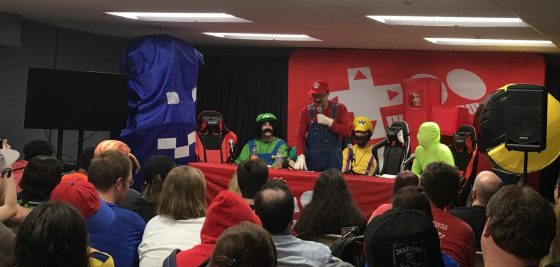 The comedians of Dais of Thunder dress as classic gaming icons to hold a not so friendly roast for the yellow dot-eater, Pac-Man. It's a fun concept for gamers that know the characters well and the room was packed.
Hack The Movies – Best Batman Games Panel and Harley Quinn Cosplay Contest
Parodying cosplay panels, Hack The Movies hosted a batman appreciation panel that goes off the rails. This is what happens when only one Harley Quinn cosplayer appears and an unhealthy obsession with Chris O'Donnell becomes a cringe worthy panel discussion.
Concerts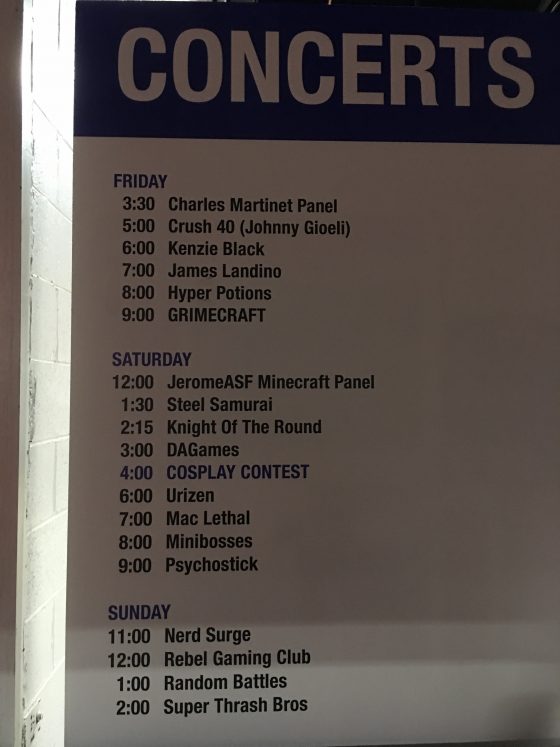 Through the TMG, the concert room held different musicians playing a set for attend to check out. Each musician brought something different for the audience to hear, so it's never the same band twice. They played rock, chiptunes, heavy metal, punk and all mixes of music genre in between to be heard in the concert room.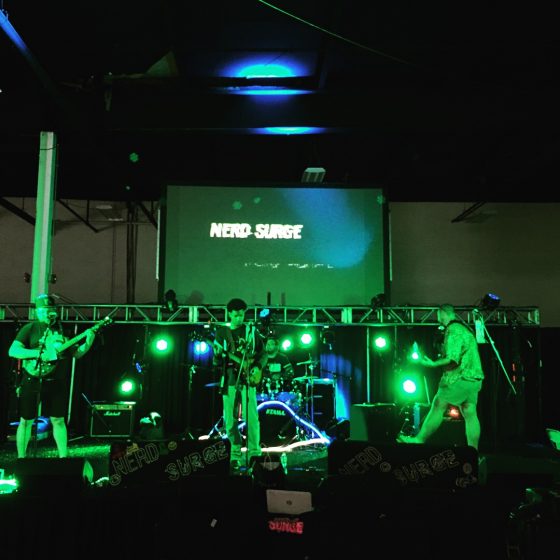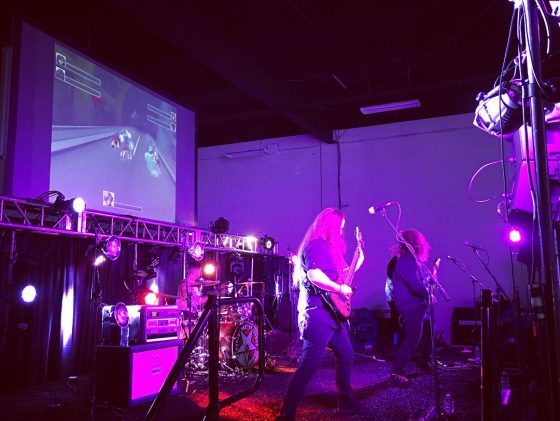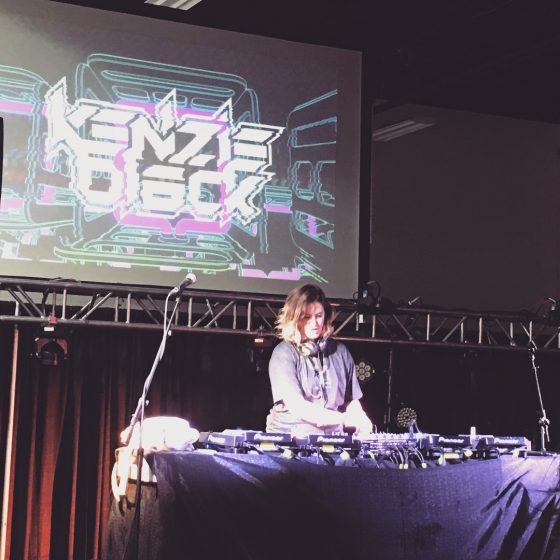 Free Play
A large selection of TooManyGames is their collection of arcade and console free play area. This room hosted tons of games to play throughout the three days. They had Japanese import candy cabs, musical games, pinball and classic retro hits. Their console area offered a random assortment of games for anyone to jump in and play.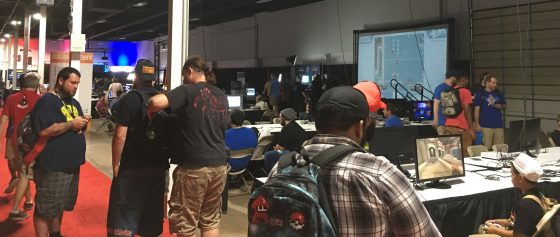 The area in the back held Smash brothers and Overwatch tournaments that brings more competitive gamers to fight for prizes and nerd respect.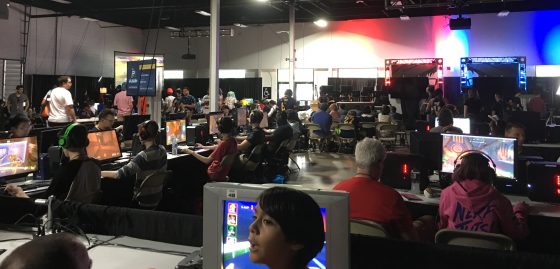 Parties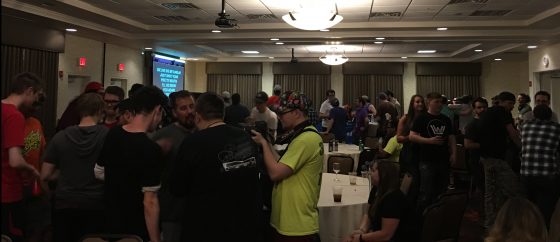 A long day at a con deserves an even longer rest period. We kicked back the nights with friends and new acquaintances at the hotel bar and ballroom. On Friday night, we got to chill at the Screenwave media party to sing along with some off-key karaoke singers while having a drink or two (Or five).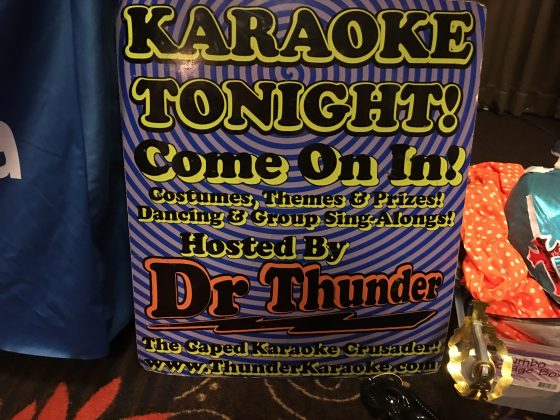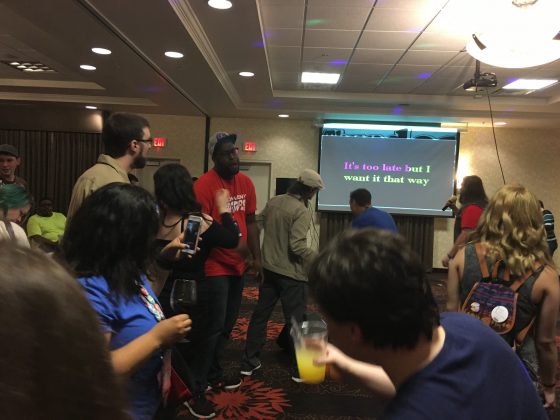 Saturday night we got to see DJ Cutman perform and try to keep our drink count in the single digits.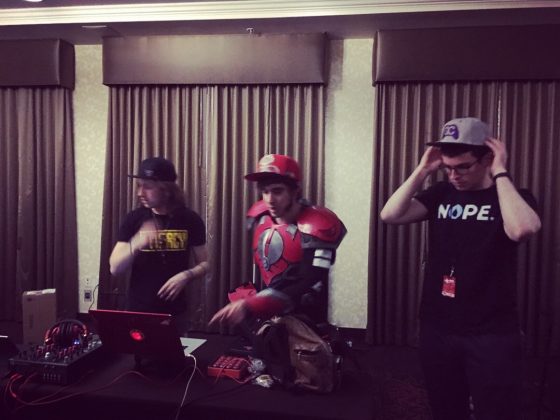 Partying all night is fun, but cost sleep, so we try not to rage until the morning light. We still had Sunday for our last chance on good game deals and attend a panel. So our morning was a quick Wawa breakfast hoogie to help our recovery and one last trip through the show floor.
The Morning After
This year's TooManyGames was another great convention experience that gave us tons of stuff to do all weekend. It was hard to find a boring moment when we were surrounded by so many options to chose. We enjoyed every moment snapping pics, talking to people, and digging through vendor tables. TooManyGames brings together a great community of geeks and nerds and we look forward to our time back next summer.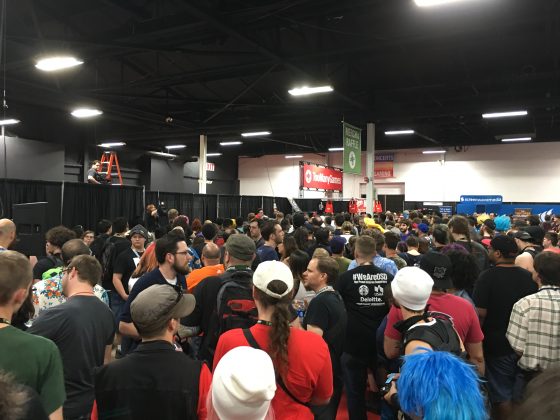 Bitten by a radioactive video store rental employee and overcome by Pac-Man fever, Chris seeks new comic books, games, and movies to review.
Conventions
Game Music
Gaming
Gaming Convention
Indie Dev
TMG
TooManyGames
Video Game Convention
video games