EA at TooManyGames 2019
By Chris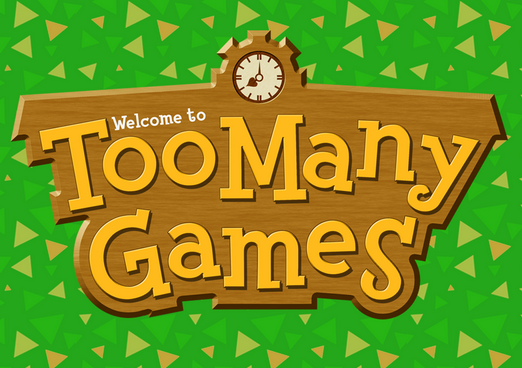 When a convention packs in a ton of games, collectibles, content creators and activities under one roof, there is never too many things to do. This year's TooManyGames expanded into four halls of The Greater Philadelphia Expo Center, which provided ample space to roam around. From June 21 to the 23rd, TMG offered plenty of entertainment to overstuff a weekend. Hours can be spent browser through vendor tables, playing classic arcade cabs, and sitting in panel rooms. Or even listen to music in the concert hall or watch competitors in a tournament. I recap covers the fun sights, great people I've met and the oddities that make up this convention.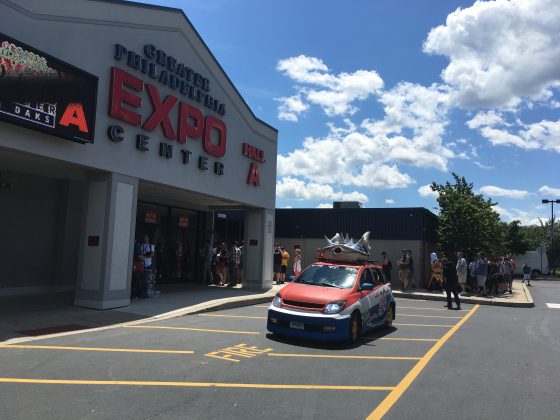 Showfloor Highlights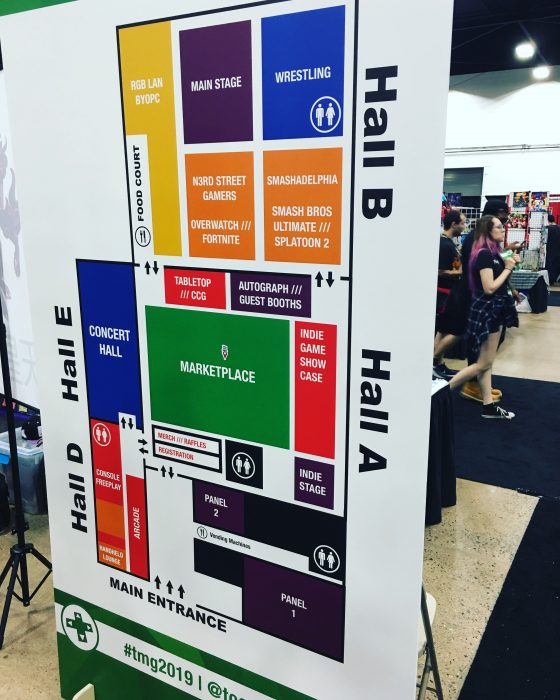 This year's show changed up the layout of TMG. Navigating through the area offered lots of cool things to check out, and lots of interrupts to catch surprising spectacles. Every few feet it was easy to spot games I wanted, interact with funny cosplayers, or catch up with old friends. The show floor was always busy with people and it was a non-stop shopping spree for us.
Indie Showcase
Every year at TMG, indie developers booth their latest and greatest projects for people to try. It's a great way for these game devs to get user feedback and the public to learn about the people behind the games. These games are developed by people driven by the passion for making games, which means there are little to gimmicks about trying to get these games into the hands of gamers. During our time at TMG, I stopped by a few booths to try out a few games.
RetroMania Wrestling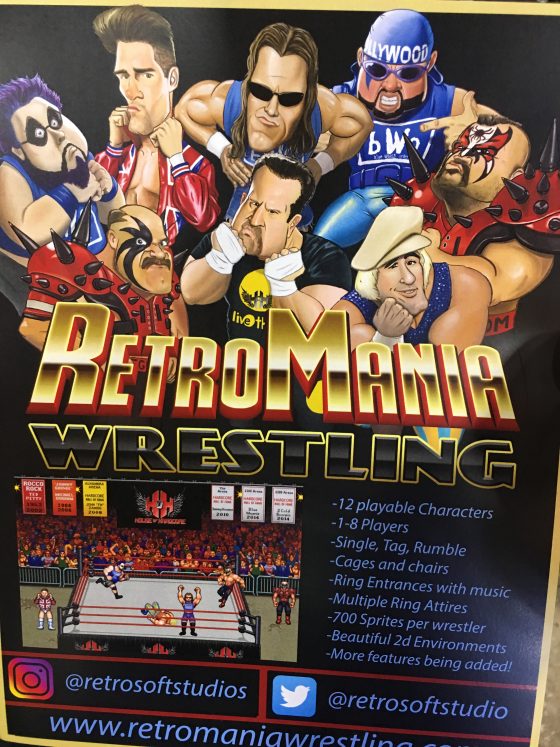 Inspired by the arcade game Wrestlefest, Retrosoft Studios has been working on RetroMania Wrestling. This game is a fun throwback to arcade-style wrestling games that has easy to understand controls and face paced gameplay. The game uses 2D sprites and features a handful of real-life wrestlers. Tommy Dreamer was at the booth and was a great guy to chat about the wrestling stories and game development. RetroMania Wrestling had a TMG demo build that only had two characters to try, but it covered many elements of the game. The game is set to release sometime next year.
Eagle Island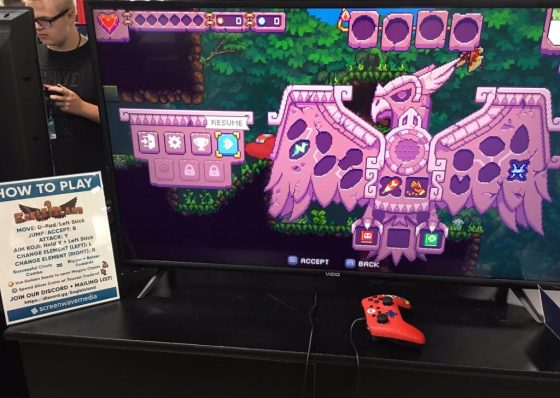 Players got to jump, dive and hurl an owl in Pixelnick's Eagle Island. This fun title is a retro-inspired adventure platformer, that lets the player take control of Quill and his loyal owl Koji. The pair explores the lost world of Eagle Island to save his brother from the monstrous eagle, Armaura. I have played Eagle Island in previous events and each iteration refines the amazing gameplay. The game has great animations and fluent action, that make platform jumps feel smooth and the combat intense. The game was released July 10th for PC and Switch.
Fallen Angel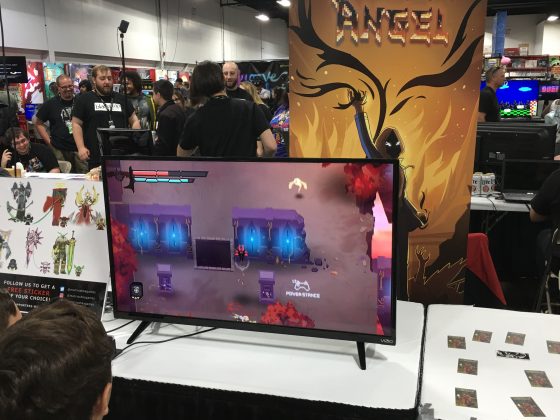 Matrioshka Games was showing off Fallen Angel, a game about Lucifer exploring a twisted version of the afterlife. The game is a hack-and-slash adventure title that feels like a mix of Legend of Zelda meets Doom. The game has great pixel art and action mechanics and was a fun demo to try out. The devs are part of the Drexel's Entrepreneurial Game Studio and have a Kickstarter set up for funding.
Robo Puzzle Smash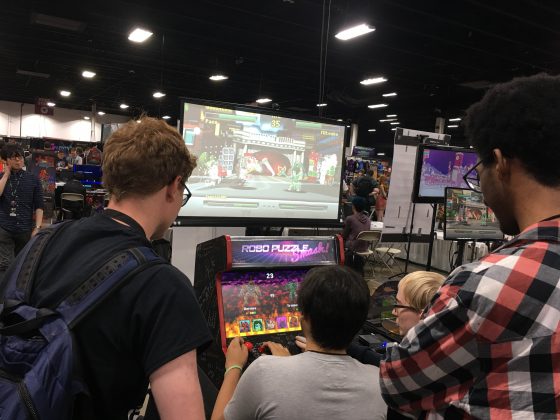 Pxlplz's Robo Puzzle Smash was back to let players get their puzzle fighting on. The game was being offered for purchased and the musical soundtrack was being sold on Vinyl record. There was tournament set up with players going head to head to find out who can smash the most.
Where Shadows Slumber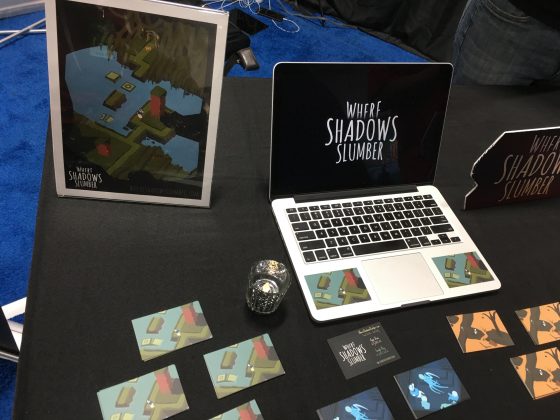 When the world is thrown into darkness, one man takes a mysterious lantern into the forest to shine a light on the chaos. Game Revenant was showcasing Where Shadows Slumber, a puzzle game with simple touch controls, innovated shadow/light mechanics and a fabled narrative. The game has a great presentation and challenging puzzle designs that make this mobile game stand out. The game can be downloaded now for iOS and Android.
Pixel Puzzle Makeout League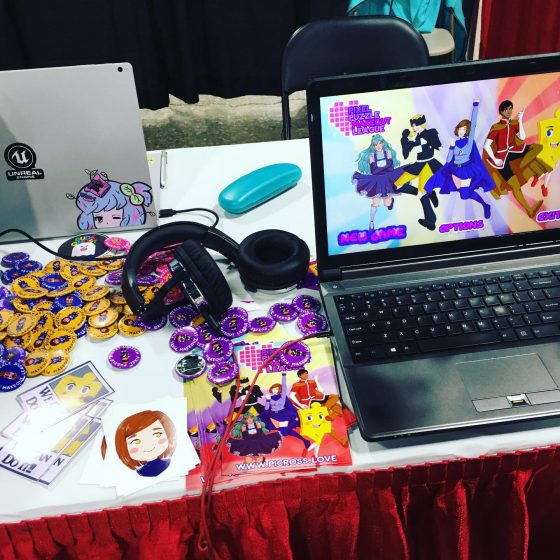 Can superheroes find love while solving puzzles? Rude Ghost present Pixel Puzzle Makeout League, a game that combines the addictive game of Picross and an anime style visual novel. The game offers picross puzzles, where players have to look up the correct spots on rows and columns to mark and help the protagonist Pixel Girl, romance her superhero teammates.  The game was enjoyable and is a different puzzle experience than what most people are used to. It's refreshing bold ideas take off and the marketing for the game is eye catchy.
Project Fantasy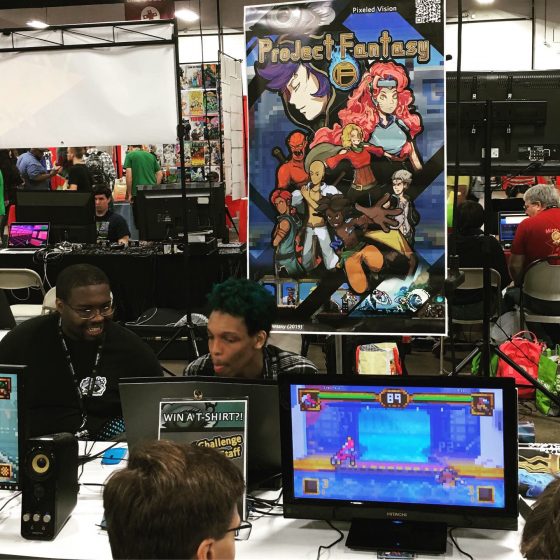 The graphics are lo-rez, but the combat is high flying. Pixeled Vision was showing off their latest build of Project Fantasy. A game that features super pixelated graphics and Smash Bros-like action. The old school visuals make the game feel like it's on the Gameboy Color. However, the gameplay is fast and smooth, and the controls are pretty responsive. The game is in early development and is set to come out in late 2019 or 2020.
Cosplay Pro Wrestling
When video game characters have a beef to settle, they take it out in the ring. The rowdy wrestlers of Cosplay Pro Wrestling were back at TMG to wow the crowds with their awesome moves. This is Smash Brothers come true with a mash-up of characters from different game titles. If you have attended a convention in the Tri-state area, there's a good chance you have seen these performers dish out hard-hitting moves. Punches, kicks, and throws had the fans cheering and booing their favorite.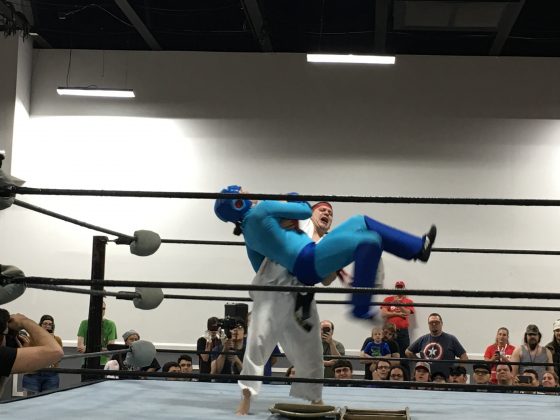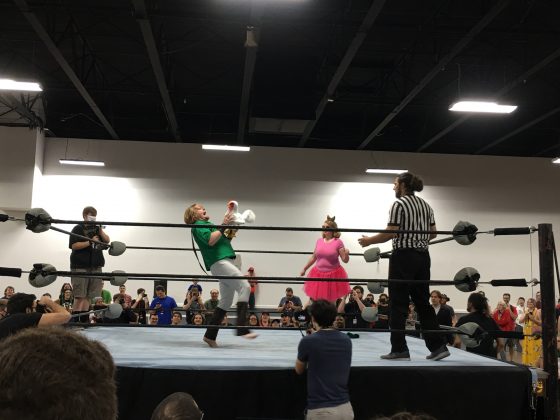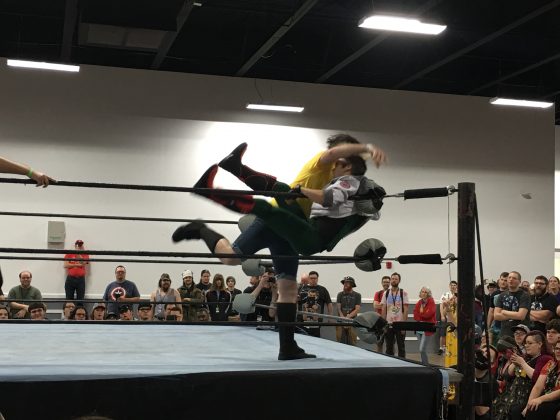 RGB LAN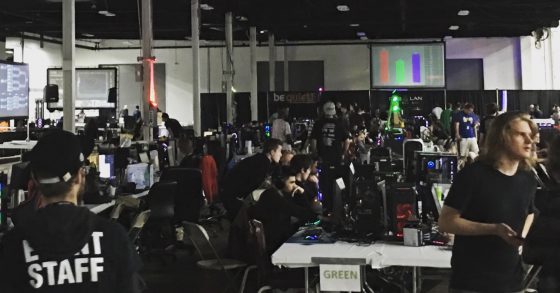 Featured alongside TMG was RGB LAN, a huge LAN party that had PC gamers bring in their own rigs and play team tournament games. RGB Lan divides the whole group into three color based teams and has them fight it out in various games to earn points. Certain tournaments earn prizes, but the overall team with the most points earns a top prize. RGB LAN was a separate even that needed an additional badge to take part in, but it was neat to watch all the different custom PC stations and see which players were kicking butt in the ranking.
Panels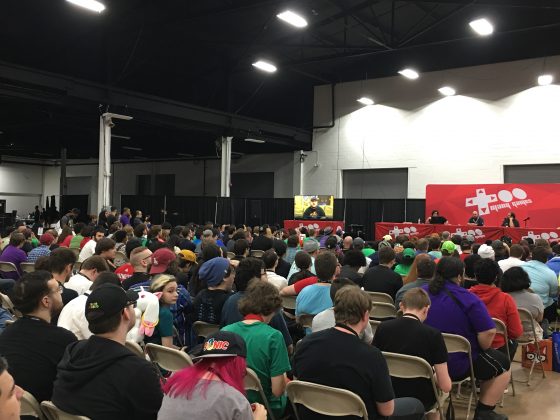 Want to learn some new about a game, hobby or an internet video? Then the panels are the best place to hear from people with those experiences. TMG hosts an assortment of panelists that talk about interesting topics and get constructive dialogues between creators and fans. I was able to catch a few panels every hour between the four-panel areas. It was a nice way to give our feet a rest, charge our phone and listen to some interesting behind the scenes stories.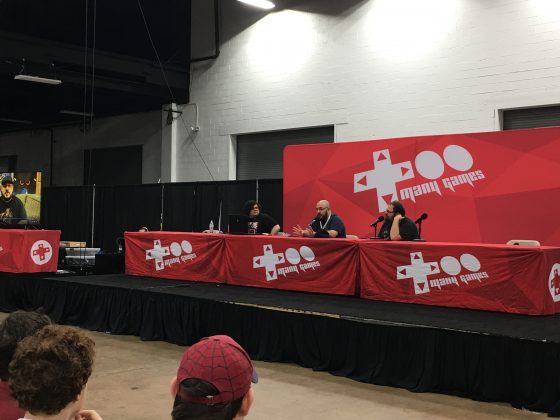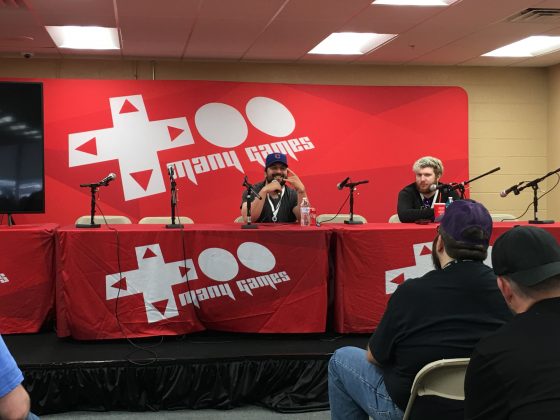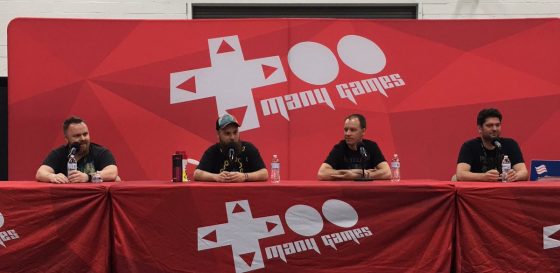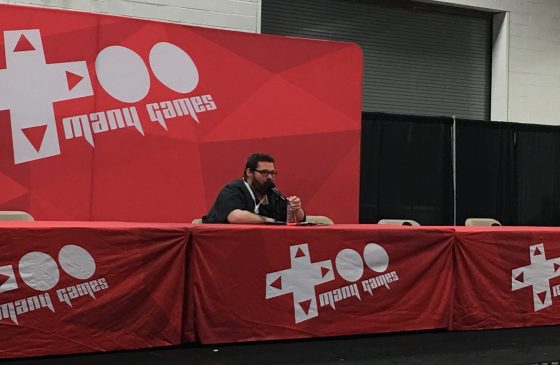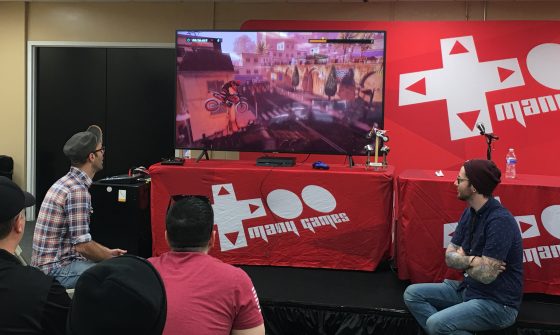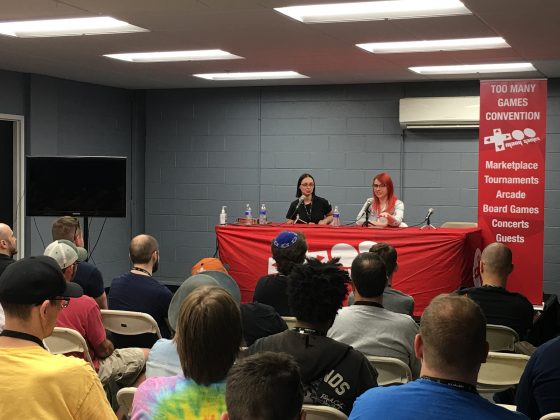 Concert Hall
The concert hall held great bands through the three days at TMG. Different genres and styles of music were played, so no two bands sounded alike. There was rock, metal, rap, EDM, chiptunes, techno, and all in between. Nothing like hearing some rocking beats to get the body recharge for more fun at the show.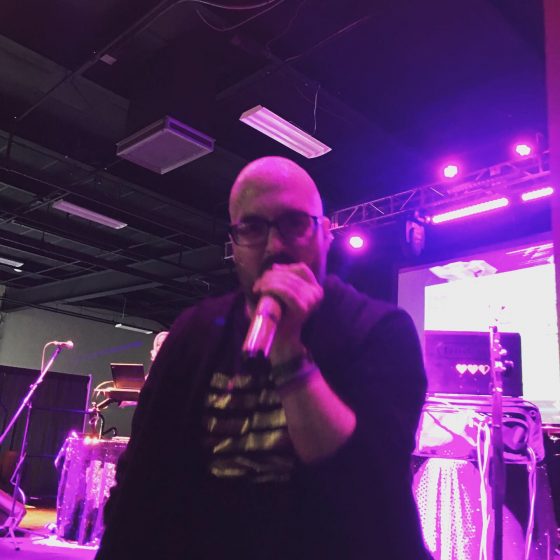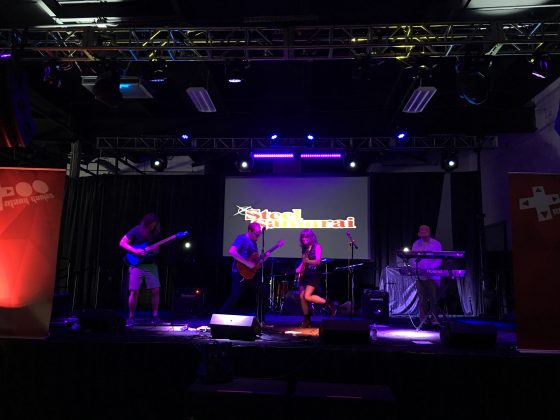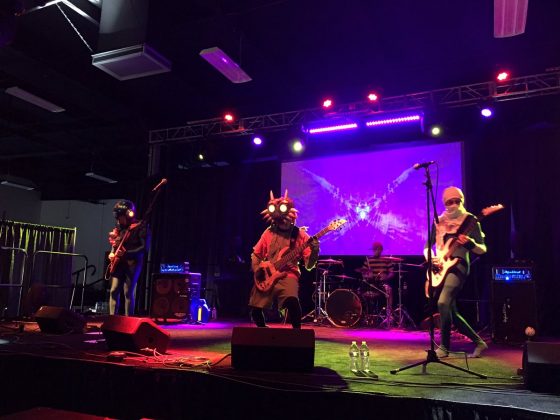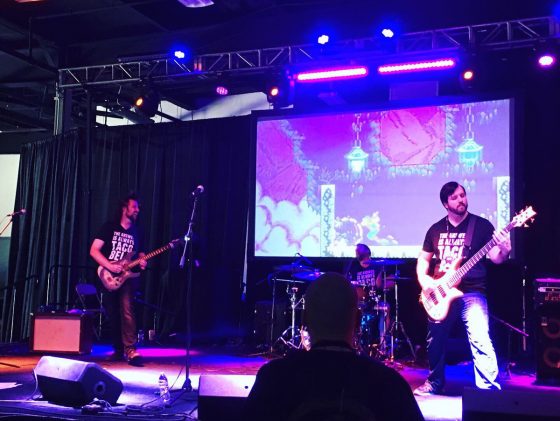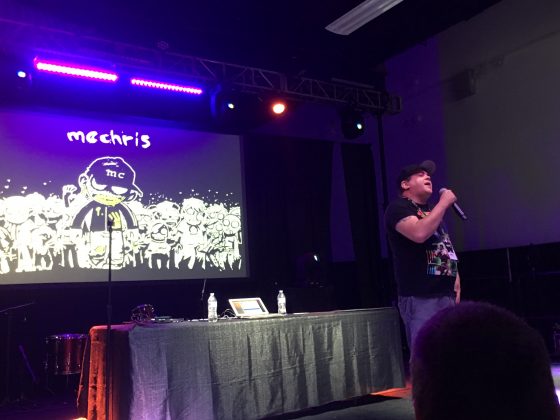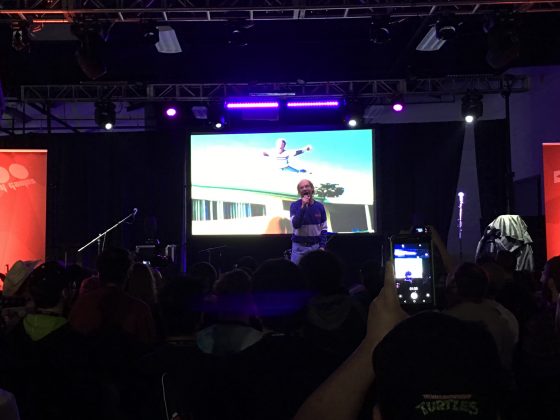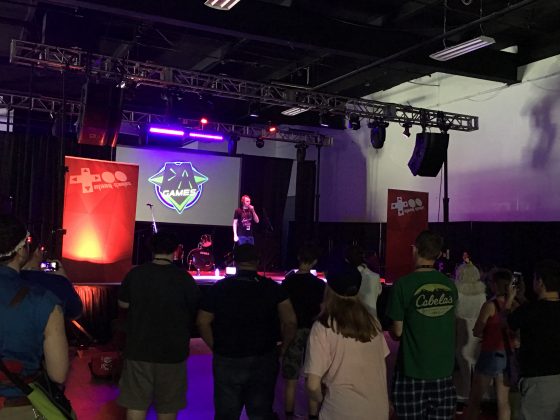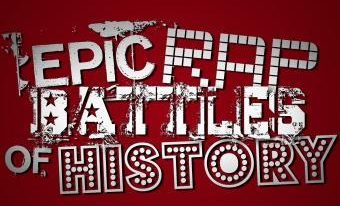 Making their debut appearance at TMG, Epic Rap Battles of History performed an amazing set to close out Saturday night. Nice Peter and EpicLloyd sang a few of their fan-favorite hits and changed "costumes" between songs. It wasn't a huge costume swap, just taking on and off wigs and hats. And the one time, pants. I now know what EpicLloyd really looks like in tighty whities. It's those kinds of moments you can't buy.
After Parties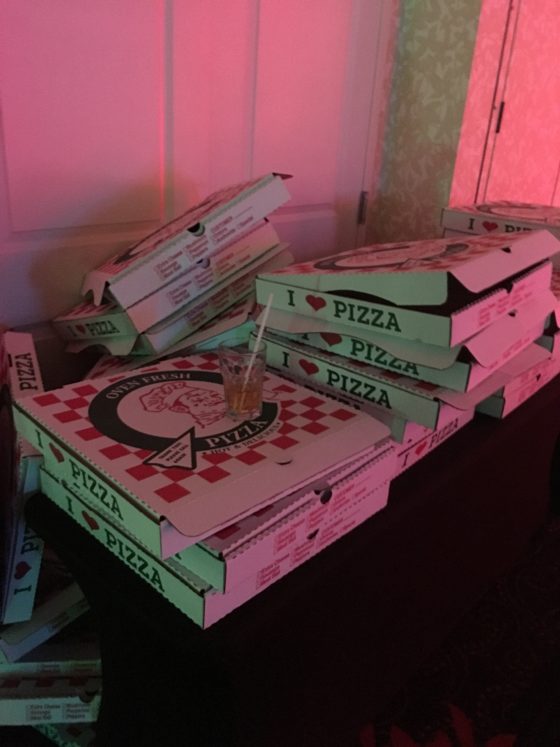 After parties are like bonus stages. You don't have to complete them, but it's a fun experience if you do. Celebrating a successful day Friday and Saturday with food and drinks is a nice way to close out the day, and start the next one. Or just keep partying until the morning, and get the largest Wawa coffee size they can legally serve you. Friday's after party brought out the local Karaoke set up and had everyone singing along to catchy songs, and strange performances. The second night had THE GREY beam down to from space to lay out heavy beats. The futuristic music gave us a boost to party until the late hours, and the pizza was a nice touch. But I definitely ate enough to make us avoid any combination of bread and cheese at least a week.
Pick-Ups and Closing thoughts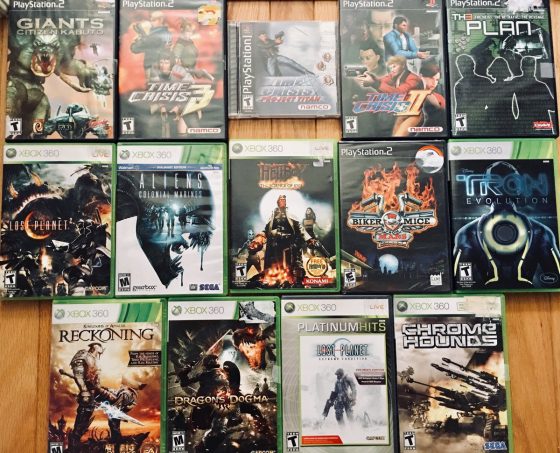 The new venue brought in a ton of collectors and stores to explore. I slowly assembled a collection of games I've been meaning to play and some games I just wanted to own because there was no chance for a remake anytime soon. It has been a long time since I played Time Crisis 2 & 3, and a vendor gave me a great deal for both copies. The Plan was an interesting title that gave you control over a three-person team while they steal from various locations. It practically came out when the PS2 was on it's way out and had little to no marketing in the US. I can't say it's good or bad, but for like $3, it's not a big risk to find out. Speaking of bad marketing titles, who would think Biker Mice from Mars would ever get another video game after 1995? In the competition of anthropomorphic animals with attitudes, Biker Mice from Mars was not leading the race. The copy I found was sealed, and judging from the videos of the gameplay, I think it's going to stay that way for a long time.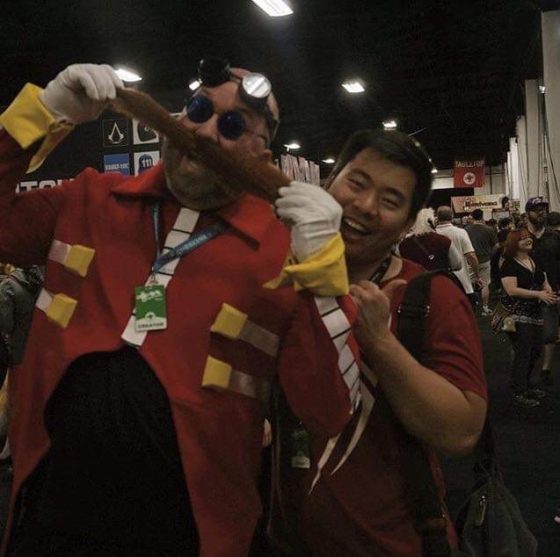 A weekend of games, shopping and partying is always a good time for anyone. But TooManyGames has become a hub for gamers to gather and celebrate their favorite interest with others. The new layout of the venue gave people plenty of room to spread out and the guest appearances were amazing to interact with. It was easy to find something to do or see every hour and time quickly flew by. It was another great convention that I walked away with fun stories to tell, a bag of new games to play, and pictures to brag about.
Bitten by a radioactive video store rental employee and overcome by Pac-Man fever, Chris seeks new comic books, games, and movies to review.
Conventions
Game Conventions
Indie Dev
RGB Lan
TooManyGames
TooManyGames 2019
video games