EA at NYCC 2019
By Chris

October brings in the fall weather, the change of leaves, and the crowds for a convention. This past fall, we came to New York Comic to check out four full days of nerdy activities. Running its fourteenth year, NYCC has become a staple of must-see conventions to visit annually. There are lots of comic creators, movie stars, specialty vendors and promotional events to see. We showed up on the rainy Thursday morning and took part in all the fun that went down in the big apple.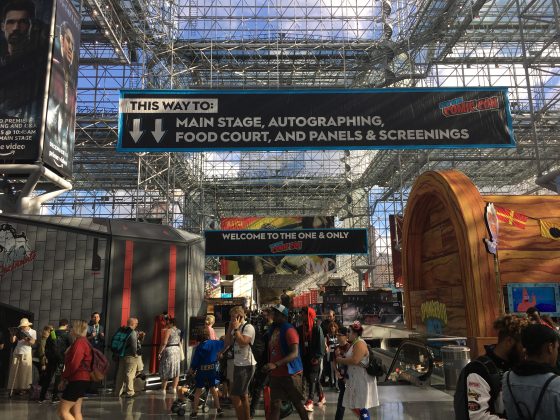 Mainly located at the Jacob Javitz Center, NYCC took up most of the convention while parts of it were being renovated. But just because some areas were a little tightly packed, doesn't mean it wasn't less of a good time. The outside entrances and main lobby of the convention hall had the same layout as usually, and where the best spots to randomly people watch. There was never a time when it was truly empty and always filled with interesting people hanging around.
Showfloor finds
Every aisle and corner is a surprise to see and new fandoms to geek over. The Showfloor is diverse with items to buy and free stuff to collect.
Funko Booth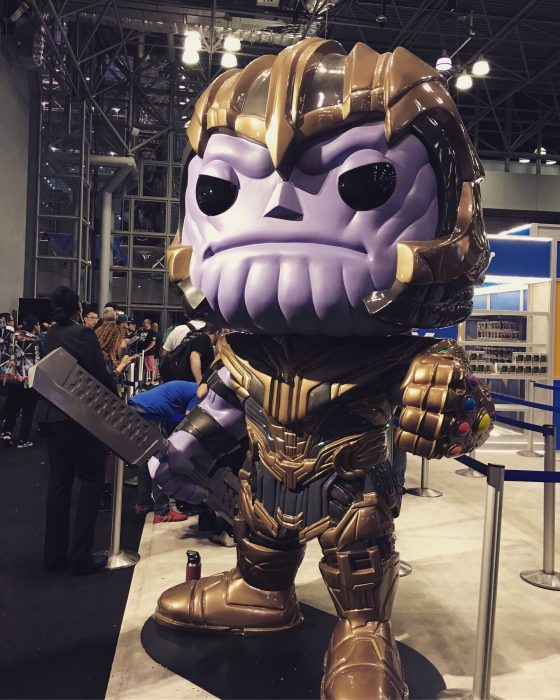 This year at the Funk Booth, the mascot was Thanos from Avengers: Endgame. The mad titan was all armored up, wielding the infinity gauntlet and double-bladed sword. The larger than life Funko was a landmark for all to see and kinda was the only thing to look at after awhile for those waiting in line for the chance to get exclusive funkos.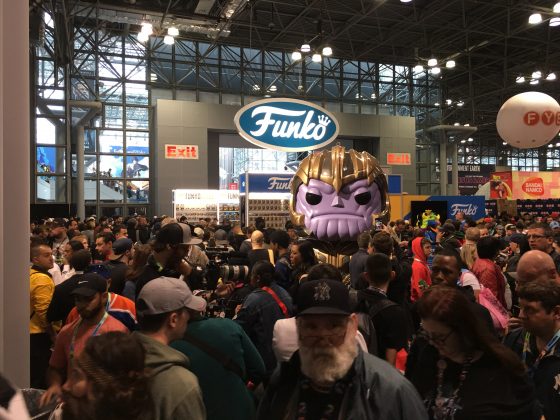 A pro-tip for newcomers to NYCC is to avoid the funko pop area in the morning once that area fills up. You will be in a forced conga line and it will be a bad time. If you want a funko pop, make sure you get a lottery ticket early. Or suffer the wraith of line queue in a heavy foot traffic zone.
Marvel booth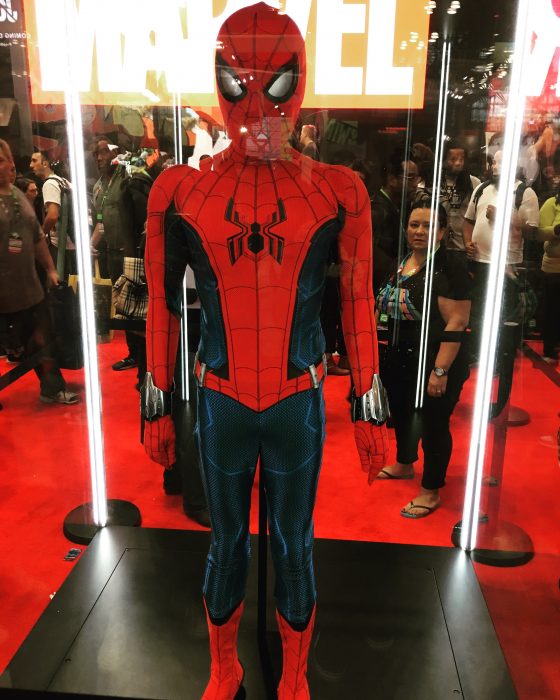 Shown proudly at the Marvel booth, a Spider-man stark suit from Far From Home. The suit was one of the movie props and looked amazing on display. It reminded us of one of those chambers that houses the hero's gears and was waiting for a gearing up montage. This could've been the last time we saw the Spidey for a long time before the Sony and Marvel deal was renegotiated, so it was a bitter-sweet piece of movie history to witness.
DC booth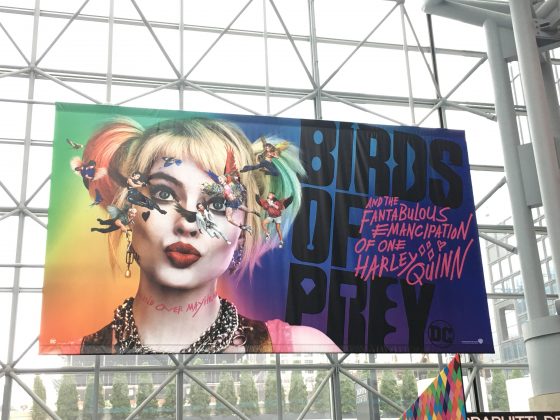 Over at the DC booth, they also had some movie props to display. Freshly released from set, the costumes from the upcoming Birds of Prey movie were shown. The main casts outfits were housed and gave just a glimpse of what to expect.
Birds of Prey is an all-female staring superhero team that has heroes and villains fighting together. While most people haven't been in love with the current DC movies, this entry looks to have a little fun with the characters and ease back on the dramatic elements.
PICARD – CBS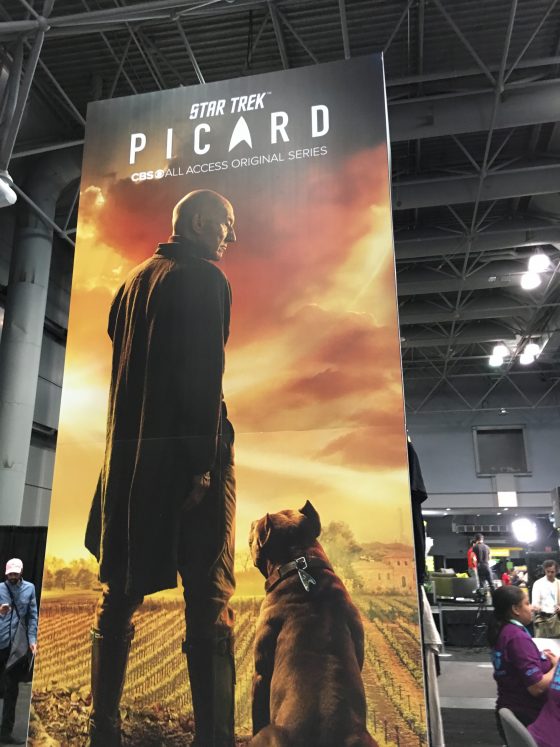 The CBS All Access had a display of the costumes from its upcoming show Picard. Patrick Stewart returns as Jean luc Picard, now a retired Admiral that comes across a new challenge that brings him back to Starfleet. The details haven't been announced yet, but the trailers and the costume designs give some clue on what has happen and probably will happen to Picard over the last 15-year absence.
Snowpiercer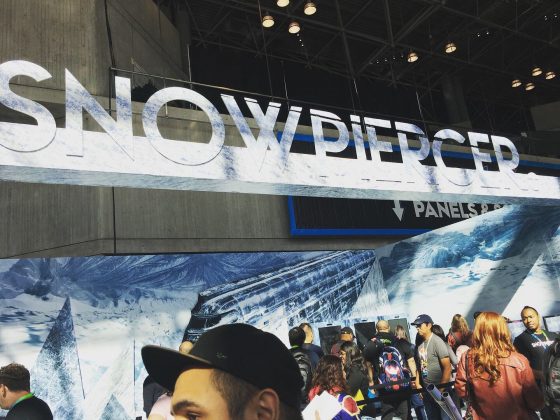 At the TNT booth, they had a special Snowpiercer station that gave out bug protein bars for attendees to try out. This was mimicking the fictional bug bars that are found the movie and tv show, which was the food source for the lower class train passengers.
These bars were made from Exoprotein, a company that specializes in cricket-based protein and was pretty tasty. There was nothing about the taste that screamed "bug" and the PB&J flavor was a nice flavor.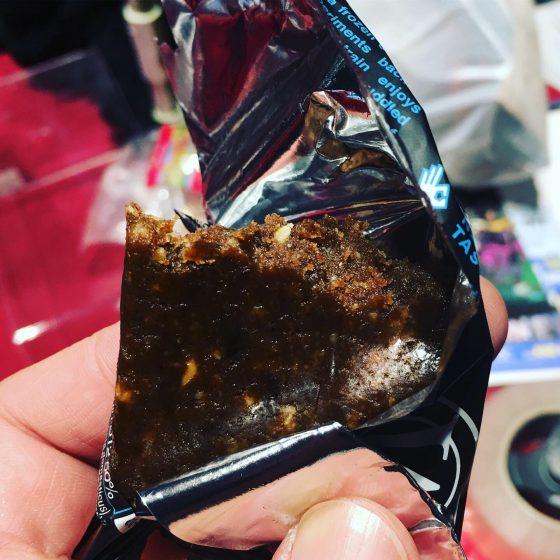 As fans of the Snowpierecer movie, we did wonder what a bug bar would taste like. We're glad it was a nice solid protein bar instead of the wiggly jelly version like the movie.
Comic Creator Interviews
This year we got to speak with over ten comic creators over the course of the show. We've been reading great stories from talented writers and artists, and we always look forward to meeting the people behind the pages.
Carlos Griffoni and Juan Doe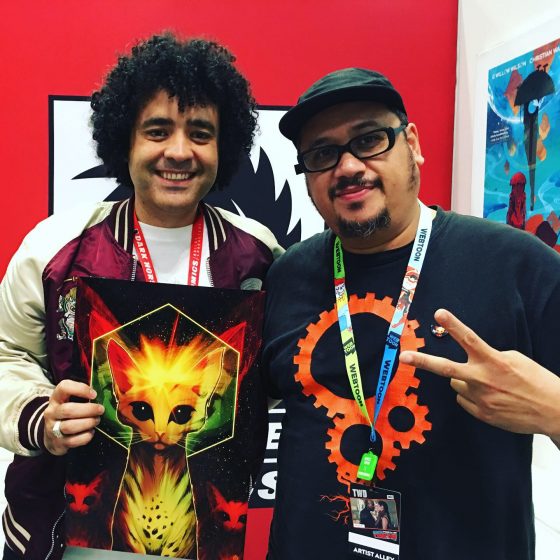 We spoke wot Griffoni and Doe about their work on Dark Horse Comics' Strayed. The series follows an astral projecting cat named Lou and his role in defending the galaxy from a great evil. The comic is heavily focused on sci-fi, with themes of political unbalance and morality. Part of the inspiration came from Griffoni's discovery of the CIA experiment with telepathy in the late '70s and watching his own cats. Doe read the first draft of the script and was instantly on board with the concepts, and added his own unique flair about space to give the story the high sci-fi visuals it needed.
Lela Gwen and Matthew Dow Smith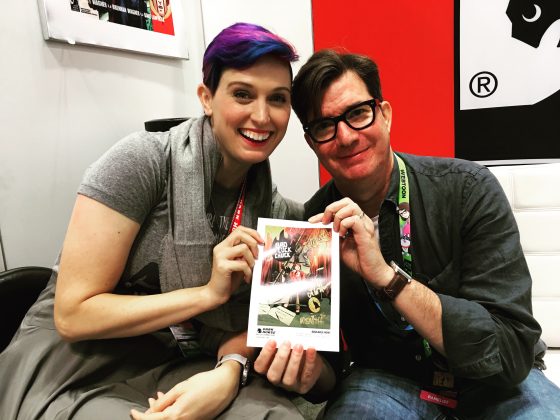 Gwen and Smith were the writer and artist for the mystery comic Bad Luck Chuck from Dark Horse Comics. The story is about Charlene "Chuck" Manchester and her abilities influence unfortunate situations. It mixes comedy and mystery in an offbeat matter, making what the creators perfectly called a "slapstick noir". Some of Chuck's diverse background was modeled from Gwen own real-life experiences, like being raised with monks at a monastery and cases of bad luck. The creators also told us the few cases of how production in the comic had its own strange unfortunate events like small fires, slips, and falls. Matthew Dow Smith is a fan of movies, especially Hot Fuzz, which had an obvious reference with two cops characters, but he revealed there are other easter eggs hidden in the backgrounds from other famous noir movies.
David Mack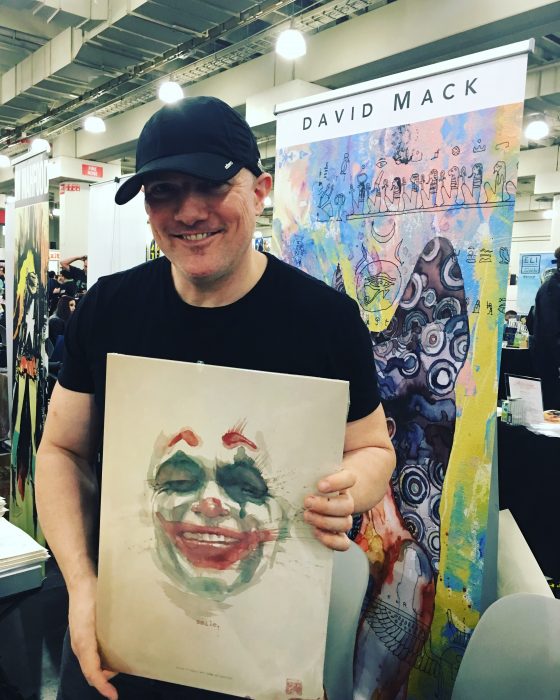 David Mack had a Joaquin Phoenix Joker illustration that captured the silent mayhem in a minimalistic fashion. Mack was inspired by the trailers and design the illustration before he saw the movie, but he knew the movie was going to be something special. Mack's masterful talent with watercolor brings out such much depth and complexity, and it's a real treat to see his work extended for other designs.
Matt Wagner and Brennan Wagner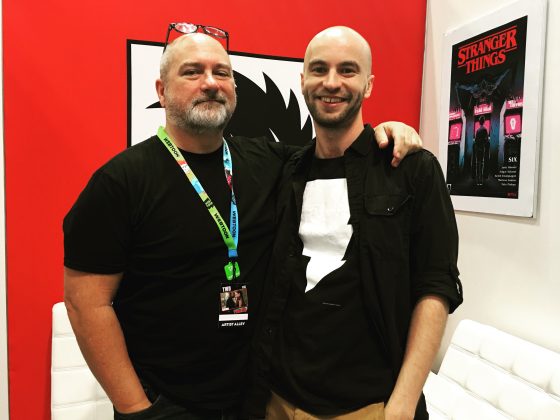 We sat down with the father and son team of Matt and Brennan Wagner, creators of Grendel: Devil's Odyssey from Dark Horse Comics. We've been a fan of Matt Wagner's work and the return of Grendel-Prime is a welcome addition to the grand lore of the series. Grendel: Devil's Odyssey is a long-awaited follow-up tale the cyborg warrior Grendel-Prime and his new mission objective to find a new planet for humans to rebuild. The story breaks new grounds into a sci-f adventure, taking the series into a new venture into galactic exploration. Brennan Wagner had been raised on comics and built up a solid portfolio of work. Matt and Brennan's visual of a futuristic world ideally would resemble The Jetsons, with all the flying cars and easy travel. However, if things go south for humankind, Devil's Odyssey could be more fact than fiction.
Tod Emiko and Piggy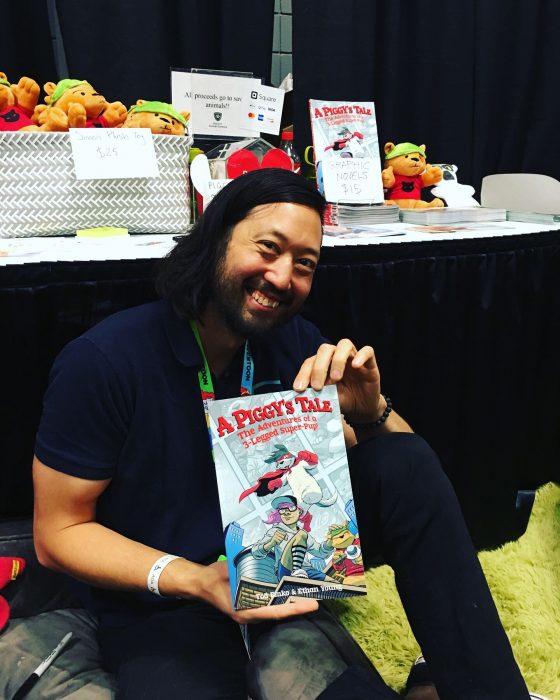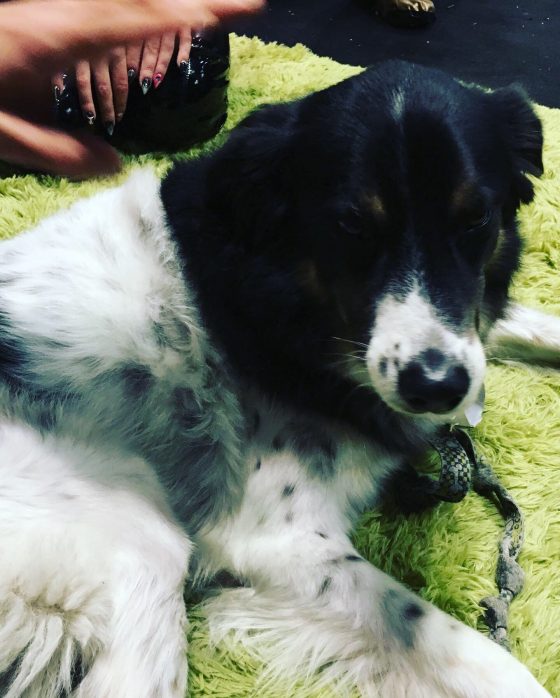 Nestled on a green carpet and welcoming free pets, Piggy is the inspirational figure for Tod Emiko and Ethan Young's A Piggy's Tale, a comic about a three-legged dog named Piggy that protects animals around NYC with his team of friends. Emiko was inspired by Piggy's great empathy and ability to comfort people with his calm nature. Emiko and Young worked with the Darwin Animal Doctors, an organization that works with special needs children. Piggy is a shiny example of hope and compassion, overcoming adversity and bringing joy to others. Piggy received a ton of head scratches and belly rubs while at the booth and helping anxious attendees feel reassured in the large crowds.
Christopher Cantwell and Martin Morazzo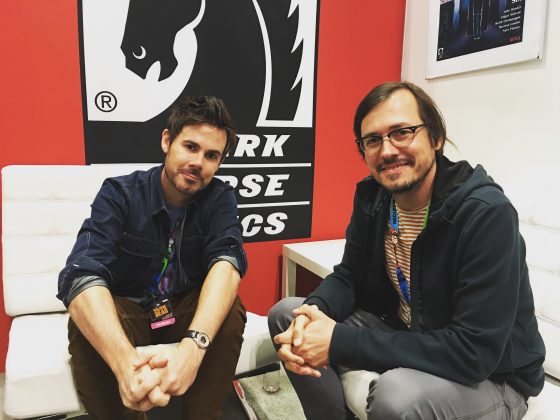 The troubling adventures of Luna Brewster continue in She Could Fly: The Lost Pilot, and we sat with Chris Cantwell and Martin Morzzao to recap their work on the saga so far. With an immersive story and a diverse roster of characters, The Lost Pilot was aiming to the shocking turning point to elevated the Luna's journey. A lot more of the mystery of the original test pilot of the jet pack pilot was explained in this chapter, to ensure the readers that were keeping up with the story got the much-needed details to keep getting invested. Cantwell didn't want to explain too much in the first chapter to give away too much, taking away focus from Luna's self-discovery journey. This arc was about freedom and the consequences of following through tough decisions. Similar to The Empire Strikes Back, there were a few twists that shook up the plot and kept the readers on edge for the next issue.
Ricard Pace, Mark Russell, and Stuart Moore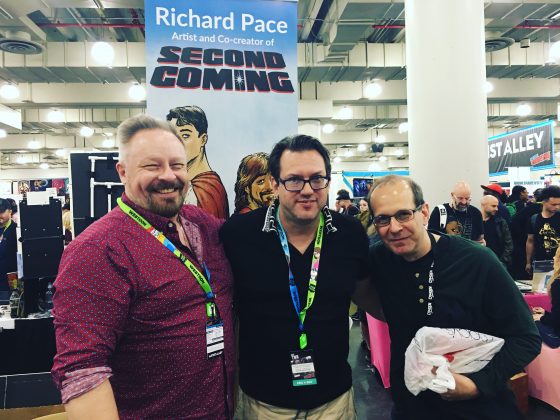 Comic creators Ricard Pace, Mark Russell, and Stuart Moore were at Pace's booth in artist alley. Ricard Pace and Mark Russell are the artist and writer for Ahoy Comics' Second Coming, the story about Jesus Christ returning to Earth and partnering up with a superhero. Russell and Pace came up with the idea of working on other comic series and wanted to take a new perspective on the religion and the superhero ideology. Mark Russell is also the writer for the current Red Sonja series published by Dynamite, and his take on the She-Devil is clever and witty. Stuart Moore is the creator of Ahoy Comic's Captain Ginger and Bronze Age Boogie, two sci-fi adventure series that were great reads. Moore has worked for Marvel, DC, and Image, and his passion for fresh stories leads him to try new creations.
Paul Levitz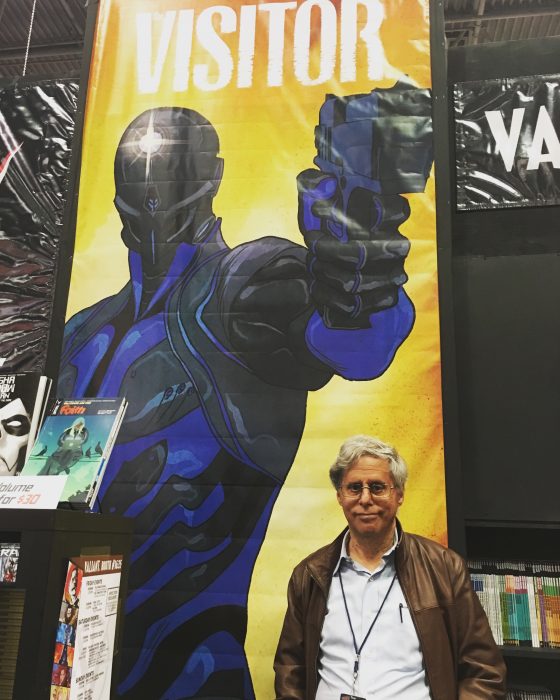 At the Valiant booth, we got to interview Paul Levitz to talk about his upcoming series The Visitor and his thoughts about the new generation of comic fans. Levitz, alongside MJ Kim, is revitalizing the Valiant character the Visitor, who has not made in appearance since 1995. This will be a modern take on the character, with no required reading to drop into the new story. Since this was still a new series, with more details about the character and plot to be announced later in the year, Levitz kept the development under wraps. However, he promised the story will follow a nice arc that will be familiar, but fresh. Levitz has been in the comic book industry for over 35 years, overseeing the development of DC Comics, and working with many prominent creators. Levitz's love of writing has kept him busy with new projects and teaching new writers at a college. He enjoys the growth of the comic industry and the many choices fans can pick from.
Todd McFarlane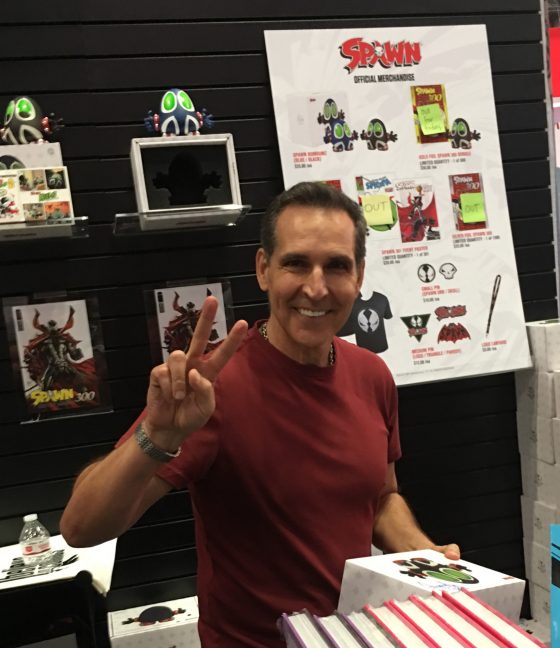 Walking by the Image booth, we found Todd McFarlane signing Spawn merchandise. He was casually talking to fans and hanging around, almost going unnoticed by the busy crowds. But we got to say congrats to McFarlane's big achievement of "longest-running creator-owned superhero comic book series with Spawn. At the time, McFarlane released issue 301 issues of Spawn and is set to bring the series to the big screen again. We were fans of the original movie, which was a little ahead of its time. Comic movies weren't a big hit yet in 1997, and this new attempt is coming at a good time for it to happen.
Gaming at the show floor
In-between panels and meeting comic book creators, we got to relax in front of a screen and get lost in some games. We checked out a few titles that will be coming to home consoles and a throwback port that came in one giant size package.
Dragonball Z: Kakarot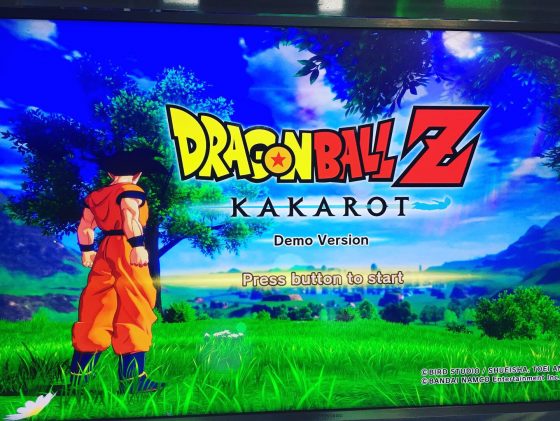 BANDAI NAMCO was presenting a playable demo of Dragon Ball Z Kararot. The game follows the storyline of the DBZ TV show, with a ton of side quests to find. The demo was timed and only had an early story mission playable, where Goku has to confront Radish. But a good portion of the open world was unlocked and a few optional quests to pick up along the way.
The demo was fun, a little frantic and looks and fees like the tv show. There are multiple types of control schemes that change when exploring the open world and engaging in combat. The combat gets a little spam heavy, but its fun to dish out energy beams and fast pace combos. At the end of the demo, attendees get a free Super Saiyan headband, which undoubtedly raised our power level for the day!
Project Resistance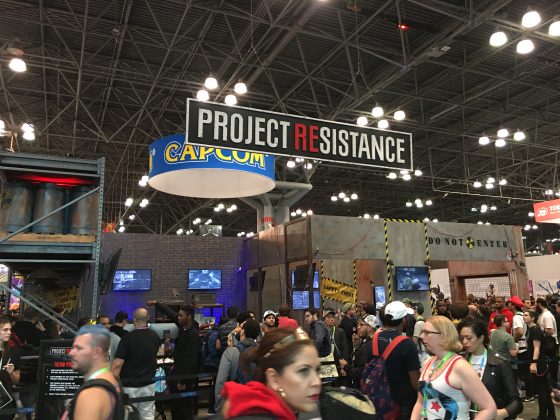 The Capcom booth had a playable demo of Project Resistance, a new multiplayer Resident Evil game. The game is a 1v4 survival game that has four players taking the roles of teenage survivors against one unseen mastermind at a control board. As the survivors, they will try to navigate through a level, fending off zombies and avoiding traps. Each character will have certain perks and abilities that will help aid the team. Trying to stop them is a mastermind, who will be laying out traps and ramping up the difficulty for the survivors.
We got to play a quick match as a survivor, walking through a garage looking for items and avoiding creatures. The mastermind didn't seem to know what he was doing for the first few minutes, which gave us an edge to scout for weapons and band together. The gameplay is similar to the latest RE2 remake and felt like an extended mode for that title. Capcom has tried a few times to get the Resident Evil brand into the multiplayer side, with some not ever finding a market, so only time will tell if this game will pick up in popularity.
1UP Arcade – Marvel Superheroes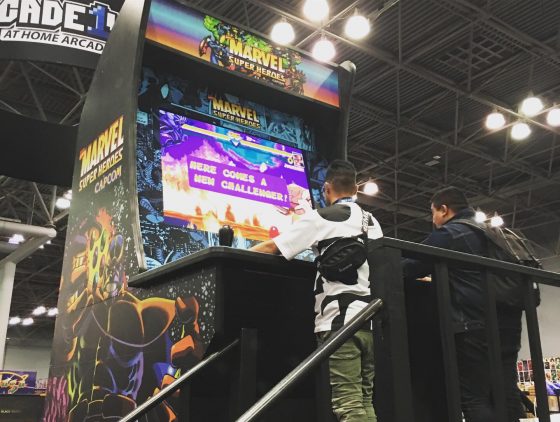 1Up Arcade has a neat set up of most of its games for people to try, but the eye-catching centerpiece was truly a sight to behold. A larger than life cabinet played the original Marver Superheroes arcade game, using giant buttons to control. It was a fun challenge for gamers to control the huge buttons and pull off combos. A line quickly formed each day and a small tournament was held.
Ironman VR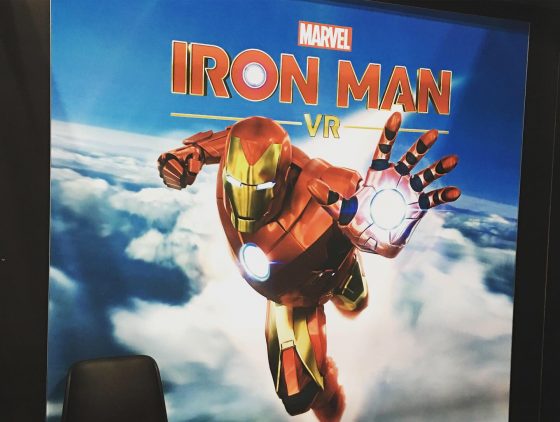 The Sony/Marvel booth had a playable demo of Iron Man VR, a first-person shooter that lets gamers suit up and blast enemies as Iron Man himself. The story follows Tony Stark trying to track down the mysterious Ghost, who has stolen Stark Industries weaponry and has launched an attack across the globe.
The demo dropped us into a combat zone filled with airships and was pretty spacious to zip around in. The gameplay was pretty smooth with the controls and the tight FPS views that capture what it feels to be in the helmet of Iron Man. Flying around as Iron Man uses the two Playstation move sticks to mimic the hand motions Iron Man would use to propulsion in the sky. The combat was fun and is definitely a must-buy for Iron Man fans.
Panels
NYCC has panels running almost every hour, from early in the afternoon to the evening. We caught a few just starting or ending in our schedule this year, but we managed to stay for one long enough to snap a few pictures to brag about. It's been a long time waiting, but we managed to actually see Bill Dee Williams live for the first time!
The Billy Dee Williams Panel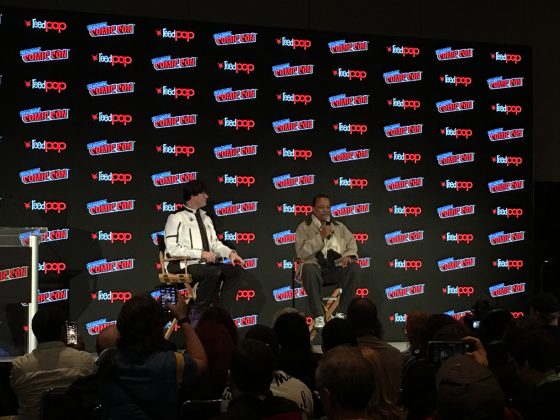 We caught a good portion of Billy Dee Williams' panel where he talked about his love of New York, his career and his love for fan interactions. The panel opened with a quick montage of famous role Williams had over the year, with commercial spots, tv show cameo, and Star Wars clips.
The panel was pretty cool and the fans were very polite at the Q&A. Williams answered questions with great enthusiasm and gave a lot of words of encouragement for people looking to be actors one day.
Cool Toys
We checked out a few companies that immortalized fan-favorite characters as models, busts, and figurines for any comic fan to proudly display. These cool figures are great bookshelf toppers and bookends, proudly displaying fan-favorite characters in high detail.
Diamond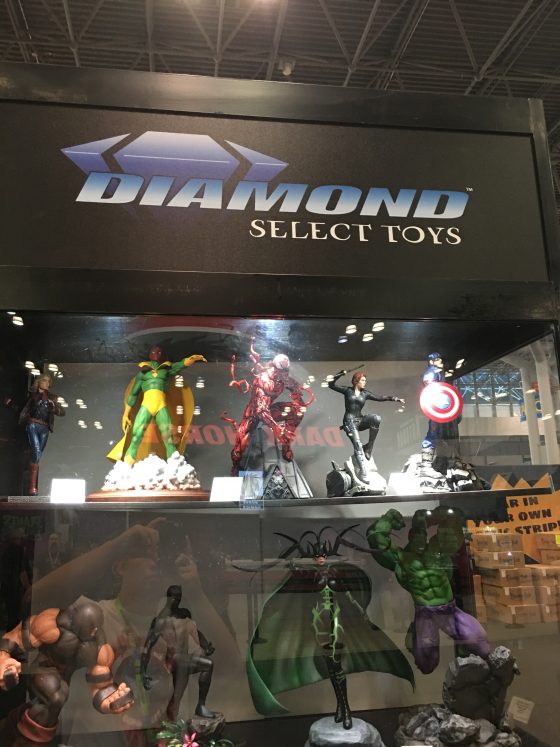 Diamond once again had a full display of awesome looking toys and bust, capturing cool moments from comics and movies. We noticed there seems to be a lot more interest in the 90s nostalgia as we saw more 90s era of X-men and a collection of figures for The Rocketeer.
Sideshow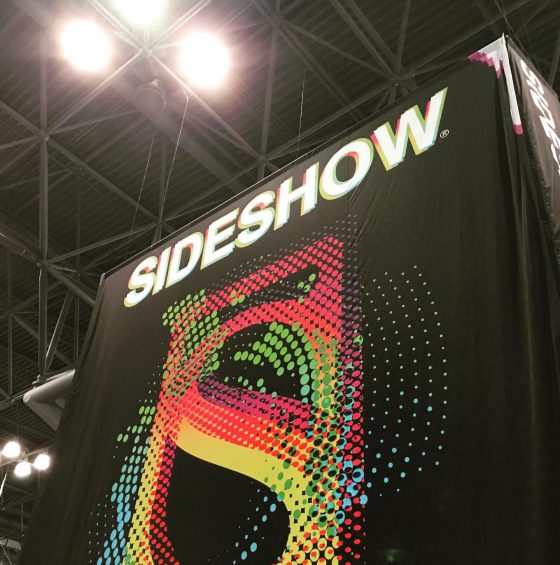 Over at the Sideshow booth, they had their collection of large busts on display, which would require more space than a typical bookshelf. It seems the classics never get old and there is always an update for Batman, Spider-man and the X-men from Sideshow.  This time around tho, in honor of Stan Lee, Lee gets his own figure of his appearance from Guardians of the Galaxy vol 2 and is a nice reminder of the great legend.
Cosplay at NYCC
What's a comic convention without some cosplay? Below are a few shots of our fun moments of cosplayers letting us take a few pictures of their fun designs.
Spiderman Meet Up
We were across the Javtiz center when we stumbled onto a massive Spiderman cosplay fan meet up. This gathering was for a big photoshoot with Spiderman characters and mash-up interpretations.
PICARD – CBS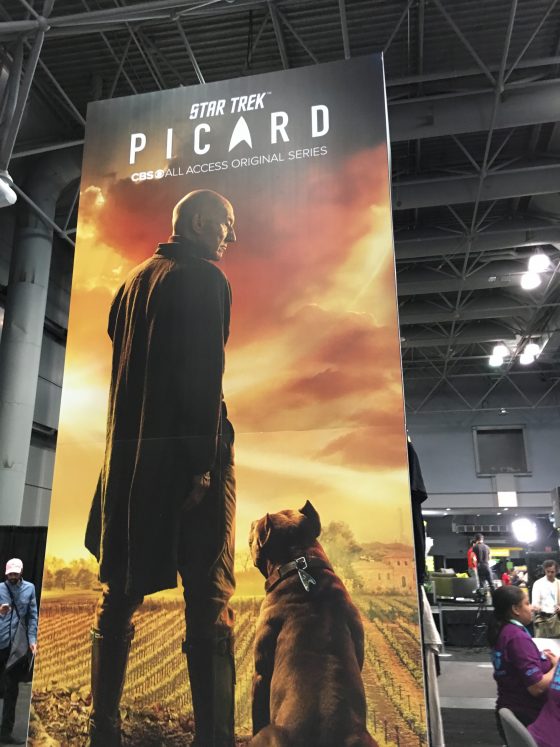 Afterparties
When the sun goes down, it's time to party, we ventured to where the nerds go to unwind from a long day of con-ing. This year, we returned to the awesome Webtoon's Green Room and the heart pumping dance parties at SonicBoomBox.
Webtoon: Green Room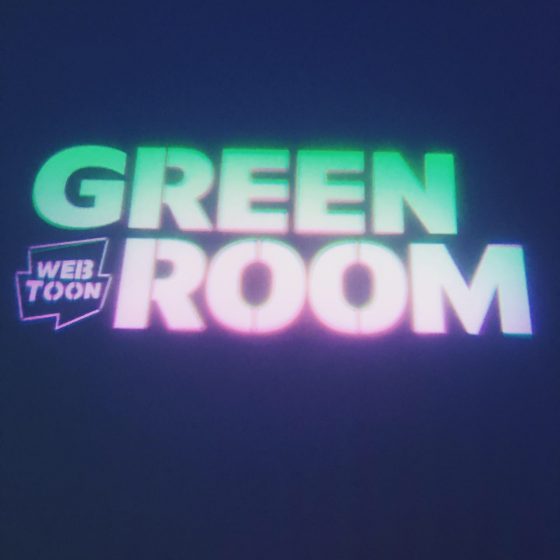 Webtoons returned to NYCC to throw an exclusive afterparty where the creators get to network and talk to the people behind the comic publishing website. We got to sit down with a few creators who have worked on interesting projects and looking to try new stories for the website.
The menu was pretty awesome at the party, with lots of finger foods and strong cocktails. It was an excellent time to get relax and share stories.
SonicBoomBox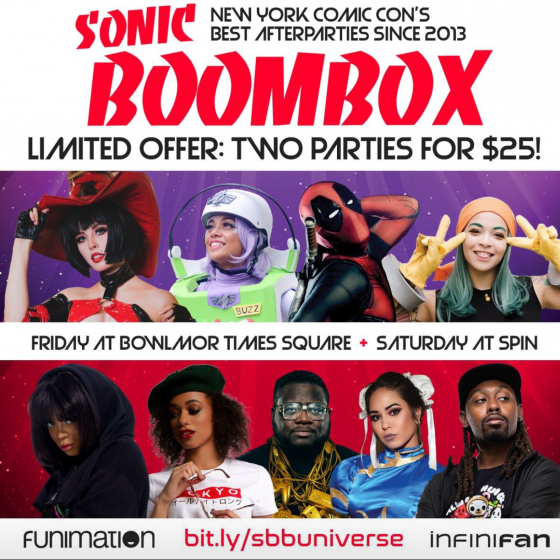 SonicBoomBox threw two parties this time at NYCC, with a roster of special guests and great prizes. We made an appearance at their Saturday party at Spin, a ping-pong hall and lounge, where New Belgium sponsored a few free beers.
The party was busy with fans dancing and playing ping-pong into the late night. We drank a few Juicy Hazes and tried our hand in some tipsy ping-pong, which means rocketing the ball more often in the wrong directions. It was a great time get funny selfies and meet interesting people.
Closing Thoughts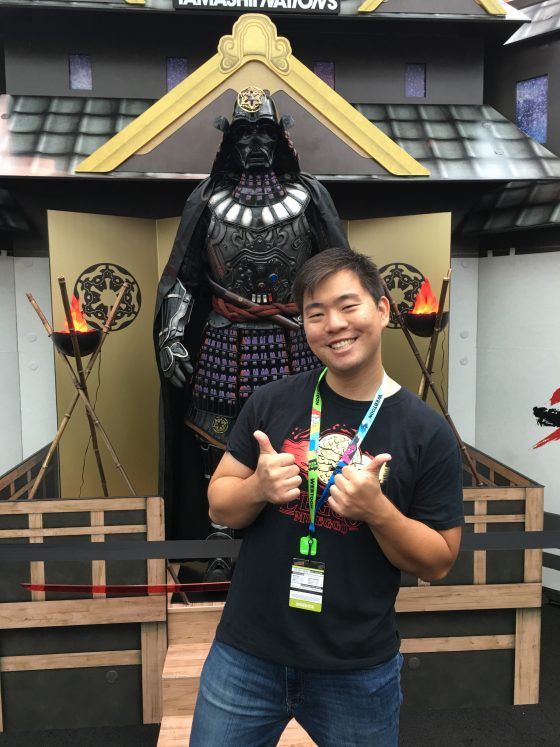 NYCC is such a multifaceted celebration of all things nerdy that it is nearly impossible to see and do everything in one trip. We had a blast talking to comic creators, learning the behind the scenes production and the creative process to turn an idea into a story. It was also great to capture up with old friends and new people, continuing the chain of people that we meet up with at the next events. With the exception of the rainstorm on that Thursday, the four days at NYCC went by pretty nicely and wasn't too much of a hassle, considering the restrictive space and crowd control turned out. Hopefully, the expansion of the Javtiz center will address some of the complains we experienced, such as the bathroom lines and the queue lines. The new building offers new opportunities to explore a different NYCC next time, and we can't wait!
Bitten by a radioactive video store rental employee and overcome by Pac-Man fever, Chris seeks new comic books, games, and movies to review.
comics
Conventions
cosplay
dark horse comics
funko
new york
new york comic con
NYC
NYCC
Sonic BoomBox
valiant comics