Everything Action Theater: Fastlane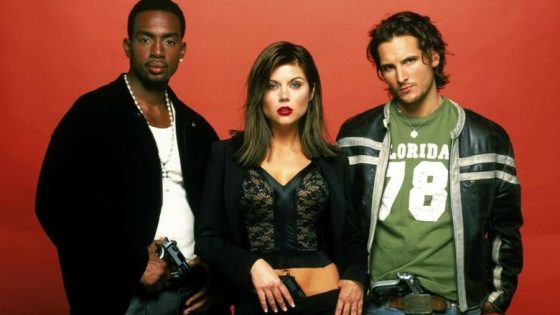 In between The Fast & The Furious and 2 Fast 2 Furious, Fox turned to McG to bring a similar aesthetic and style to TV Fastlane, which lasted one season after debuting in Fall 2002.  The show starred Peter Facinelli and Bill Bellamy as mismatched cops Donovan "Van" Ray and Deacon "Deaq" Hayes respectively.  Both were recruited for a secretive division of the LAPD run by the steamy vixen Lt. Wilhemina "Billie" Chambers (Tiffani Thiessen).  The team worked undercover identities and got into all kinds of shady but glamorous criminal activity around Los Angeles, confiscating any cars, money, weapons or drugs from busts and collecting it at their headquarters, The Candy Shop, where it was utilized to further their undercover activity.  The show brought in a wide array of guest stars over its 22 episodes, including the late, great Robert Forster, Jay Mohr, Big Boy, Fred Durst, Jenny McCarthy, Krista Allen, Jake Busey, Bill Duke, Bokeem Woodbine, Iggy Pop, Naomi Campbell, Ali Landry, Biz Markie, and Tommy Lee just to name a few.  The two major factors that led to the show's cancellation were its exorbitant price tag, with each episode costing around $2.6 million to produce, and a move from Wednesday nights to Friday nights, which has always been a bit of the kiss of death to network shows.  The entire series was collected on DVD and it later aired in reruns on G4.  You can check out the first episode below.
I'm like the J. Jonah Jameson of Everything Action, writing and editing and constantly demanding pictures of Spider-Man.
2 fast 2 furious
2002
ali landry
big boy
bill bellamy
bill duke
biz markie
bokeem woodbine
everything action theater
fast & furious
fastlane
fox
fred durst
iggy pop
jake busey
jay mohr
jenny mccarthy
krista allen
LAPD
los angeles
McG
naomi campbell
peter facinelli
robert forster
the candy shop
the fast & the furious
tiffani thiessen
tommy lee
undercover cops