Everything Action Commentary: Double Impact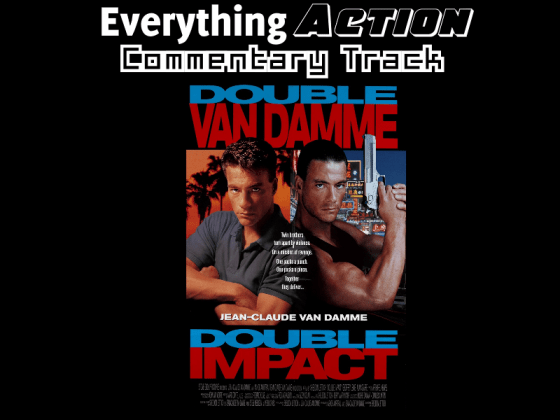 For the latest Everything Action Commentary, Zach and Chris are joined by special guest Justin from JJ Lomas Entertainment to watch the Van Damme classic Double Impact, which turned 30 this month.
The movie stars Van Damme (and Van Damme) as Alex and Chad Wagner, twins who are separated as babies but reunited as adults to battle evil businessmen and get an inheritance that is rightfully theirs in Hong Kong.  While watching the movie, the guys try to figure out exactly what Alex and Chad are supposed to be getting back, ridiculous 90s fashion, ripped evil henchmen and henchwomen, David Lynchian sex scenes, the awesome end credits jam, and much more.  You can find Double Impact on Roku Channel and Pluto TV (with ads) or find a DVD or Blu-Ray copy and sync it up with the commentary to watch along.
You can find Justin on YouTube at: https://www.youtube.com/c/JJLomasEntertainment and on Instagram at: https://www.instagram.com/jjlomasentertainment
We want to hear your comments and feedback. Send them all to [email protected].
Also, be sure to subscribe, rate, and review us on Apple Podcasts, Stitcher, Amazon Music, & Spotify
Check us out on Twitter (@evaction) Facebook (www.facebook.com/everything.action), and Instagram (@everything.action).
Podcast: Download (Duration: 2:02:08 — 60.9MB)
90s action
alan scarfe
alex and chad wagner
alonna shaw
arthur kempel
bolo yeung
chris
corinna eversonm
everything action
geoffrey lewis
hong kong
jcvd
jean claude van-damme
jj lomas entertainment
justin
martial arts
movie commentary
peter malota
philip chan
sheldon lettich
triads
van damme
zach