Everything Action Commentary: Class of 1999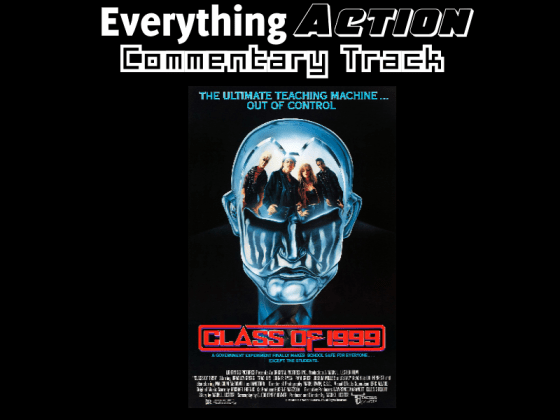 For the latest Everything Action Commentary, Zach and Chris celebrated the back-to-school season with the 1990 schlocky cult classic, Class of 1999.
Arriving in 1990 and directed by Marc L. Lester, who brought us our beloved Commando a few years before, Class of 1999 is set in a 1999 that is plagued by gang violence in almost every major city in the US.  In Seattle, Dr. Bob Forrest (Stacy Keach), who represents the Department of Education Defense, presents a pilot program where he brings three reprogrammed combat androids to Kennedy High School to try and bring discipline and order to the warring gangs who attend the school.  Freshly released from jail, Cody Culp (Bradley Gregg) returns to Kennedy High School but is the first to realize that the new teachers may be going overboard with their disciplinary tactics and are straight-up murdering students.  The teachers are played by Pam Grier, Patrick Kilpatrick, and John P. Ryan, and Malcolm McDowell co-stars as Kennedy High's new principal.  While watching the movie, the guys discuss the surprisingly all-star cast, the blatant Terminator rip-offs, the "free-fire zone", gigantic gang battles, and more.  The version of the movie we watched is below. so you can sync it up to the commentary or you sync it up to any other copy of the movie you can find.
https://www.youtube.com/watch?v=FY5ieM9mSbY
We want to hear your comments and feedback. Send them all to contact@everythingaction.com.
Also, be sure to subscribe, rate, and review us on Apple Podcasts, Stitcher, Amazon Music, & Spotify
Check us out on Twitter (@evaction) Facebook (www.facebook.com/everything.action), and Instagram (@everything.action).
Podcast: Download (Duration: 1:45:42 — 42.7MB)
I'm like the J. Jonah Jameson of Everything Action, writing and editing and constantly demanding pictures of Spider-Man.
1990
90s action
androids
blackhearts
bradley gregg
christy langford
class of 1999
cody culp
command
cult classic
dr. bob forrest
everything action commentary
john p. ryan
killer robots
malolm mcdowell
marc l. lester
pam grier
patrick kilpatrick
seattle
stacy keach
traci lind
vestron video