Review: Universal Classic Monsters: Icons of Horror Collection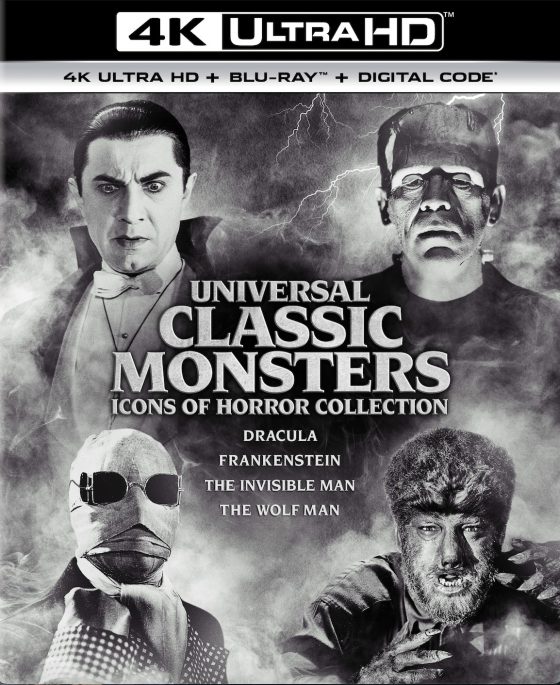 Just in time for Halloween, some of the most iconic horror movies of all time are available for the first time in 4K with the Universal Classic Monsters: Icons of Horror Collection, which is available now.
Dracula, The Wolf Man, Frankenstein, and The Invisible Man are included in the collection, and obviously, their quality as movies is unimpeachable.  All four are classics that have become iconic and celebrated for almost 100 years and it's still fantastic to watch them today and enjoy the performances of legends like Lon Chaney Jr., Boris Karloff, and Bela Lugosi.  The Invisible Man is an interesting choice to include in this collection as it's a deeper cut compared to other classics like The Bride of Frankenstein, The Mummy, or The Creature from the Black Lagoon but it is a landmark in special effects and it has the brilliant performance of Claude Rains, who can go into maniacal madness at the drop of a hat.  There are other collections in recent years that have more movies and also individual collections focusing on specific monsters that might offer more bang for your Universal Monsters buck.  If you don't care as much about the 4K quality, which is the main selling point of this new collection, you may want to investigate those collections instead and the inclusion of only four films feels a bit light compared to other Universal Monsters sets as well.  While the 4K versions of the films look fantastic, considering that the movies are in black and white the addition of features like HDR doesn't seem like it jumps the quality up that much more over Blu-ray and there's no range of colors to heighten and enhance.  The detail you get to see in the movies is impressive though as you can really appreciate the sets, costumes, and make-up special effects in the highest detail they've ever been seen in.  Each movie has a slew of special features but some of them seem to definitely be pulled forward from past Blu-ray or maybe even DVDs as they haven't gotten the same improvement in quality as the films themselves and are a little rough to watch compared to the ultra-crisp quality of the movies.  There are also some special features that are more general Universal 100-year retrospectives and not specifically Universal Monster related that seem like unusual additions and don't really have any interesting or unique information to add besides just running through big movies and characters throughout Universal history.  There are still some interesting features across the set, including the Spanish version of Dracula and also an alternate Phillip Glass score for Dracula, a profile of Lon Chaney Jr. and Boris Karloff on The Wolf Man and Frankenstein discs respectively, and multiple commentary tracks from film historians and other experts.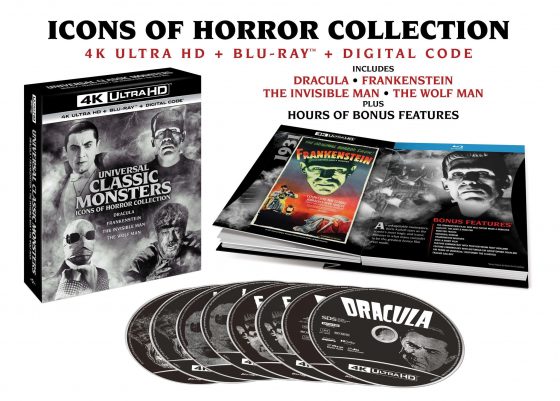 The physical presentation of the collection is excellent with a beautiful hard-cover book style case holding each movie with the 4K and Blu-Ray versions held on either side.  There are great photos inside and it's just overall a wonderful looking and feeling physical package.  In addition to 4K and Blu-Ray versions of the movies, the set also includes a digital code to redeem the movies digitally via MoviesAnywhere, and then you can add them to other platforms you have accounts for, like Vudu or Prime Video.
This Universal Classic Monsters: Icons of Horror Collection lets you watch some of the most iconic movies in movie history in the highest quality they've ever been seen in but you'll have to decide if that quality trumps quantity as you only get the four included films. There are other collections that feature over 30 classic Universal Monster films on Blu-ray and individual collections that feature multiple films for each monster.  The lack of movies like Bride of Frankenstein or The Mummy in favor of The Invisible Man will probably disappoint some Monster fans as well.  If you don't already have these movies and are looking to get them in the highest quality possible, definitely look into this collection but also check some of the other collections out there on Blu-ray before making a final decision.
I'm like the J. Jonah Jameson of Everything Action, writing and editing and constantly demanding pictures of Spider-Man.
4k
bela lugosi
boris karloff
claude rains
dracula
frankenstein
lon chaney jr
the invisible man
the wolf man
universal
universal classic monsters
universal monsters