Zach's Top Ten Best Movies of 2021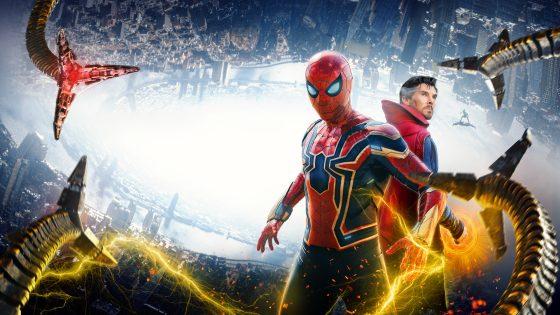 While a lot of things were only slightly better than 2020, 2021 in movies was a huge improvement as movies returned to theaters, we got the grand experiment of day and date HBO Max theatrical releases, and Netflix, Prime Video, and other streamers had tons of original releases throughout the year.  Here are my picks for my top 10 movies of 2021.
Spider-Man: No Way Home: Even with sky-high expectations, Spider-Man: No Way Home shattered them all and is easily my favorite movie of 2021.  A love letter to live-action Spider-Man, the movie was an embarrassment of riches by bringing back characters from the prior Sam Raimi and Marc Webb/Amazing series and did a great job of just reminding us why we loved characters like Doc Ock or Green Goblin previously or redeeming characters like Electro, giving them a second chance and removing the terrible decisions that hindered them in their previous incarnations.  Tom Holland also continues to be an excellent Peter Parker/Spider-Man and the movie, even with all the visitors from other dimensions, never loses sight of his character arc and his relationships with characters like Aunt May, MJ, or Ned.  The action is mostly great throughout but it's really the humor and character development that shines throughout and makes the movie shine, especially with some characters who show up in the third act.  Building on everything that came before it, No Way Home is arguably the greatest Spider-Man movie ever made and, without a doubt, my favorite movie of the year.
The Suicide Squad: One of the greatest turnarounds between the first movie and its, sort-of, sequel, James Gunn delivered on everything that The Suicide Squad should have been originally with his hilariously over-the-top and gratuitous sequel.  From the opening beach slaughter to the finale involving one of DC's most goofy yet effective villains, everything about The Suicide Squad pushed to the extreme, from the characters to the action but it also has a shockingly large amount of heart, mostly from the wonderful Daniela Melchior or the lovably dumb performance of Stallone as King Shark.  Characters from the original movie, like Rick Flagg or Harley Quinn, are also the best they've ever been in the DCEU, with Margot Robbie, in particular, doing some of her best work so far with both the humor and with the action, including an amazing set piece where she escapes from being captured.  John Cena and Idris Elba are also great, with Cena being so good he's getting his own series that we're definitely anticipating for next year.  This movie seems to continue to prove that DC's new approach of just letting directors do what they want and be less concerned with world-building or copying the MCU is paying off, at least creatively, and hopefully, the future of DC movies continues to be bright.
The Mitchells vs The Machines: The team behind Into the Spider-Verse continued their mission to seemingly push animation into new and exciting directions with the visually stunning The Mitchells vs The Machines.  As heartwarming and emotional as it was over the top and hilarious, The Mitchells vs The Machines is an utterly delightful adventure with a ton of heart and is up there with stuff like Gravity Falls and the new Ducktales for me for recent animated properties.  The movie oozes style and the voice cast, especially Abbi Jacobsen and Danny McBride, do a fantastic job playing both the goofy humor side and the real emotional side.  Other studios outside of Sony are seemingly starting to try to replicate this style of animation and we are hopefully getting into a new and exciting era for animated movies.
Dune: Luckily we almost immediately got confirmation that a sequel was on the way because one of the few flaws of Denis Villeneuve's breathtaking new take on Frank Herbert's classic Dune is how unsatisfying and abruptly the movie ends.  Almost everything else in the movie is top-notch, most notably the visual splendor that gives the movie an epic sense of scale and a style that is unique to itself, like the insect-like Ornithopter or the still suits that give everyone a personal shield and help them survive the savage environment of Arrakis.  The cast assembled for the movie is also mind-blowing with Rebecca Ferguson and Jason Momoa being stand-outs while Timothee Chalamet is solid and will hopefully grow more interesting in the sequels.  The movie also does what seemed impossible, which is to take Herbert's dense material and make it digestible for most audiences.  I have never read Dune and only had some details from pop culture osmosis but I was able to follow everything clearly as the motivations and machinations made sense and Villeneuve was also able to do it without the clumsy intro or constant voice-over of the 80s David Lynch movie.  I can't wait for Part 2 to be able to return to this world.
Nobody: We didn't get a John Wick movie this year but Nobody filled that gap nicely and it delivered something no one expected but now we want more of, which is badass action star, Bob Odenkirk.  Odenkirk's acting abilities have been praised for years between Breaking Bad and Better Call Saul but he proves to be an incredible action star in some insane fight scenes and shoot-outs and he completely sells his character's dark and mysterious past as an assassin that he's been trying to barely contain beneath the surface for years for the sake of his family.  There's been a lot of movies trying to replicate John Wick since that first Wick movie came out but Nobody, since it comes from a lot of that team, is one of the best.
Free Guy: In the same year we got a new Matrix movie, the wacky Ryan Reynolds comedy with surprisingly similar ideas makes my list while Resurrections, while solid, has to just get an Honorable Mention.  Free Guy was one of the biggest surprises this year as I wasn't expecting anything particularly great from Free Guy but it turned out to be a blast and one of the most fun movies of the year.  Ryan Reynolds is effortlessly sweet and charming as Guy, a video game NPC who learns his entire life is just a digital creation.  His journey of discovery and leveling up is full of great comedic bits and great action where, because it's a game, anything and everything could happen, leading to great easter eggs and creative set-pieces.  Jodie Comer is also fantastic in the movie and she, along with the likes of say, Florence Pugh and Hailee Steinfeld, is one of the most versatile and interesting actors out there and her skill with accents is mind-blowing.  Free Guy is easily one of the best pure fun movies of 2021.
Shang-Chi and the Legend of the Ten Rings: There was so much MCU throughout 2021 between 4 movies and all the Disney+ shows and there's a Spiderific movie that we'll get to later but Shang-Chi was a great origin movie for one of the MCU's newest heroes.  Simu Liu was great as Shang-Chi and nailed the physicality needed for the role of one of Marvel's greatest martial artists.  The earlier, Jackie Chan style set pieces are excellent and some of the best fight scenes in the MCU to this point and while the CG heavy later set pieces are not as compelling, they are still great and bring more of the mystical/wuxia style to the movie.  Tony Leung is one of the greatest MCU villains to this point with a captivating performance as Shang-Chi's father, the immortal warlord Xu Wenwu, and he's one of those MCU villains whose motivations are completely relatable, he's just going about them in the worst possible way.  It's not clear what Shang-Chi's role will be going forward but this was a fun and exciting introduction to him and his corner of the MCU.
Zack Synder's Justice League: All the internet campaigning for this movie paid off as Zack Synder's version of Justice League is, in every regard, a significant improvement over the hacked-together mess we got from Joss Whedon and WB in theaters.  Even though it was 4 hours long, this version of the movie never felt like a slog and the extra time gives the movie the chance to dig more into the characters or the DC mythology that was absent in the theatrical version.  The Lord of the Rings-style flashback to when Darkseid came to Earth for the first time, for example, is massively fleshed out into huge action set piece and large chunks of the plot are completely different or removed in this version and the story overall makes much more sense and is tonally consistent.  Characters like Cyborg, The Flash, and Steppenwolf are also completely redeemed in this version, given more compelling character arcs or motivations and, in the case of Steppenwolf, a much-improved look.  We will probably never get follow through on any of the plot threads left dangling in this version of the movie but this, or some slightly more edited version of it, is what we should have gotten in theaters to begin with.
Fear Street Trilogy: Considering they were telling one continuous story, Netflix's Fear Street trilogy shares the #9 slot on my list.  A delight from this past summer where Netflix dropped a new entry each week for three weeks, the Fear Street movies paid homage to classic horror of the 90s or 70s, depending on the decade the particular entry took place in, but with modern touches, characters that you mostly cared about throughout the series and an interconnected story that had fun twists and turns throughout.  The movies also leaned hard into the R-rated fun of the genre with tons of inventive and gruesome kills, including one involving a bread slicing machine in the first movie and the many killers introduced gave the movie a sort of rogues gallery to draw from and bring back throughout the series.
No Time to Die: Daniel Craig said good-bye to James Bond this year with No Time to Die, which gave Craig something unique for Bond, an actual finale.  Most of the other Bond actors just went until they made a particularly egregious entry in the franchise and then it was rebooted or recast but Craig's Bond gets closure and many of the story threads started back in Casino Royale are mostly resolved.  Rami Malek isn't that compelling of a villain but the movie has incredible action from director Cary Fukunaga, like the opening DB5 chase or the Cuban sequence featuring a scene-stealing Ana De Armas.  The entire Craig era of Bond has been hit or miss and this movie is as well but it hits more than it misses and sends Daniel Craig off on an action-packed and emotional high note.
Honorable Mentions: Godzilla vs Kong, Black Widow, Malignant, The Matrix Resurrections
I'm like the J. Jonah Jameson of Everything Action, writing and editing and constantly demanding pictures of Spider-Man.
best of 2021
dune
fear street
free guy
movies of 2021
no time to die
nobody
shang-chi
spider-man: no way home
the mitchells vs the machines
the suicide squad
top 10
zack synder's justice league