Real Men of Action: The McManus Brothers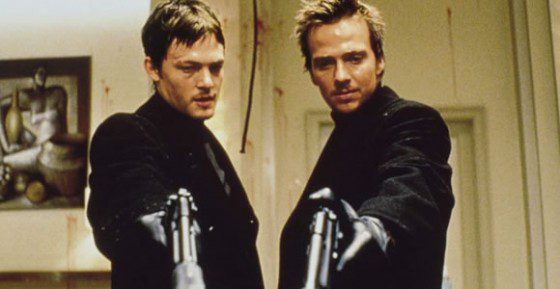 Names: Connor and Murphy McManus
Occupation: Former meat processing workers, vigilantes
Family: Noah "Il Duce" McManus (father)
Allies: FBI Agent Paul Smecker, FBI Agent Eunice Bloom, Detectives Dolly, Duffy and Greenly, David Rocco, Romeo
Enemies: The Yakavetta crime family, random low lifes in Boston.
Weapon(s) of Choice: Twin suppressed Beretta 92FSs, Twin suppressed Desert Eagle .357 Magnums
Body Count: 27+
Memorable Quote:
[after dropping through the ceiling on a rope and killing nine mobsters]
Connor: Well, "Name one thing you're gonna need this stupid fucking rope for."
Murphy: That was way easier than I thought.
Connor: Aye.
Murphy: You know, on TV you always got that guy that jumps over the sofa.
Connor: And then you gotta shoot at him for ten fucking minutes, too.
Murphy: Aye.
Connor: Christ.
Murphy: We're good.
Connor: Yes, we are.
See Connor and Murphy in Action:
Action Hero of the Week
billy connelly
boston
clifton collins jr
connor and murphy mcmanus
david rocco
dual wielding
il duce
irish
julie benz
norman reedus
romeo
sean patrick flanery
shootouts
the boondock saints
vigilantes
willem defoe
yakavetta crime family