Robin Williams 1951-2014
By Zach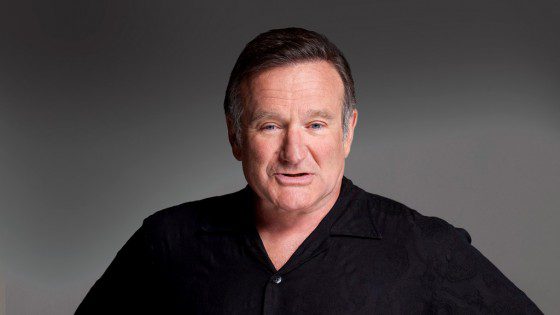 The acting world suffered another massive loss yesterday when it was announced that Robin Williams committed suicide.  He was 63 and, just like Phillip Seymour Hoffman, it's something that Williams seemed to be suffering in private with, although by all accounts it was depression and not drugs.  Williams showed off a range of film that allowed him to be someone as dynamic and goofy as the Genie from Aladdin to an Academy Award winning dramatic role in Good Will Hunting and will definitely be missed by all of us at Everything Action and movie fans around the world.
I think for me, and the rest of the EA crew, as kids of the 90's, there are four roles that we'll always remember Williams for.  The first is above, Hook, where he played an adult Peter Pan who recaptures his childhood, and powers, to battle Captain Hook one last time.  He did a fantastic job of being a souless, serious lawyer and slowly reverting back to the fun loving, mischievous Lost Boy of his youth.
Second, Jumanji, where Williams played Alan, a kid who plays the cursed board game and is sucked into the jungle world until he's freed decades later by two kids who find the game.  It's kind of the opposite evolution of Peter Pan where he's forced to grow up extremely quickly in order to survive and you can tell from the way Williams played the role that Alan has seen things that no one, kid or adult, should ever have to see.
Aladdin is a Disney classic and a lot of that is due to Williams as the Genie, who, as described in the song above, is the best friend ever wants and is the perfect vehicle for Williams' impersonation skills and rapid-fire, manic delivery that animation can actually keep up with.
The last big role, at least for me, is Mrs. Doubtfire, which blended the dramatic and comedic sides of Williams into a 90's classic that is full of iconic scenes and spawned numerous references and parodies, like Arrested Development's Mrs. Featherbottom aka Tobias.
On the dramatic side of things, there's, obviously Good Will Hunting, multiple Academy Award winner, including Williams for Best Supporting Actor and also Dead Poets Society, The Fisher King, What Dreams May Come, Bicentennial Man, Patch Adams, Insomnia, The Final Cut, just to name a few.  There's so many other roles Williams is known for, starting out on Mork & Mindy, Death to Smoochy, World's Greatest Dad, Night at the Museum, Jack, The Birdcage, Cadillac Man, Nine Months, Toys and, most recently, the CBS show The Crazy Ones.  He was such a unique voice in comedy and it's such a shame that there was this thing gnawing at him and he finally couldn't take it any more.   RIP Robin.
I'm like the J. Jonah Jameson of Everything Action, writing and editing and constantly demanding pictures of Spider-Man.
90s
aladdin
dead poets society
death to smoochy
good will hunting
hook
jack
jumanji
mork & mindy
mrs. doubtfire
obituary
RIP
robin williams
toys
world's greatest dad