Everything Actioncast Ep 279 "It's All Connected"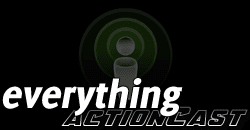 This week on the podcast, Zach, Chris and Joe discuss the continued greatness of Ash vs Evil Dead, the convoluted mess that is the Spectre plot, MST3K, some of the big trailers of the last week including Warcraft, British crime dramas and much more.
News: Trailers for Warcraft, London Has Fallen, Alice Through the Looking Glass, Finding Dory, Hateful Eight and Triple 9, Netflix buys monster movie from Bong Joon-Ho, Snowpiercer becoming a TV series, Ghosbusters documentary and MST3K crowd sourcing projects launched, Friday the 13th successfully funded on Kickstarter, Jem pulled from theaters after 2 weeks, Jeffrey Dean Morgan cast as Negan in The Walking Dead, AMC picking up Empire of the Dead comic for a series, RIP Gunnar Hansen, Van Damme starring in Ridley Scott produced comedy show, Luther back on December 17th for 3 hour finale.
Show and Tell: Joe watched Ash vs Evil Dead, Blunt Talk, Fargo and Gotham, Chris watched Peaky Blinders and Back in Time, Zach watched Zombie Ninjas vs Black Ops and Lucha Mexico and both Chris and Zach saw Spectre.
We want to hear your comments and feedback. Send them all to [email protected]. Also, be sure to subscribe, rate and review us in the iTunes music store (just do a search for Everything Action in the store) and follow us on twitter @evaction, Facebook (www.facebook.com/everything.action) and Tumblr (everythingaction.tumblr.com)
Podcast: Download (Duration: 2:10:10 — 119.2MB)
alice through the looking glass
ash vs evil dead
back in time
blunt talk
bong joon-ho
chris
empire of the dead
episode
Everything Actioncast
fargo
finding dory
friday the 13th
ghostbusters
gotham
gunnar hansen
hateful eight
jcvd
jeffrey dean morgan
jem and the holograms
joe
kickstarter
london has fallen
lucha mexico
luther
monster movie
mst3k
negan
netflix
peaky blinders
podcast
ridley scott
snowpiercer
spectre
the walking dead
triple 9
warcraft
zach
zombie ninjas vs black ops