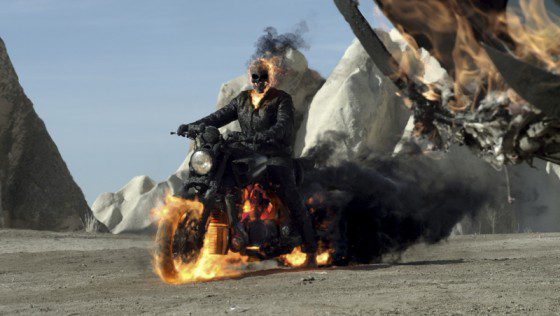 February isn't the most stellar time for movies but it looks there could be a couple of solid movies this month, including Denzel Washinton in full bad ass mode in Safe House and the first major superhero movie with Ghost Rider: Spirit of Vengeance.  Check out all of the movies coming out this month below.
February 3
Chronicle– A found footage take on the superhero genre, Chronicle follows a group of three friends who mysteriously gain super powers and get in into random shenanigans until one of the group starts to get corrupted by the power and starts to go out of control.
Big Miracle– Based on a true story, Drew Barrymore leads an effort to save a group of stranded whales in Barrow, Alaska after their path to the ocean is frozen over.
The Woman in Black– Daniel Radcliffe makes his first attempt to escape the shadow of Harry Potter in the Victorian era horror movie, The Woman in Black, where Radcliffe plays a lawyer who goes to finalize the sale of a house of one of his recently deceased clients, only to find it haunted by an evil spirit.
February 10
Safe House– Denzel Washington stars as Tobin Frost, the CIA's most wanted criminal who CIA agent Ryan Reynolds must reluctantly team up with when the CIA safe house they are holding at is attacked.
Journey 2: The Mysterious Island– The Rock+terrible first movie= hit?  Hopefully it will work this summer with GI Joe: Retaliation and the people behind the Journey franchise(?) hope it will work on this sequel to Journey to the Center of the Earth 3D as The Rock and Nick Hutcherson drag Vanessa Hudgens and Luis Guizman to the titular island in search of Michael Caine and find crazy creatures, Atlantis and other Jules Verne inspired antics.
Star Wars: Episode 1- The Phantom Menace 3D–  The Star Wars saga begins it's six year return to theaters in 3D as easily the most hated movie in the franchise, The Phantom Menace, gets re-released.  It might be worth it to sneak in and watch the last 20 minutes in 3D.
The Vow– Shockingly not based on a Nicolas Sparks novel, The Vow finds Channing Tatum trying to help Rachel McAdams remember their relationship after she loses her memory in a car crash.
February 17
Ghost Rider: Spirit of Vengeance- Hopefully able to erase the taste of the mediocre original Ghost Rider movie, Spirit of Vengeance sees Nicolas Cage returning as Johnny Blaze and Crank directors Neveldine & Taylor behind the camera.
The Secret World of Arietty- Hayao Miyazaki's latest animated feature is a new take on The Borrowers as a young boy discovers a family of little people living in the walls of his house.
This Means War (February 14th)- Chris Pine and Tom Hardy star as CIA agents and best friends who become romantic rivals when they realize they both have been dating the same girl (Reese Witherspoon) and use the full arsenal of the CIA to sabotage each other.
February 24th
Act of Valor- Real Navy SEALs star in this action movie as an elite SEAL team uncovers a terrorist plot after they are sent in to rescue a kidnapped CIA agent.
Gone- Amanda Seyfried plays a kidnap victim who is convinced the man who kidnapped her has returned and kidnapped her sister, but no one believes her.
Tyler Perry's Good Deeds- The annual Tyler Perry movie, this one finds a man on the verge of his marriage developing feelings for a single mother.
Wanderlust- The latest comedy from David Wain stars Jennifer Aniston and Paul Rudd as a married couple who are forced to leave their fast paced NYC business careers and find themselves on a rural commune.
I'm like the J. Jonah Jameson of Everything Action, writing and editing and constantly demanding pictures of Spider-Man.
3d
act of valor
big miracle
chronicle the woman in black
february movie preview
ghost rider: spirit of vengeance
gone
good deeds
journey 2: the mysterious island
News
safe house
star wars
the phantom menace
the secret world of arietty
the vow
this means war
Tyler Perry
wanderlust