New Fall TV Shows
By Zach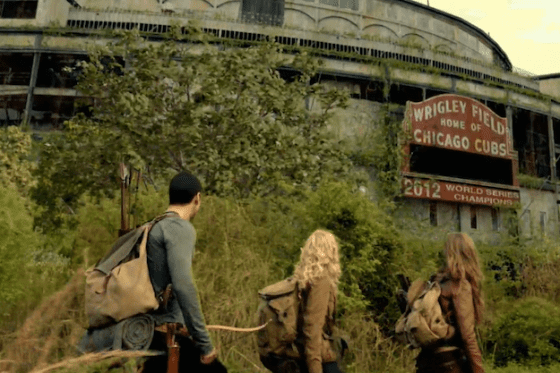 The current TV season is winding down but the networks are all revealing what thy have planned for the Fall 2012 season with a bunch of new shows.  Check out what seems like the most interesting ones announced so far and we'll update if any others get announced.
Revolution (NBC): From Jon Favreau and JJ Abrams, Revolution is a post apocalyptic show that takes place 15 years after all the world's electrical systems fail.  The world that builds up afterwards is part medieval/part wild west.  Check out the trailer below.
Last Resort (ABC): From Shawn Ryan of The Shield, Last Resort follows the crew of a nuclear submarine who are ordered to launch their payload against Pakistan but they refuse to do so with out confirmation. They are fired upon by friendly ships and forced to flee to a nearby island and set up a base and then try to clear their names and find out what is going on. Andre Braugher, Scott Speedman and Robert Patrick star. Check out the trailer below.
666 Park Avenue (ABC): A couple from the Midwest are given the chance to manage the historic Drake building in NYC. They soon realize the owner and his wife are hiding things from them and have some sort of sinister plan and the couple starts to experience strange occurrences. Terry O'Quinn and Vanessa Williams star.
Vegas (CBS): Dennis Quaid stars as Vegas sheriff Ralph Lamb, a former rodeo cowboy turned lawman, who delivers some old school justice to the 60's mobsters of Las Vegas. Carrie Ann Moss, Michael Chiklis and Jason O'Mara co-star.  So their trying to combine Justified and Mad Men and the typical CBS procedural into one show?
Crossbones (NBC): An assassin is dispatched by the British monarchy to take out notorious pirate Blackbeard but ends up joining him instead. It's from Neil Cross, creator of Luther.
Elementary (CBS): Johnny Lee Miller and Lucy Liu are Sherlock and Watson, respectively in a modern interpretation of Sherlock Holmes. I think someone might have done this already.
The Following (Fox): Kevin Bacon stars as an FBI agent who is called in to help catch a serial killer he previously caught nine years ago when the killer escapes from death row. This killer has an edge however in that he's assembling a network of other killers that he can train and send out to do whatever he feels needs to be done. James Purefoy, Maggie Grace and Natalie Zea co-star.
Adult Swim: Harold & Kumar Animated series and an untitled Dan Harmon (creator of Community) project.
I'm like the J. Jonah Jameson of Everything Action, writing and editing and constantly demanding pictures of Spider-Man.
666 park avenue
abc
cbs
crossbones
elementary
fox
JJ Abrams
jon favreau
last resort
nbc
neil cross
new fall tv
News
pirates
revolution
Sherlock Holmes
the following
tv shows
vegas