December Movie Preview
By Zach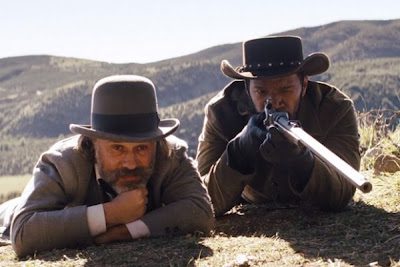 Like previous years, 2012's Christmas week is jam packed with movies coming out on the Wednesday and Friday before Christmas and on Christmas Day.  There's a wide mix of stuff from broad comedies to epic musicals to the latest from Tarantino.  Figure out when everything is coming out with our guide below.
December 7th
Playing for Keeps: Gerard Butler stars as a former athlete who is forced into coaching his son's soccer team and must fend off the advances of the various soccer moms attending the games while trying to figure out what he wants out of life.
December 14th
The Hobbit: An Unexpected Journey:  Peter Jackson begins a new trilogy with the prequel to the Lord of the Rings, The Hobbit.  Martin Freeman stars as the younger Bilbo Baggins, who is recruited by Gandalf the Grey (Ian McKellan) to join a group of dwarves in their quest to regain their mountain home, which has been taken over by the evil dragon, Smaug.
December 19th
The Guilt Trip: Barbara Streisand and Seth Rogen star as mother and son in a road trip comedy where Rogen plays an inventor who brings his mother along on his business trip to try and sell it as a probably misguided attempt to bond.
Monsters Inc 3D:  To get everyone excited for next summer's Monsters University, the original is back in theaters in 3D.  Relive Mike and Sully's adventures as they attempt to hide an adorable human girl from the easily panicked masses of Monstropolis.
December 21st
Jack Reacher: Tom Cruise stars as the titular former MP officer who is called in to help solve a multiple murder involving an army sniper in his own unique way.
This is 40: Judd Apatow spins off the Paul Rudd and Leslie Mann characters from Knocked Up into their own movie where they struggle with getting older and trying to balance work and kids and each other.
December 25th
Django Unchained: The latest from Quentin Tarantino is his unique spin on the spaghetti western as Christoph Waltz and Jamie Foxx co-star as bounty hunters out to rescue Foxx's wife from the clutches of an evil Southern plantation owner, played by Leonardo DiCaprio.
Les Miserables: The beloved musical comes to the screen with an all star cast including Hugh Jackman, Anne Hathaway, Russell Crowe and Amanda Seyfried.
Parental Guidance: Billy Crystal and Bette Midler star as a couple of old school grandparents who must watch their three grandkids while their super uptight parents are away on a business trip.
I'm like the J. Jonah Jameson of Everything Action, writing and editing and constantly demanding pictures of Spider-Man.
an unexpected journey
december movie preview
django unchained
jack reacher
Judd Apatow
les miserables
monsters inc 3d
parental guidance
peter jackson
playing for keeps
quentin tarantino
the guilt trip
the hobbit
this is 40
Tom Cruise