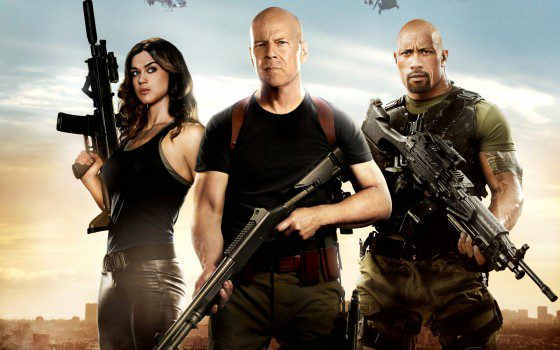 March 1st:
21 and Over: Even though he has an important medical school interview in the morning, a college kid is convinced to go out for his 21st birthday and things get out of control.
Jack the Giant Slayer: A retelling of the classic story Jack and the Beanstalk by Bryan Singer, this version finds Jack and a group of knights storming the world of giants to rescue a kidnapped princess.
The Last Exorcism Part II: Ditching the found footage approach of it's predecessor, this sequel picks up where the last movie left off, with possessed farm girl Nell trying to start a new life but finding out she may not have escaped the demons.
Phantom: Ed Harris and David Duchovny star in this submarine thriller where a Soviet sub is testing a new technology that could lead to World War III.
March 8th:

Dead Man Down: Colin Farrell stars as a crime boss's enforcer who is convinced by a woman seeking revenge to turn against him.
Oz the Great and Powerful: James Franco stars as the future Wizard in Sam Raimi's prequel to the Wizard of Oz.  Franco joins forces with good witches Michelle Williams and Mila Kunis to take on their evil sister, Rachel Weisz, who wants to take over Oz.
March 15th:

The Call: Halle Berry gets a second chance to catch a killer when a 911 call comes in from a girl trapped in the trunk of a car, a scenario Berry has faced and failed before.
The Incredible Burt Wonderstone: Steve Carell stars as a cheesy Vegas magician who tries to reinvent himself when a flashy new rival, played by Jim Carrey, arrives on the scene.
March 22nd:

Admission: Tina Fey is an extremely uptight Princeton admissions official who takes a personal interest in one applicant when she thinks he might be the son she gave up years ago for adoption.
The Croods: Nicolas Cage leads a family of cavemen in Dreamworks first animated movie of the year as they are forced to leave their cave due to earthquake and set out to explore and survive their newly discovered world.
Olympus Has Fallen: Gerard Butler is a disgraced Secret Service agent who is the only hope to rescue the President when terrorists take over the White House.
March 29th:

GI Joe: Retaliation: With Zartan in the White House, Cobra moves to take over the US government and launches a strike to destroy GI Joe.  The surviving members of the team, led by Roadblock, must figure out a way to stop Cobra before they take over the world with devastating space weapon.
The Host: An alien parasite invades the planet and turns everyone into slaves working to spread more of the parasite.  A young girl is infected but something about her causes the parasite to not take over and she joins a group of resistance fighters looking to free humanity.
Tyler Perry's Temptation: A marriage counselor has an increasingly obsessive relationship behind her husband's back.
I'm like the J. Jonah Jameson of Everything Action, writing and editing and constantly demanding pictures of Spider-Man.
21 and over
admission
dead man down
gi joe: retaliation
jack the giant slayer
march
movie preview
olympus has fallen
oz the great and powerful
phantom
the call
the croods
the host
the incredible burt wonderstone
the last exorcism part ii
Tyler Perry