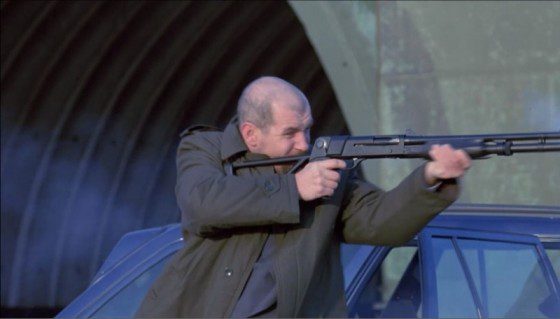 The Purge getting an interactive prequel attraction: One of the biggest horror movies of the summer, The Purge, is getting an interactive attraction that will act as a sort of sequel to film.  In Los Angeles, visitors will be delegates sent to a meeting of the New Founding Father's Convention on a Purge Night and you'll be free to explore a six story building, making decisions that will affect the outcome of your experience.  The attraction will run for six week and you can get ticket info here: http://www.purgelive.com/
Tom Hiddleston voicing Captain Hook in new Tinkerbell movie: In a prequel to the Peter Pan story that is a spin off of the animated Tinkerbell movies, Tom Hiddleston will be playing a young Captain Hook and Christina Hendricks will be playing a bad ass, swashbuckling fairy named Zarina.
Now You See Me sequel in the works: One of the biggest surprise hits of the Summer, Lionsgate is moving ahead with a sequel to the magical/heist movie Now You See Me.  There's no word on a plot, director or if any of the actors will be back.
Tarsem directing sci-fi thriller "The Panopticon":  Coming off Immortals, Tarsem Singh will be directing the sci fi thriller, The Panopticon, where a man receives a mysterious package from his future self saying that the world is going to end and he's the only one who can stop it.  The title comes from an architectural concept of a structure where many subjects can be observed by a few observers, while the observers remain unseen by the subjects.
300: Rise of An Empire gets an R rating:  For anyone who was worried about the 300 sequel getting watered down, the movie just received an R rating for "strong sustained sequences of stylized bloody violence throughout, a sex scene, nudity, and some language"
Title for Sharknado 2 revealed: After tasking Twitter with naming next year's Sharknado sequel, SyFy revealed that the movie will be called, "Sharknado: The Second One".
The Exorcist getting a TV series: The Exorcist may be coming to the small screen sometime soon.  Jeremy Slater, who will be the writer of the  Fantastic Four reboot and Fables, is set to work on the show and Morgan Creek, who owns The Exorcist rights, are currently shopping the project to networks.
Seth Gordon drops Horrible Bosses 2:  After breaking onto the scene with The King of Kong, Seth Gordon has been one of the go to comedy directors recently but has just dropped out of directing the sequel to his first big studio movie, Horrible Bosses.  He had Identity Thief come out earlier this year and is attached to the Wargames reboot, Happy Madison's Pixels and the romantic comedy Ground Control to Major Tom and also has The Goldbergs coming to ABC this fall.  Scheduling was most likely the issue.  The original trio is signed on to return.
Ronda Rousey in talks for Fast & Furious 7: Following Gina Carrano's role in Furious 6, the UFC's Ronda Rousey is in talks to join Fast & Furious 7, hot on the heels of her joining Expendables 3.  Rousey will most likely play a "minor supporting role that will highlight her fighting skills"
Leonardo DiCaprio producing, could star in movie about viking King Harald:  With the success of Vikings on History Channel, others are getting into the action and Leonardo DiCaprio is looking to produce, and possibly star in a movie about King Harald.  Harald was the last great viking king who led raids against Denmark and England but his death in England pretty much ended the Viking age.
Paul Reubens says a director has been chosen for new Pee Wee movie:  Paul Reubens announced earlier this week that a director has been chosen for the newest Pee Wee movie and that they should hopefully start shooting sometime next year.  Reubens has had massive success with a stage show rival of Pee Wee's Playhouse and Judd Apatow is set to produce this new Pee Wee movie.
Harrison Ford joining Expendables 3: Sly Stallone announced on Twitter this week that Harrison Ford would be joining the cast of Expendables 3 while Bruce Willis apparently wanted too much movie to return and so he will not.
The Penguins of Madagascar spin-off gets Benedict Cumberbatch and John Malkovich:  Much like the Minions of Despicable Me, the fan favorite Penguins from Madagascar are getting their own movie.  Malkovich will be play the villain of the film and Cumberbatch will be a CIA agent.
Christopher McQuarrie directing MI5 with Tom Cruise:  McQuarrie has a solid history with Cruise after directing him in Jack Reacher last year and writing Valkyrie.  McQuarrie will direct MI5 with Cruise back as Ethan Hunt but no word on if any of his Ghost Protocol teammates will return.
Possible Batman shortlist:  With Batman vs Superman announced at Comic Con, everyone is scrambling to figure out who will play Batman opposite Henry Cavill's Superman and some names that are getting thrown around are Josh Brolin, Ryan Gosling, Matthew Goode, Joe Manganiello, Richard Armitage, Max Martini, Jon Hamm and Gerard Butler.  Some sources put Brolin as the front runner.
I'm like the J. Jonah Jameson of Everything Action, writing and editing and constantly demanding pictures of Spider-Man.
300: rise of an empire
batman
benedict cumberbatch
captain hook
christina hendricks
christopher mcquarrie
expendables 3
fairy
fast & furious 7
gerard butler
harrison ford
interactive event
john malkovich
jon hamm
josh brolin
king harald
leonardo dicaprio
max martini
mi5
news shotgun
now you see me
paul reubens
peter pan
ronda rousey
ryan gossling
sequel
seth gordon
sharknado 2
shortlist
tarsem singh
the exorcist
the panopticon
the penguins of madagascar
the purge
Tom Cruise
tom hiddleston
vikings