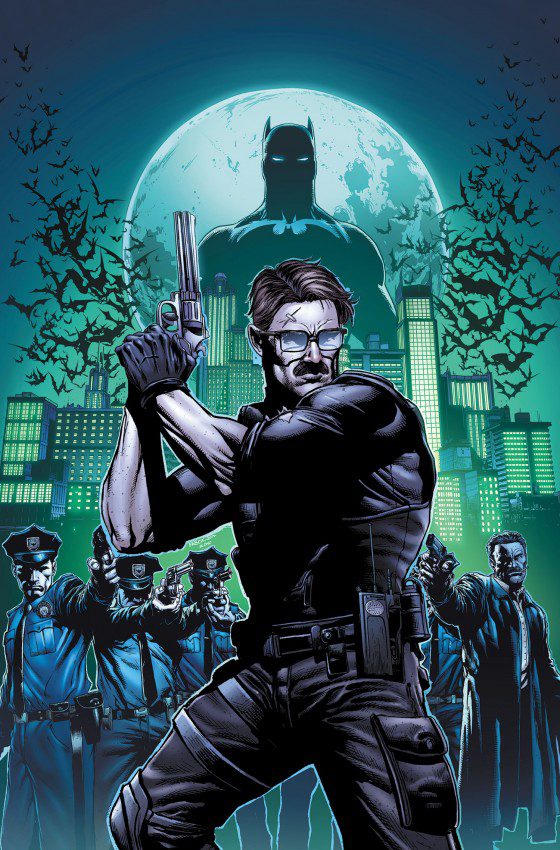 Detective Comics #25: The Zero Year (where The Riddler throws Gotham City into darkness)  is in full effect in the Batman books and in this tie in, Detective James Gordon survives an attempt on his life by corrupt cops working for Roman Sionis and manages to gather the evidence to take them down.  If you enjoyed the story of Arkham Origins, this is definitely in line with that, with Batman just starting to grow his legend and Black Mask running things in Gotham.
Superman Unchained #4: Superman and the newly discovered government superhero, Wraith, must fight off an attack by the technology terrorists known as Ascension.  Superman learns that drones they are fighting are specially designed to kill him, with red solar radiation allowing them to penetrate his skin.  Using lead lined armored truck doors, Superman and Wraith manage to take down the drones while Lex Luthor does something to Jimmy Olson that he is confident will kill the Man of Steel and Lois is captured by Ascension following a plane crash.
Captain America #13: Cap finally faces off against the rogue super soldier, Nuke, with the help of Falcon as they try to stop Nuke from attacking a village in a small Eastern European village.  Nuke seems unstoppable, shrugging off even a point blank grenade explosion.  In a flashback, we learn that Winter Soldier infiltrated a SHIELD facility in the sixties where ex-SHIELD agent Ran Shen unleashes his powers and attempts to steal something called "Weapon Minus".  I'm really liking this story much more than the crazy inter-dimensional first arc.
Iron Man #18: Tony and his newly found brother Arno are working on trying to safeguard the future of humanity but their latest projection of building orbiting cities goes awry and eventually results in the extinction of mankind.  Tony is fascinated by the seemingly dormant tech of the rogue robot 451 but Arno tells him they cannot use it, as they have no idea what it could lead to.  This issue apparently is kicking of the "Iron Metropolitan"arc and there's hints that the Mandarin may return in some form or another.
Batman/Superman #5: Toymaster develops a video game where players battle against the world's greatest heroes but the creations seem to be running wild in real life.  Batman fights off a manifestation of Metalllo while Superman deals with a meteor shower and later Batman fights a version of Nightwing and eventually finds Toymaster's hideout, which Mongul also finds as and seemingly kills Batman with an energy blast.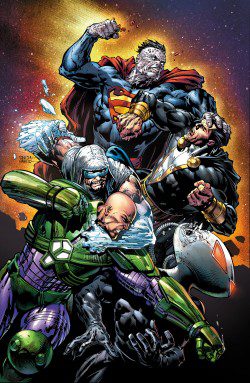 Forever Evil #3: The unlikely defenders of Earth are forming as Lex Luthor, Bizarro, Black Manta and Captain Cold form an alliance while recovering the body of Black Adam, seemingly killed after a battle with Ultraman.  Meanwhile, Batman and Catwoman, surviving the attack of the Crime Syndicate, bring the remains of Cyborg to STAR labs in hopes they can be rebuilt and we learn the rest of the Justice League was absorbed by Deathstorm into his  "energy matrix", causing him to most likey be highly unstable.
Ghostbusters Vol. 2 #9: On "Devil's Night", the Ghostbusters are up against the damned soul Stingy Jack, who thought he had tricked the Devil but ended up doomed to walk the Earth forever.  He's the first ghost to ever want to get busted and stages a supernatural fire in a NYC park to lure the Ghostbusters to him and then traps himself in Winston's trap.  In the continued excellent use of past Ghostbusters canon, the slime cannon from Ghostbusters II makes it's return to help fight the ghostly flames.
Shadowman #12: Three different tales surrounding New Orleans' supernatural superhero with Shadowman learning a valuable lesson in the Deadside, setting a drug dealer straight and dealing with a string of bizarre magical occurrences happening in the area that a former apprentice of Shadowman's mentor, Dax, might be involved in.
Robocop: Last Stand #4: Murphy launches an assault on the corrupt OCP cops with some help from the residents of the neighborhood he is trying to protect but suffers massive damage and he and the little girl he rescued have to make their way through the sewers to their garage HQ, where the neighbors pitch in to get Murphy repaired.
Green Arrow #25: Definitely taking more cues from the show, this issue, which is a Zero Year flashback, finds the just hours returned from "the island" Ollie Queen heading to Gotham City to rescue his mother, who went their to offer aid following the blackout.  Ollie meets Batman for the first time taking down a psychotic, unnamed villain with a compressed air gun and he gets the Queen's bodyguard, John Diggle, to join him on his crusade against crime, just like on Arrow sans the Batman stuff.
Swamp Thing #25: After training in the Annual issue, Swamp Thing and Seeder finally face off for control of the Green.  Both warriors use all their powers but Seeder gets the upper hand and sends Alec to the Moon but he manages to project himself back to rip out of the plants growing on Seeder's face.  The Parliament of the Green orders Alec to kill Seeder, but he refuses and is immediately stripped of his power by the Parliament and it is given to Seeder while Alec's consciousness is sent into the green for "retirement".
I'm like the J. Jonah Jameson of Everything Action, writing and editing and constantly demanding pictures of Spider-Man.
batman/superman
captain america
comics
DC
detective comics
forever evil
ghostbusters
green arrow
idw
Iron Man
jim gordon
Marvel
robocop: last stand
shadowman
superman unchained
swamp thing
the pull list
valiant