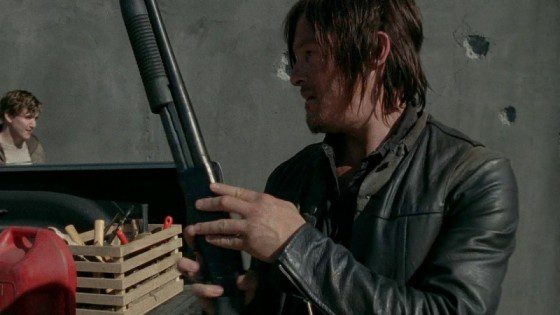 Lady Sif and Agent John Garrett will appear on SHIELD: It probably would have been better during the completely mediocre "Thor: The Dark World" episode but Jaime Alexander will guest star on the 15th episode of SHIELD this season as Lady Sif.  Bill Paxton will also be part of a four episode arc as the cybernetically enhanced SHIELD agent, John Garrett, assisting Coulson and the team with some upcoming mysteries.  SHIELD has definitely been better since it came back from break but still nowhere near as good as Arrow.
Donal Logue offered role of Harvey Bullock on Gotham: Originally rumored for the starring role of Jim Gordon, which Logue denied, it was revealed that the Terriers/Vikings star as been offered the role of Harvey Bullock on the upcoming Fox Batman show, Gotham.  It was also revealed this week that young Bruce Wayne will be a main character on the show and that recognizable villains, like Penguin, will be featured.
New Toy Story short annouced for the 2014 holidays: "The Toys That Time Forgot" will be the latest ABC special starring the gang as, post-Christmas, they find themselves up against the coolest, but most delusional, action figures ever on a playdate with Bonnie and Trixie is the only one who can save the day.
Stream 24 seasons of Simpsons in August:  After FX won the cable rights to The Simpsons, this week it was announced that the first 24 seasons, 530 episodes(!), will be available on the FXNOW app to stream in August.  There wasn't any mention if reruns will air on FX or FXX as well.
Archer releasing a country music album: There was so much insanity previewed on the first episode of Archer season 5 Monday but one of them was the fact that Cheryl turns herself into a country superstar named Cherlene and the logical step is to release an entire, actual, album of country songs that will include a countrified cover of Kenny Loggins' "Danger Zone" with Kenny Loggins dueting with "Cherlene".  The album will be released on February 17th.
Conjuring spin-off, Annabelle, announced: A massive horror hit last Summer, The Conjuring is getting a spin-off to focus on the creepy doll featured in the opening of the movie, Annabelle.  Possibly possessed by a demonic spirit, Ed and Lorraine Warren managed to capture and lock the doll away in their vault of artifacts.  The spinoff movie will focus on the story of the doll and will star Annabelle Wallis and Ward Horton and be a prequel to the events of The Conjuring.
Amazon production cancelled at CW: With a fantastic universe setup with Arrow and expanding to Flash, CW shockingly is ruling the small screen as far as superhero shows go but there will not be a Wonder Woman show to join that universe as the CW cancelled production of Amazon.
Penn & Teller get a new show on CW:  Speaking of the CW, Penn & Teller are coming to the network with their UK show, Fool Us, which is a reality competition show where up and coming magicians do tricks for the duo and, if they are unable to figure it out, the magician gets a gig as Penn & Teller's starting act in Vegas.  The CW run will be a re-airing of the UK show for now.
Batman '66 complete series box set finally coming later this year: Leaked early by Conan, Warner Bros revealed that the web of rights for the Adam West Batman have finally been figured out and a full series box set will be hitting DVD later this year.  All three seasons should be included in the set.
Poltergeist remake gets release date: The Sam Raimi produced remake of Poltergeist will be hitting theaters on Valentine's Day, 2015.  Rosemarie Dewitt and Sam Rockwell are starring.
Chris Pratt officially co-starring in Jurassic World:  Pretty much unthinkable a few years ago, Parks and Rec's lovable goofball Andy Dwyer is becoming a blockbuster action star, starring this year as Star Lord in Guardians of the Galaxy and now officially confirmed to be co-starring with Bryce Dallas Howard in Jurassic World in 2015.
Baron Strucker cast in Avengers 2: Thomas Kretschmann, of NBC's Dracula, King Kong and Wanted among other films, will be playing HYDRA leader Baron Strucker, joining fellow villain, Ultron, voiced by James Spader.
Ender's Game sequel could be an original story: Ender's Game was a decent sci-fi movie last year but it didn't exactly blow up the box office.  If a sequel gets made, there's word now that it might be an original story and not based on Orson Scott Card's "Speaker of the Dead", which picks up Ender's story decades later and is basically all inner monologue and ruminating by the character.
Johnny Depp rumored in talks for Dr. Strange: One of the big "Phase 3" movies Marvel has up it's sleeve is Dr. Strange and there were rumors this week that Disney/Marvel might be  in talks with Johnny Depp to play the Sorcerer Supreme.  Although The Lone Ranger was a disaster last year, Depp helped Disney make money hand over fist with the Pirates movies, so they have a solid business relationship.
NBC gives a pilot order to Constantine:  NBC is moving forward with David Goyer's Constantine show, ordering a pilot of the series.  It doesn't mean it's going to actually be a show but if the pilot interests the execs, it should get moved into production as a series.
Fox making a Magic: The Gathering movie: Hasbro is bringing another of their products to the big screen with a Magic: The Gathering movie, headed up by Simon Kinberg.  The movie is supposedly going to try to be a fantasy epic along the lines of Lord of the Rings or Harry Potter.
Michael Myers in upcoming Call of Duty DLC:  In the upcoming Call of Duty: Ghosts DLC, Onslaught, players will get a chance to pick up an axe and cause havoc as horror icon Michael Myers.  There is a creepy, fog filled map called, appropriately, "Fog" where, if players meet certain requirements, they will transform into the killer, armed with an ax and get to attack their fellow players while the classic Halloween theme plays.
Michael Douglas is Hank Pym: Paul Rudd is set to star as Scott Lang in Edgar Wright's upcoming Ant Man movie but the bombshell this week was that Michael Douglas will be playing the original Ant Man, Hank Pym, in the movie.  In the comics, Scott Lang is a thief who steals Pym's Ant Man suit but then eventually becomes the hero himself.  Interestingly, when the news broke, many sites listed Douglas as playing "the villain" but it was quickly removed from all the sites reporting it.
24: Live Another Day gets release date: Jack Bauer is back on May 5th with Jack trying to prevent a terrorist attack in London.  It was also announced that Yvonne Strahovski, of Chuck, Dexter and the upcoming I, Frankenstein, will be joining the cast.
I'm like the J. Jonah Jameson of Everything Action, writing and editing and constantly demanding pictures of Spider-Man.
24: live another day
adam west
agents of shield
amazon
ant man
archer
avengers 2
baron strucker
batman
bill paxton
call of duty: ghosts
cancelled
cherlene
chrs pratt
complete series
constantine
country album
david s. goyer
donal logue
dr. strange
ender's game
fxnow
hank pym
harvey bullock
jack bauer
jaime alexander
john garrett
johnny depp
jurassic world
lady sif
magic; the gathering
michael douglas
michael myers
news shotgun
penn & teller
poltergeist
remake
sequel
Special
streaming
the CW
the simpsons
the toys that time forgot
toy story
yvonne strahovski