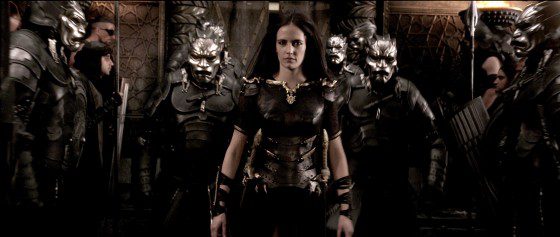 March 7th
300: Rise of an Empire: After the 300 fall at the hands of Xerxes, their sacrifice inspires the rest of Greece to rally against the Persians but Xerxes unleashes his ruthless naval commander, Artemisia, to destroy them from the sea.
Mr. Peabody and Sherman: A reboot of the classic cartoon, this new CG version finds the world's smartest dog and his adopted son trying to save the world from damage to the space time continuum after Sherman uses Mr. Peadbody's new time machine.
March 14th
Need for Speed: Now the only major racing action movie this year,  Aaron Paul's first big role post-Breaking Bad finds him at the wheel of a sports car in a race across the country but his rival puts a bounty on his head, making him the target of every racer participating.
Tyler Perry's The Single Moms Club: A group of single moms come together after meeting at their children's school and form a group to deal with life's up and downs.
March 21st
Divergent: Based on the best selling YA books, Divergent is set in a future where everyone is placed into social groups based their personalities but those who cannot be sorted are Divergent and seen as outcasts.
Muppets Most Wanted: While on a tour of Europe, Kermit is kidnapped and replaced by his evil double, Constantin, who wants to use the tour as a front for the world's greatest heist.
March 28th
Noah: Russell Crowe stars as the biblical figure who gets a vision of an impending disaster and builds a giant ark to carry his family and two of every animal to safety, but a ruthless king wants to take the ark for himself.
Sabotage: Arnold Schwarzenegger leads a team of bad ass DEA agents who make a massive bust but the money goes missing and they start to be killed one by one.
I'm like the J. Jonah Jameson of Everything Action, writing and editing and constantly demanding pictures of Spider-Man.
300: rise of an empire
divergent
march movie preview
mr peabody and sherman
muppets most wanted
need for speed
noah
Other Stuff
sabotage
tyler perry's the single moms club