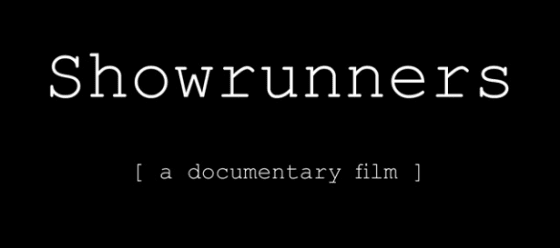 A recent development in TV has been the rise of the "showrunner", a producer/director/writer who helms the show and is the public face.  In this new documentary, a number of current showrunners describe the job and the trials and tribulations of running a show.
Talking to people like JJ Abrams, Joss Whedon, Mike Royce of Men of a Certain Age, Janet Tamaro of Rizzoli & Isles, JH Wyman and Jeff Pinkner of Fringe and Damon Lindelof of Lost, just to name a few, the movie offers a general overview of what a showrunner does and then goes into the process of developing the show, writing, shooting, getting notes from the network, etc.  It takes a bit for the movie to get into the behind the scenes meat, as the first 20 minutes or so are kind of just everyone talking in vague generalities about the business and running shows.  Once the section about network notes comes up, that's when I feel we get some good bits and behind the scenes stories, like Mike Kelley, most recently the showrunner of Revenge, talking about how CBS wanted Swingtown to not be about swingers, even though it's the name of the show.  Another interesting bit is getting everyone's opinion on Cable vs Network and it's interesting to hear about the differences between them.  I believe this documentary was shot around 2012 but there's still only a brief mention about online series on Netflix and Hulu with only Jane Espenson of the online series Husbands representing that new avenue.   The documentary also misses an opportunity, I think, to talk to older showrunners, like a Steven Bochco, to see how things may have changed in this new Golden Age of Television.  As far as how the documentary is shot, there's nothing fancy as far as infographics or effects but there behind the scenes access the filmmakers got is great and some of the interviews are shot in some excellent locations, like Boardwalk Empire's Terence Winter on the actual boardwalk set.
I think your interest in this documentary is really going to depend on your interest in the shows involved.  Bones, Men of a Certain Age and House of Lies are the main shows that the film goes behind the scenes on, all of which I don't watch or care about, so while the process is interesting, I wasn't dying to find out how Bones gets written or shot (showrunner Hart Hanson is probably one of the most interesting showrunner interviewed though).  There's showrunners like Bryan Fuller, Matt Weiner, Vince Gilligan and Graham Yost who I would have loved to hear from, but that's more personal preference and I'm sure it was just an availability thing.  Of the personalities featured, Kurt Sutter of Sons of Anarchy is wonderfully candid as usual and it's cool following around Spartacus and future Daredevil showrunner, Stephen S DeKnight as well.  Ron Moore and Joss Whedon have great behind the scenes stories and insights as well.
If you're interested in the process of how some of the biggest TV shows are made, Showrunners is a good overview to the topic but you may want to dive deeper into the individual shows that interest you by checking out DVD special features for a season of that show or something similar for some deeper insights and behind the scenes.
[rating=3]
battlestar galactica
buffy
damon lindelof
documentary
firefly
fringe
jane espenson
janet tamaro
jeff pinkner
jh wynman
JJ Abrams
kurt sutter
lost
men of a certain age
mike royce
Reviews
rizzoli & isles
ron moore
shawn ryan
showrunners
sons of anarchy
stephen s deknight
tv