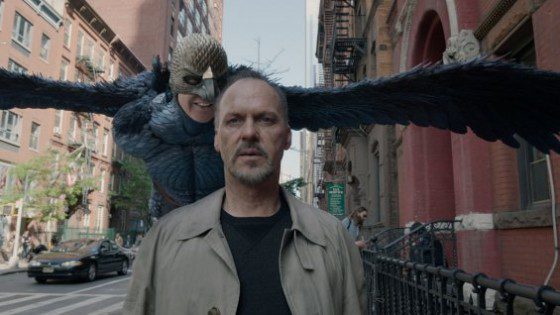 Art is a bitch goddess. Ask any artist. We suffer for it, we let it drive us to beat if not total insanity at times, but we can't let it go. Riggan Thomson (Michael Keaton) knows this all to well. His glory days as a high-profile super-hero actor are behind him. So what's a has-been to do to revive his career. Put up a play on The Broadway based on the works of Raymond Carver of course! I mean that's what I'd do.
This film is a work of art in every sense of the word. There is nothing in this movie that is anything less than innovative or revelatory. Riggan hallucinates throughout the movie as he tries to reconcile his shallow success of his past and his present failures as an actor and father. It beautifully uses grand visuals to tell us something very personal about our  characters.
Most of the movie is edited together to look as it's one continuous shot. It weaves in and out of locations and moments seamlessly. The hypnotic effect of the camerawork puts us right here in the shoes of the characters. The line between the film and life becomes blurred, and this voyeuristic approach has you feeling like you're intruding on a private moment or curious about conversations that you leave as the camera weaves in and out of each character thread.
All this technical brilliance would be for nought, however if not for the for the sensational group of actors. Michael Keaton is brilliant in this film, and effortlessly guides us through Riggan's fears and loose grasp on reality. Emma Stone and Edward Norton match Keaton's energy with brilliant performances of their own as Riggan's daughter and pain-in-the-ass costar respectively.
This film has stayed with me in a way that very few films have. It begs the question of where does an artist gauge his or her success from. Is it breaking box-office records? Is it the critical praise? However there is a more important question that any artist should consider.
If you ultimately make art for yourself, does any of it matter in the long run?
I'll leave you with this 90's styled trailer for BIRDMAN RETURNS.
I kinda want to see that movie by the by.
[rating=5]
You have never seen Batman and Tony in the same room. Just sayin'.
Birdman
michael keaton
Reviews
tony